Three million copies of the first post-attack issue of French satirical weekly Charlie Hebdo will be made available on newsstands, distributors MLP said this evening.
MLP had initially planned to print one million copies of an issue currently being put together by survivors of last week's shooting at the magazine's offices, but said demand from France and abroad has been huge.
The original paper printed at 60,000 copies a week, selling 30,000.
Twelve people, including the top editor and some of France's most prominent cartoonists, were killed when two Islamist gunmen stormed Charlie Hebdo's central Paris offices on 7 January.
With their headquarters still a crime scene, remaining staff are working out of the offices of daily newspaper Liberation, with equipment loaned by the Le Monde daily and cash handed out by other French and even foreign media.
This week's huge print run is an act of defiance for the long-established satirical weekly, which repeatedly provoked Muslim ire by publishing cartoons that mocked the Prophet Muhammad, but has just as often ridiculed the Roman Catholic Church.
With the attacks the magazine has become a national symbol of free speech.
Huge crowds, including 1.5 million in Paris in the biggest rally in French history, took to the streets on Sunday, many carrying signs saying: "Je suis Charlie".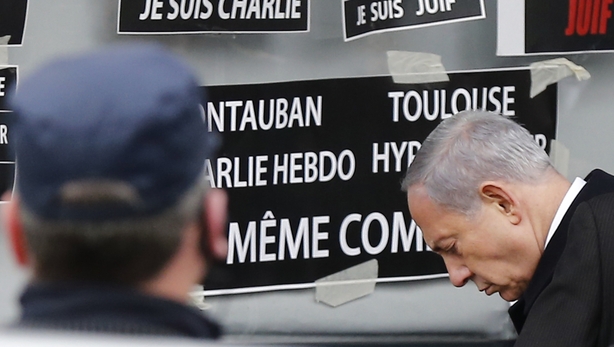 The Charlie Hebdo attackers, two French-born brothers of Algerian heritage, singled out the weekly for its publication of cartoons depicting and ridiculing the Prophet Muhammad.
Meanwhile. France is deploying 10,000 soldiers on home soil and posting almost 5,000 extra police officers to protect Jewish sites after the Charlie Hebdo attack and further attacks on Friday.
Speaking a day after the biggest French public demonstration ever recorded, in honour of the victims, Defence Minister Jean-Yves Le Drian said the country remained at risk of further attacks.
Soldiers will be deployed by tomorrow to guard transport hubs, tourism sites and key buildings and mount general street patrols.
"The threats remain and we have to protect ourselves from them. It is an internal operation that will mobilise almost as many men as we have in our overseas operations," Le Drian told reporters after a cabinet meeting.
The victims, including journalists and police, died in three days of violence that began last Wednesday with the attack on Charlie Hebdo.
The three days of bloodshed ended on Friday with a hostage-taking at a Jewish deli in Paris where four hostages and another gunman were killed.
That gunman declared allegiance to Islamic State insurgents and said he was acting in response to French military deployments against militant Islamist groups overseas.
Interior Minister Bernard Cazeneuve said 4,700 police officers would be placed at all 717 Jewish schools across the country in addition to some 4,100 gendarmes already deployed.
"Synagogues, Jewish schools, but also mosques will be protected because in the past few days there have been a number of attacks against mosques," Prime Minister Manuel Valls told BFM TV.
France has Europe's largest Muslim and Jewish communities.
The first two attackers, who had travelled to Yemen in 2011 for training, were killed on Friday after a siege north of the capital.
Police said all three men were part of the same Paris-based militant Islamist cell.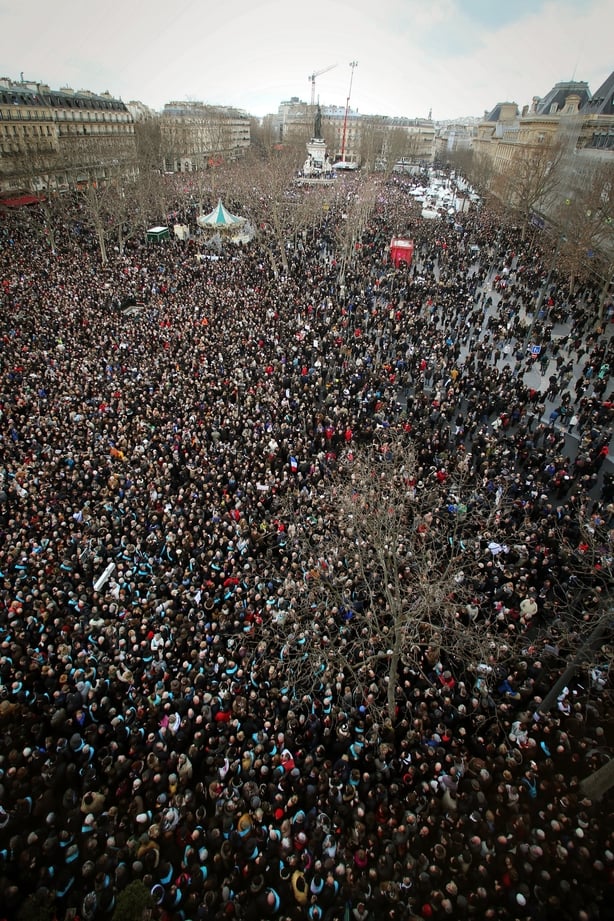 About 1.5 million people marched in Paris yesterday and 2.5 million more in the provinces.
The Paris march was led by dozens of foreign leaders.
Some commentators said the last time crowds of this size were seen in the capital was at the Liberation of Paris from Nazi Germany in 1944.
The co-ordinated assaults amounted to the deadliest attack by militant Islamists on a European city since four suicide bombers killed 52 in attacks on London's transport system in 2005.
Mr Valls said police were searching for likely accomplices of the French cell.
The Turkish government confirmed that the female companion of the supermarket attacker had entered Syria on 8 January from Turkey, having arrived in Istanbul several days before the killings.             
After an emergency cabinet meeting today to outline Britain's response to the attacks, British Prime Minister David Cameron pledged to give security and intelligence services new powers to monitor internet communications.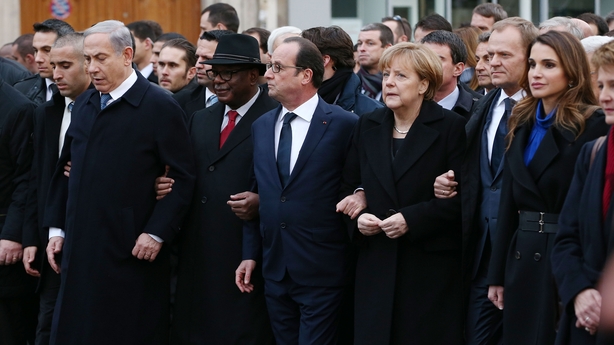 Taoiseach Enda Kenny, German Chancellor Angela Merkel, Italian Prime Minister Matteo Renzi and Mr Cameron were among 44 foreign leaders marching with French President Francois Hollande yesterday.
Israel's Benjamin Netanyahu and Palestinian President Mahmoud Abbas were also present and walked just a few steps from one another.
Mr Netanyahu visited the Jewish supermarket, scene of the hostage taking.
His invitation to French Jews to migrate to Israel if they wanted irritated some.
Mr Valls moved to reassure the community it was safe and an integral part of France.
"It was essential he came to show that he was with us French, Jews of France," said Mauricette Abouchaya. "(But) we're in France, we want to stay in France. It is our country."
With growing calls for a comprehensive investigation into whether there had been security failings given that the three gunmen were known to intelligence services, Mr Valls and main opposition leader Nicolas Sarkozy agreed on a bi-partisan parliamentary commission into the attacks.
Mr Valls also said the government had begun studying ways to strengthen the fight against "home-grown terrorism".
France strengthened anti-terrorism legislation last year to prevent its nationals travelling to Syria and Iraq.
The prime minister said one proposal being studied was to isolate radical Islamist inmates from others in the nation's prisons, as repeated cases showed individuals were susceptible to radicalisation in jail.
"There is a lot of work to be done in the prisons. It's a priority," Mr Valls said.