A man resembling Amedy Coulibaly, who shot a policewoman and took hostages at a supermarket in the Paris, has claimed to be a member of the Islamic State group in a posthumous video released online this morning.
The video starts with shots of the man doing press-ups in sports gear.
An automatic rifle leans against the wall beside him in a later section.
In the video, the man says he coordinated with the two gunmen who attacked the Charlie Hebdo magazine on Wednesday, killing 12.
"I am addressing myself first of all to the Caliph of Muslims Abu Bakr al-Baghdadi," he says, referring to the leader of IS.
"I have declared allegiance to the Caliph," he says in broken, stuttering Arabic, wearing Islamic white dress and headgear.
A text that runs at the start of the video says the man is Coulibaly, and that he was responsible for the killing of a policewoman in southern Paris on Thursday.
It also said that he was responsible for the attack on the supermarket the following day, as well as a car blown up in a Paris street that authorities have not so far linked to the attacks.
"The brothers of our team, they did Charlie Hebdo," the man says.
"I also went out a bit against the police so that it has more impact. We managed to synchronise to come out at the same time," he says, wearing a camouflage army vest in this section.
"What we have done is completely legitimate given what they have done. If you attack the caliphate, we will attack you."
Coulibaly died when police launched an assault on the Jewish supermarket in eastern Paris, where four hostages were killed.
The four Jews killed by Coulibaly will be buried in Israel on Tuesday.
"The four families decided to bury their dead in Israel. The funerals will be held on Tuesday at 10am in the Mount of Olives cemetery" in Jerusalem, a source said.
Separately, French prosecutors this afternoon also revealed they had linked Coulibaly to the shooting of a jogger on the outskirts of Paris just hours after the Charlie Hebdo massacre.
The Paris prosecutor's office said there was a link between "the bullet casings found in Fontenay-aux-Roses" where the jogger was shot and injured, and those from a Russian Tokarev pistol used by Coulibaly in the supermarket attack.
A 32-year-old man was out for an evening run on Wednesday night when he was struck by bullets in an incident which police did not immediately link to the attack hours earlier at Charlie Hebdo.
With injuries to his arm and back, the jogger was still in a critical condition.
"Five bullet casings were found on the scene," prosecutors said, which matched the weapon left by Coulibaly in the supermarket.
Police first suspected Coulibaly, who lived in Fontenay-aux-Roses - of involvement in the jogger shooting when he became the prime suspect in the gunning down the next morning of a policewoman in nearby Montrouge.
The repeat offender who had already served time for trying to break out a convicted jihadist from prison.
In another development, both brothers who carried out the attack against Charlie Hebdo travelled to Yemen via Oman in 2011 and had weapons training in the deserts of Marib, an al-Qaeda stronghold, two senior Yemeni sources said this afternoon.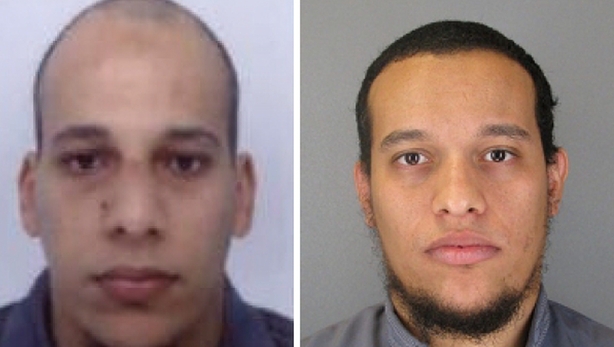 This is the first confirmation by Yemeni officials that both Cherif and Said Kouachi had visited Yemen where al-Qaeda's deadliest affiliate, AQAP, is based. US, European and Yemeni sources had previously confirmed a visit by Said Kouachi.
"These two brothers arrived in Oman on July 25, 2011, and from Oman they were smuggled into Yemen where they stayed for two weeks," said a senior Yemeni security official, who declined to be named, said.
Paris and Ankara coordinate in hunt for suspect
Elsewhere, Turkish and French sources said that Coulibaly's partner, hunted as a suspect in the attacks, had left France several days before the killings and is believed to be in Syria.
French police launched in an intensive search for 26-year-old Hayat Boumeddiene, describing her as "armed and dangerous".
But a source familiar with the situation said Ms Boumeddiene left France last week and travelled to Syria via Turkey.
A senior Turkish official corroborated that account, saying she passed through Istanbul on 2 January.
The official said Paris and Ankara were now cooperating in trying to trace her but that she had arrived in Istanbul without any warning from France.
"We think she is in Syria at the moment but we do not have any evidence about that. She is most probably not in Turkey," the Turkish source said.
Meanwhile, a German newspaper in the northern port city of Hamburg that reprinted Mohammed cartoons from Charlie Hebdo was the target of an arson attack early this morning.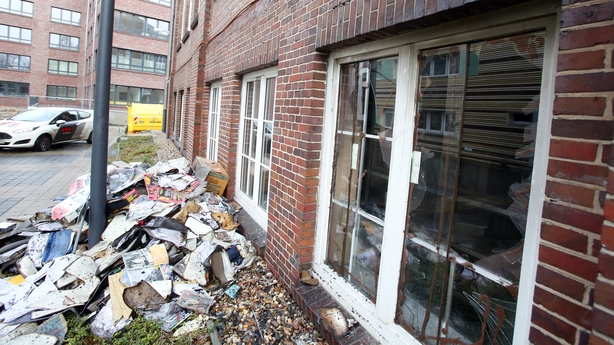 No one was injured during the incident at the daily Hamburger Morgenpost.
"Rocks and then a burning object were thrown through the window," a police spokesman said.
"Two rooms on lower floors were damaged but the fire was put out quickly," the spokesman added.
Two suspects were arrested near the scene.
Stones and an incendiary device were thrown through a window of the building, damaging some folders and archive material.
It has raised security concerns in Germany on the eve of a planned mass rally against Islam in the city of Dresden.