Dublin's Beaumont Hospital has cancelled all planned surgery for the week, except for cancer cases, to cope with the overcrowding crisis in its emergency department.
It said all available beds are open and it has apologised to patients and staff for the difficult conditions in the unit.
Nurses at the hospital served notice of industrial action today and will start a work-to-rule on 27 January.
All members of the Irish Nurses and Midwives' Organisation at the hospital voted in favour of the action last night.
The decision by Beaumont Hospital comes as the number of patients on trolleys or wards waiting for admission to a hospital bed has passed the 600 barrier for the first time.
There were 601 patients waiting across the country today, according to figures from the INMO.
The hospital with the highest level of overcrowding was Our Lady of Lourdes in Drogheda, with 45 patients waiting.
It is followed by Beaumont, with 41 patients, and Mayo General, which had 36 patients waiting.
The breakdown of the national figure of 601 patients was: 491 on trolleys in emergency departments and 110 on wards.
The Health Service Executive has apologised to patients over the record level of overcrowding in hospitals.
It admitted that there was a safety issue and there would be further pressure from 'flu that was coming from the US.
HSE Deputy National Director of Acute Hospitals Angela Fitzgerald said winter surges such as the current one took a number of days to turn around.
She said the HSE had frontloaded initiatives to calm and stabilise the situation and it was also working with the Minister for Health on medium-term solutions.
Ms Fitzgerald said the HSE knew from September that there would be overcrowding, which was also flagged when the number of delayed discharges rose from 600 to 800.
She said this increase was the equivalent of a small hospital.
The HSE this evening said that all hospitals have invoked escalation plans, which include the opening of additional overflow areas, curtailing non-emergency surgery, providing additional diagnostics and strengthening discharge planning.
It said hospitals are currently taking these steps, as required, so that patients are admitted to a bed as soon as possible.
As an immediate result of the implementation of the plans, the HSE said that hospitals today reduced the total number of patients waiting for admission by 30% by 2pm.
The Irish Association for Emergency Medicine has said it is gravely concerned about the patient safety implications for current Emergency Department overcrowding.
It said that unless steps are urgently taken to move patients from grossly crowded units, "it is inevitable that patients will die and others will have much worse medical outcomes than they should have".
The association said this will result in longer lengths of stay and extra health service costs, as well as avoidable grief and suffering.
At 9am today:
- The INMO's industrial relations officer for the northeast said there were over 80 people on trolleys at Our Lady of Lourdes Hospital in Drogheda.
- INMO industrial relations officer Tony Fitzpatrick said 42 people were on trolleys in the emergency department - three of them children; two aged under six months.
- In the midwest region, there were 29 patients on trolleys at University Hospital Limerick's ED and a further 13 on trolleys in corridors.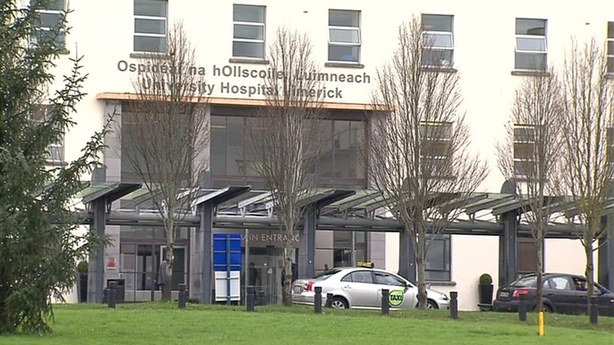 - INMO officer Mary Fogarty said 23 patients were in a reopened ward for which the hospital does not have funding.
- INMO officer in the midlands Derek Reilly said 29 people were on trolleys at the Midlands Regional Hospital Mulligar and day surgeries have been cancelled.
Meanwhile, the Department of Health said Minister for Health Leo Varadkar will be back tomorrow and is monitoring the situation.
INMO seeks LRC intervention in Drogheda
Union officials representing nurses and midwives at Our Lady of Lourdes are seeking urgent intervention from the Labour Relations Commission over conditions there.
Staff voted in favour of industrial action last October, but suspended strike action planned for November to allow for talks at the LRC.
Mr Fitzpatrick said he is making contact today with the commission because of the worsening situation in the hospital.
The HSE has acknowledged that there have been "sustained pressures" in the hospital's emergency department over the past few weeks.
In a statement, the executive said it put a temporary ambulance bypass protocol in place for adult patients to bring them to Connolly Hospital, Cavan General Hospital and Beaumont Hospital.
Last night, the HSE confirmed its Director for Acute Hospitals and Chairman of the Emergency Task Force is to resign.
Dr Tony O'Connell was appointed last May.
He is returning to Queensland, Australia, to rejoin his wife who is taking up a senior academic position there.
The task force was convened for the first time last month by Mr Varadkar to examine solutions to deal with hospital overcrowding.
There were 563 people were waiting on trolleys in hospitals yesterday.
In April 2011, and again in 2013, then minister for health James Reilly said the number of people on trolleys would never reach such a high in the lifetime of this Government.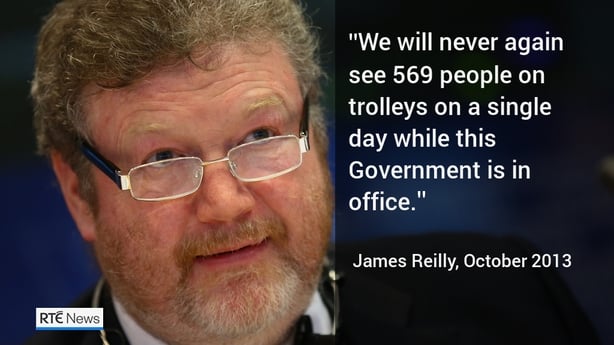 Yesterday, the INMO warned that industrial action was "inevitable" due to overcrowding in emergency departments.
A consultant in emergency medicine has said the overcrowding crisis in the country's emergency departments "could get very bad" if there was a major 'flu or winter vomiting bug outbreak.
Fergal Hickey, a consultant, and communications officer with the Irish Association for Emergency Medicine, said there are 800 people referred to as "delayed discharges" in the system. These are people whose acute care is complete but who are awaiting step-down facilities, long-term care, nursing home beds, etc.
Mr Hickey said: "Community services close down in the main over the Christmas and New Year period and that has implications, so people find it harder to get out of hospital even when they're fit for discharge.
"The emergency department is simply a symptom of a community and hospital problem. We also have a shortage of beds. We've a shortage of community beds. We've a shortage of acute hospital beds."
He said 2,000 beds have been taken out of the system in the last few years as a result of cutbacks and "we simply can't cope".
Minister for Enterprise and Jobs Richard Bruton has said the trolley crisis is not a new problem.
He said that even when there was a huge amount of money in the system we had similar emergencies.
Mr Bruton said if money alone could solve the problem, then it would have been solved back in 2004.
He said it requires the reforms that Minister Varadkar is putting in place to be implemented in the context now of the possibility of growing resources.
In 2006, then minister for health Mary Harney declared the situation in emergency departments as a "national emergency".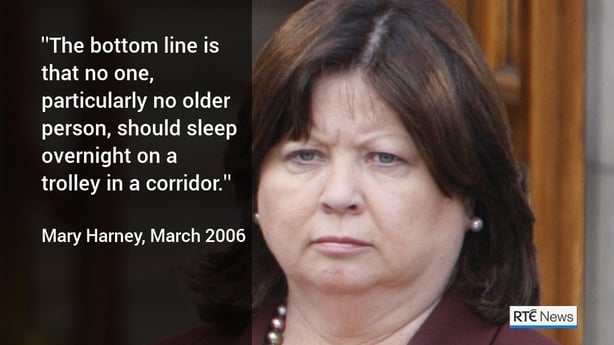 Emergency department consultant at Cork Mercy and Cork University Hospital Chris Luke described the overcrowding situation today as "deplorable".
Dr Luke said if the INMO changed its policy and allowed one or two trolley patients to be accommodated in each ward, it would ease the crisis considerably.
"Yesterday was horrible. Saturday was horrible. I was in CUH on Saturday evening just trying to make space, which was absolutely deplorable," Dr Luke said.