Dr Tony O'Connell is to resign as HSE National Director for Acute Hospitals and Chairman of the Emergency Department Task Force.
He was appointed last May and was a member of the HSE Directorate.
The HSE confirmed he will return to Queensland in a few weeks to rejoin his wife, who is taking up a top academic post there.
The task force was convened for the first time last month by Minister for Health Leo Varadkar to come up with solutions to hospital overcrowding.
Dr O'Connell is originally from Australia, where he was director general of the Queensland public health system.
Meanwhile, the Irish Nurses and Midwives' Organisation has said industrial action by its members is "inevitable" unless extra staff are taken on and public beds are reopened to improve conditions in hospitals.
Speaking on RTÉ's News at One, General Secretary Liam Doran said the record of 563 patients on trolleys in hospitals today is a direct result of a contracting health service.
Mr Doran said extra beds and extra staff are needed immediately to improve the situation and that only additional resources will solve the problem.
He said there are 2,000 public beds closed.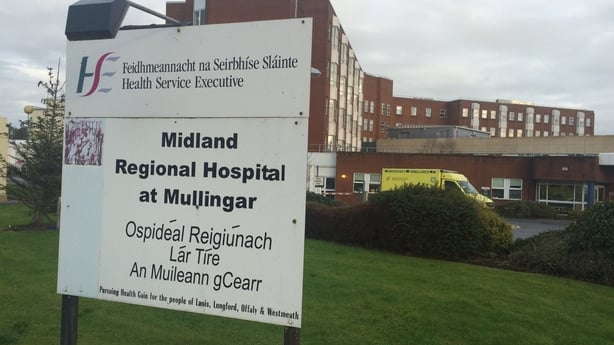 Mr Doran claimed that the emergency department at the Midland Regional Hospital Mullingar was in "meltdown" last night, with patients turned away due to what he called "bureaucracy".
He described the situation as "unforgivable".
In a statement, the HSE said steps are being taken in Mullingar to cope with the additional demand for services.
It said the hospital has a policy for dealing with surges in activity, as have been experienced in recent days.
The HSE has advised people not to attend the emergency department in Mullingar unless it is an absolute emergency.
The INMO claims conditions at the hospital are now unsafe and all elective surgery for the month of January should be deferred.
Derek Reilly of the INMO said there have been incidents in the last few days where patients have fallen from trolleys and have remained unwashed for days because of an acute shortage of staff.
Nurses to ballot in 'weeks'
Mr Doran also said nurses would likely ballot for industrial action in the coming weeks.
He said: "Until beds are reopened, until units are properly staffed, extra wards are brought on stream, then our members will continue to put patients first and if that means they have to highlight it by banning administrative duties and so on they will.
"We have had ten years of counting trolleys, today is the worst ever figure. Who says in management that's progress? That's abject failure by them and they have got to pull their socks up and solve this problem now."
Mr Doran said he was shocked at the record figures for what is regarded as the first working day of the year.
INMO Industrial Relations Officer Tony Fitzpatrick has described the situation as a crisis that Minister for Health Leo Varadkar needs to look at and identify all that is needed to address it.
There are 67 patients waiting for admission at Our Lady of Lourdes Hospital in Drogheda, 41 at St Vincent's University Hospital in Dublin, 39 at St Luke's in Kilkenny and 30 at Naas General.
There are currently 20 patients on trolleys at Letterkenny General Hospital awaiting admission, according to a statement issued by the Saolta University Health Care Group.
The group said the department at the hospital is very busy in common with a number of other hospitals throughout the country.
It asked members of the public to keep the department for emergencies only and to contact their GP in the first instance.
Mr Doran said that unless the Department of Health and the HSE act to deal with the issue immediately, there could be more than 600 patients waiting by next week.
Ballot opens in Midwest region
Meanwhile, a ballot of nurses at four hospitals in the midwest region over an ongoing problem of persistent and chronic overcrowding got under way today.
Around 1,000 nurses are to be balloted at University Hospital Limerick, at Ennis Hospital, Nenagh Hospital and Croom Orthopaedic Hospital.
Staff are also concerned at HSE plans to place additional beds in Ennis and Nenagh without enough staff to manage these extra patients.
INMO Officer Mary Fogarty said staff were extremely frustrated that they were facing into another year with chronic overcrowding, where staff cannot deliver a safe service to patients.
She said there is a major problem with staff vacancies, with 50 nurse vacancies in University Hospital Limerick.
Ms Fogarty said these are not being filled because graduates are emigrating.
She said a HIQA report on the emergency department in Limerick found there are clinical risks as it is not fit for purpose, but management is not addressing the problem.
Elsewhere, 100% of INMO members at Beaumont Hospital have voted in favour of a work-to-rule over the ongoing problem of overcrowding.
The ballot of nurses took place tonight. They will issue notice tomorrow and will commence work-to-rule on 27 January.