The captain of the blaze-hit ferry Norman Atlantic has left his ship as the death toll rises to ten, with 427 people rescued.
The total of 437 leaves 41 people unaccounted for when compared to the names on the passenger lists, although officials say they cannot be sure the list is accurate.
More than 36 hours after he sent out a distress signal, Captain Argilio Giacomazzi handed over control of the stricken vessel to Italian navy officers at 2.50pm (1.50pm Irish time), the navy said.
The Norman Atlantic caught fire yesterday morning as it sailed from the western Greek port of Patras to Ancona in Italy.
At least one passenger - a Greek national who apparently fell into the water while trying to reach a lifeboat - was previously confirmed to have died as a result of the disaster.
The ferry previously operated out of Ireland.
A spokesman for LD Lines said it was the vessel on the Rosslare - Saint Nazaire - Gijon route from November 2013 until September this year.
Prosecutors in the Italian port of Bari have opened a criminal investigation into how the ferry caught fire.
Bari prosecutor Giuseppe Volpe has announced a probe to examine whether negligence contributed to the disaster.
The investigation will seek to establish how the fire started and why it was able to gain such force that passengers feared they would be burned alive or suffocated by thick smoke.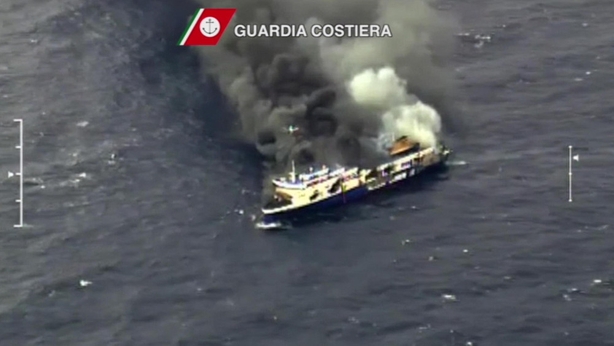 The Italian owner of the boat has insisted that the vessel was in full working order and had passed a technical inspection which included its fire doors on 19 December.
One of the first survivors to arrive in Italy this morning alleged that the staff were clearly unprepared for dealing with an emergency and appeared to be unaware of how to organise an evacuation.
Helicopter crews worked through the night to airlift passengers from the ferry.
Gale force winds and high waves this morning made the task of winching people to safety more difficult.