A year after losing all their belongings to one of the world's strongest storms, thousands of people in the Philippines emerged from evacuation shelters to find their homes again in ruins.
Typhoon Hagupit hit the central Philippines late yesterday with gusts of 210km/h, destroying flimsy houses, tearing roofs off others, knocking down power poles and smashing bridges.
During a terrifying night, it cut across Tacloban city and dozens of other communities that were only just starting to recover from last year's catastrophic Super Typhoon Haiyan.
"We were on edge the entire night because the winds were so strong. We could see roofs flying," 39-year-old Haiyan survivor Vicente Roquero said.
Haiyan's monster winds and tsunami-like storm surges claimed more than 7,350 lives and left more than one million people on central Philippine islands in need of new and safe homes.
Mass evacuations before Hagupit arrived helped ensure there was no repeat of the mass casualties in the areas devastated by Haiyan.
But many people who have lived in tents, temporary shelters and shanty homes since Haiyan again faced the trauma of losing their homes.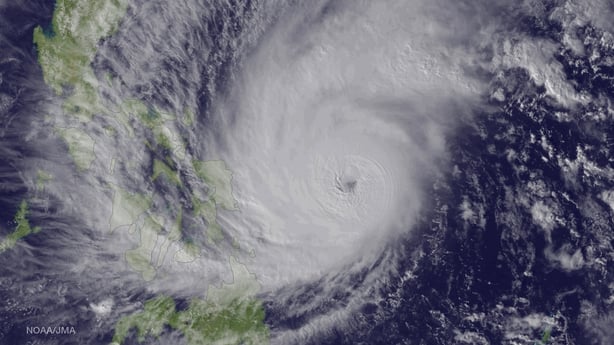 Philippines' ten deadliest storms
Power was cut across most of the eastern island of Samar and nearby Leyte province, including Tacloban City.
Alexander Pama, head of the disaster agency, said major roads in parts of Samar and Leyte islands and the south of the main island Luzon were impassable due to debris, and some areas were also flooded.
A military spokesman said nearly 2,000 soldiers were clearing the roads and two airports on Samar to bring in food trucks and aircraft loaded with emergency supplies.
"There were areas that experienced storm surges," said Science and Technology Secretary Mario Montejo, adding the agency was verifying the exact height of the waves.
approaching dawn with #Hagupit in the foreground pic.twitter.com/4bqBDYigbj

— Terry W. Virts (@AstroTerry) December 6, 2014
The weather agency said Hagupit, which means "lash" in Filipino, was maintaining the projected path that would take it through Masbate, Romblon and Mindoro islands in the archipelago's central belt.
This is slightly north of areas devastated by Haiyan last year.
Residents of low-lying villages and landslide-prone areas had been evacuated to schools, civic centres, town halls, gyms and churches, the national disaster agency said.