Minister for the Environment Alan Kelly has made a commitment that by Christmas there will be emergency accommodation available for anyone who wants it.
Mr Kelly's pledge came following his attendance at the Government's special forum on homelessness at the Custom House in Dublin, aimed at tackling the crisis of people sleeping out on the streets in the capital.
Speaking on RTÉ's Six One News, Mr Kelly said: "There should be no reason for anyone to be sleeping rough over Christmas, if they so wish."
He said the amount of new emergency accommodation has been increased to 200 beds, which will be available all over Dublin.
He also said he is "directing local authorities regarding their allocation policies for future units... In Dublin, the four local authorities are going to be told that they have to give 50% of the allocation for the next six months to people that are vulnerable and homeless."
Direction will also be given to other local authorities across the country in regard to allocation of homeless accommodation.
Mr Kelly said the freephone system, which allocated beds in emergency accommodation, is going to be completely upgraded and dealt with.
With regard to rent supplement the Minister said the Government would be looking at mechanisms to ensure it is targeted to where it is needed.
Lord Mayor describes meeting as positive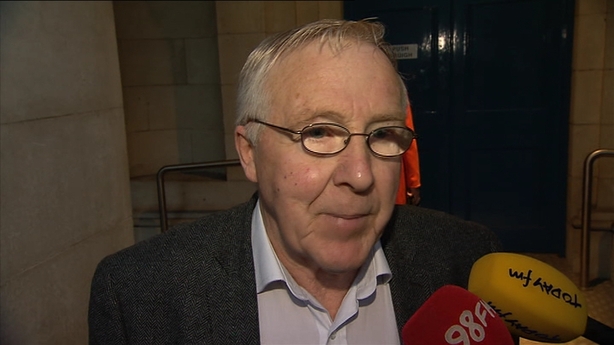 Dublin's Lord Mayor Christy Burke has described today's engagement with Minister Alan Kelly on Dublin's homeless crisis as the most positive meeting he has had as a public representative in 30 years
Mr Burke said: "The Minister I believe is sincere", saying Mr Kelly guaranteed whatever money was needed would be made available: "it is an open door regarding money" said the Lord Mayor.
Speaking as he left the forum on homelessness at the Custom House Mr Burke said: "It's the first time in 30 years as a public representative that I've ever been to such a positive meeting in all those years", adding "it was a breath of fresh air".
He said practical steps would be taken across a wide range of issues, from rough sleeping to families living in B&Bs, to rent caps.
The Lord Mayor said he would be out on the streets of the capital tonight telling homeless people about the outcome of the meeting and that he believes real progress would be made by Christmas.
The forum was prompted by the death of Johnathan Corrie yards from Leinster House on Monday.
Executives from Dublin's local authorities, Opposition spokespeople on housing, both the city's Catholic and Protestant Archbishops and almost all homeless assistance groups and charities were in attendance.
As he left his session with Mr Kelly, the Archbishop of Dublin Diarmuid Martin said he found the forum useful and he believed accommodation being offered by the Catholic diocese may soon be opened.
2 homeless men preparing 2 sleep rough outside Customs House for another night as the Homeless Forum continues inside pic.twitter.com/9QXhpjo9Qp

— Colm Hand (@ColmHand) December 4, 2014
Mike Allen, the Director of Advocacy with Focus Ireland, said that increasing rent supplement needs to be a priority to address the issue of homelessness.
Also speaking on RTÉ's Six One News, Mr Allen said he believes that by upping the amount of rent supplement provided it would stop the inflow into homelessness.
Mr Allen added there's a much larger societal issue at stake, which includes families living in emergency accommodation and stressed that hostels should not be a long-term alternative.
Earlier, housing campaigner Fr Peter McVerry said the Government must get the homeless off the streets by renovating buildings to give them a secure personal space to sleep in and by staffing the shelters appropriately.
He warned that ministers also need to prevent a haemorrhage of homelessness by increasing rent supplement or by introducing rent controls.

The distraught mother of Mr Corrie has said her family did everything possible to help him during his lifetime.
Last night, Jean Corrie told her former curate at St Canice's Cathedral in Kilkenny that she and her late-husband bought Jonathan two houses in succession to enable him and his girlfriend to move into.
Reverend Robert McCarthy said he understood that Jonathan had sold both houses.
They took endless trouble with him, the Church of Ireland clergyman told RTÉ News.
Ms Corrie told her pastor she also wanted it to be known that she was able to speak with her only son as recently as last week.
A former fellow-pupil of Kilkenny College spotted the 43-year-old on a street in Dublin, bought him a cup of coffee, and asked if he would like to speak to his mother.
He said he would and the man rang Ms Corrie.
She and Jonathan had a conversation on the phone.
Rev McCarthy said Jonathan had a drug dependency but the cause of his death would not be known until a post-mortem examination had been completed.
He said Mr Corrie had needed one-to-one, ongoing professional help.