New data from the Higher Education Authority reveals that women are massively under-represented in senior academic positions across virtually all of the country's third-level institutions.
The figures, gathered late last year, show that in the country's top universities between just 14% and 20% of professorships are held by women.
It is the first time the HEA has published a detailed breakdown of the gender gap at senior levels in the sector.
This data is stark but it will not come as a surprise to many academics, especially female academics, working in Ireland.
Across the universities it shows men strongly outnumbering women in senior academic posts.
NUI Galway is the worst, with 79% of all senior posts held by men, but the other universities are close behind.
71% of senior posts are held by men at the country's largest university UCD, 73% at UCC, 73% at DCU, 72% at NUI Maynooth (Maynooth University), and 67% at Trinity College.
St Patrick's College Drumcondra bucks the trend with a 50/50 split at its top level.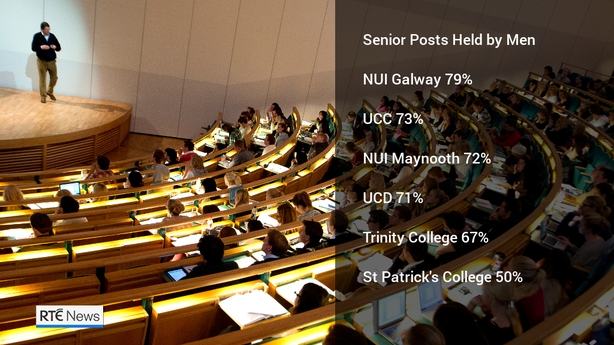 The gender gap in a few Institutes of Technology is not quite as pronounced, but in only one, the Institute of Art and Design in Dún Laoghaire, do women hold slightly more senior posts than men.
RTÉ requested these figures from the HEA following an Equality Tribunal ruling earlier this month.
The tribunal found NUI Galway had discriminated against a female academic, Dr Micheline Sheehy-Skeffington, on grounds of gender when she applied for a senior lectureship post.
The tribunal called the university's recruitment procedures "ramshackle".
The gender gap persists even though female students outperform male students in higher education.
The HEA tables show that the higher you go, the fewer women.
Across the universities, women hold half of all lecturer posts.
At the next level, senior lecturer, their share falls to 35%.
Above that, at associate professor level it falls to 26%.
At the very top, just 19% of all professors are women, fewer than one in five.
The picture is similar, though slightly better, in the Institutes of Technology.
But still, at the top senior lecturer level, just one in every four posts is held by women.
Studies have found that a favouring of research performance above teaching skills and engagement with wider society can work against female job applicants in the sector.
The studies also suggest that women's caring responsibilities can often be incompatible with academic life.
However, the recent Equality Tribunal ruling highlighted the fact that in NUIG one male had been promoted in the round of promotions under scrutiny, even though he was ineligible to apply for the job in the first place.
It also found that the same criteria was applied differently to different candidates.