A steel cross, which was cut down last week on the summit of Carrauntoohil, Ireland's highest mountain, has been re-instated.
Local volunteers carried out the work this morning, following an agreement by landowners, local community groups and other stakeholders that the cross should be re-erected.
Last Saturday morning the iconic cross was discovered lying on the summit, having been cut down in an act of vandalism with an angle grinder.
A garda investigation is continuing, but so far a motive for the act has yet to be established.
Some objections have been made to the re-erection of the cross by environmentalists and members of Atheist Ireland.
However locals say the steel cross, erected in 1976, is very much part of their heritage
Previous to that a wooden cross had been in place on the summit of Carrauntoohil since the early 1950.
Commencing at 5.30 am this morning a group of over thirty local volunteers lugged heavy lifting equipment including a 70 kg generator to the summit of Carrauntoohil.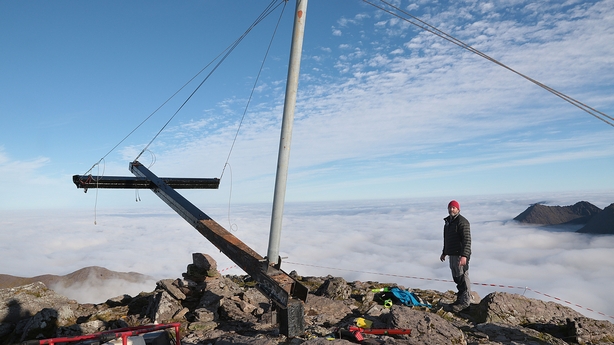 Shortly after 1.30pm the team successfully lifted the cross and welded it in to place.
This evening, the MacGillycuddy Reeks Mountain Access Forum, which represents the various stakeholders on the mountain said it wished "to thank all those who offered their support and assistance."