Nóirín O'Sullivan has been appointed Garda Commissioner, following a competition run by the Public Appointments Service.
In a statement this evening, Ms O'Sullivan said it was a great honour to be "appointed Commissioner of An Garda Síochána, which has such a proud tradition of protecting people, communities and the State".
The position was advertised nationally and internationally.
It is understood she was the sole candidate recommended to the Government by a high-level interview panel established by the Public Appointments Service.
There were two rounds of interviews involving Irish and international candidates.
The last round was held in recent days and the new chair-designate of the Policing Authority, Josephine Feehily, had a role in this.
Minister for Justice Frances Fitzgerald said the decision was taken at today's Cabinet meeting.
Ms O'Sullivan had been interim commissioner since Martin Callinan stepped down in March.
The circumstances of Mr Callinan's departure are now the subject of the Fennelly Commission.
Ms O'Sullivan, who has served at every rank within An Garda Síochána, is the first woman to hold the position.
Her elevation means women now occupy many of the top justice jobs, including minister, Director of Public Prosecutions, Attorney General and Chief Justice.
In her statement, Ms O'Sullivan said: "I am fully confident the men and women of An Garda Síochána will build on the best elements of that tradition [of protecting people] and take forward the reforms and changes that will strengthen the trust and confidence in the service we provide among the communities we serve."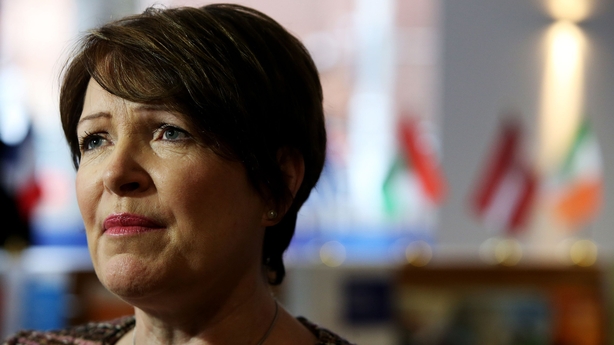 She said she looked forward to "working with the community, the Policing Authority, the Department of Justice and other stakeholders, to transform An Garda Síochána into a 21st century police service".
Ms Fitzgerald said: "An Garda Síochána has faced many challenges in recent times. The focus must now be to ensure public confidence in policing in Ireland and to support the men and women An Garda Síochána in their day-to-day work of keeping our communities and country safe.
"This means delivering on a programme of reform, modernisation and investment with respect to organisation, processes and systems. The aim must be to craft a police service fit to meet the realities of 21st century crime and security.
"I believe that Nóirín O'Sullivan, with her experience and proven leadership capacity, is exceptionally well placed to deliver on this programme of reform and modernisation."
Sgt Maurice McCabe has welcomed the appointment of Noirin O'Sullivan as Garda Commissioner. #rtenews

— Martina Fitzgerald (@MartinaFitzg) November 25, 2014
Ms O'Sullivan takes charge at a time of crisis in the force in the wake of the penalty points controversy and the critical Garda Inspectorate reports.
The new commissioner said that being a member of An Garda Síochána gave her a distinct advantage because she knew the organisation and the people in it.
Ms O'Sullivan told RTÉ News that she looked forward to listening to how the service could be improved, saying that she knew gardaí were determined to "listen, understand and work together" to make the force much better.
She said that if people had ideas, suggestions or comments in terms of how the service could be improved An Garda Síochána would be willing to listen and engage with everybody.
Ms O'Sullivan added that she was confident a review of new regulations regarding penalty points would "show that the system is working".
She also said she believed there was public confidence in the force.
Ms O'Sullivan said she was happy she was chosen from an open competition process and that it made no difference that she was a woman.
There had been calls from some Opposition TDs and from one of the garda whistleblowers for the new commissioner to come from outside.
John Wilson said that while he wished Ms O'Sullivan the best, she was not the person for the job.
Mr Wilson said as a senior officer in the force, Ms O'Sullivan could not divest herself of responsibility for what he called the gross dysfunctionality in the job.
He also said he believed it would take an outsider to reform An Garda Síochána, but that the Government had never intended to appoint someone from outside the force.
Another garda whistleblower, Sergeant Maurice McCabe, welcomed the appointment of Ms O'Sullivan.
Speaking to RTÉ News, Sgt McCabe said any dealings he had with her were professional and he believed she will bring change to the organisation.
Independent TD Mick Wallace has said he was "gutted" about the appointment of Ms O'Sullivan.
He said he has spent the last two years pointing out the problems within An Garda Síochána and "then they go and appoint an insider".
AGSI 'delighted' with appointment
The Association of Garda Sergeants and Inspectors said it "was delighted with today's announcement".
AGSI general secretary John Redmond said: "An Garda Síochána requires a decisive leader who will implement reforms and give due regard to the voice of her staff after what can only be described as a very trying time for members of the force.
"[Commissioner O'Sullivan] has a broad wealth of experience and a personable approach which is most welcome."
Fianna Fáil's justice spokesperson Niall Collins said Ms O'Sullivan had "put in a solid performance" as interim commissioner.
Mr Collins said she would face substantial challenges in her new role and he called on the Government to make sure proper resources are available to gardaí.
He said: "There is an historic opportunity to create a world class policing service in Ireland, which not only serves and protects the public, but is held up as an international example of best practice, transparency and accountability in years to come."
The appointment has also been welcomed by the Immigrant Council of Ireland.
Chief executive Denise Charlton said: "The appointment of the first woman commissioner is a landmark in the history of the Garda force.
"At the Immigrant Council of Ireland we look forward to continuing our work with the force across a number of areas."