Dublin City Council has acquired a logbook kept by Dublin Fire Brigade's ambulance service during the 1916 Easter Rising.
The logbook relates to Tara Street Fire Station and records hour-by-hour the response of the Dublin ambulance service to those injured in the Rising.
 
It details names, addresses and ages of victims, with an account of injuries suffered and the name of the hospital to which they were delivered.
Victims include civilians and military personnel, but not members of the Irish Volunteers or Irish Citizen Army, as each garrison had its own nurses.
There are more entries recording fires in the city as the week progresses.
Towards the end of the week, both the ambulance and fire brigade were forbidden from responding to calls within the area of the Rising, as this was deemed to be too dangerous.
It is understood the logbook may have been rescued from a skip after it was discarded in the 1930s.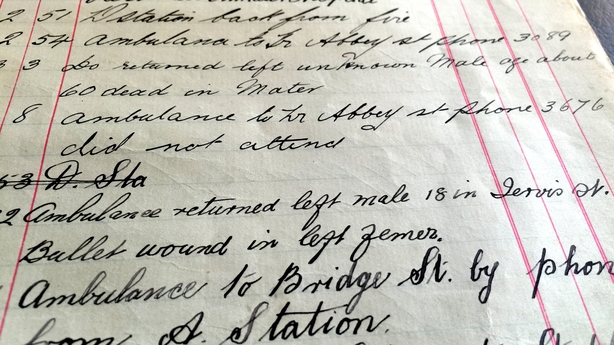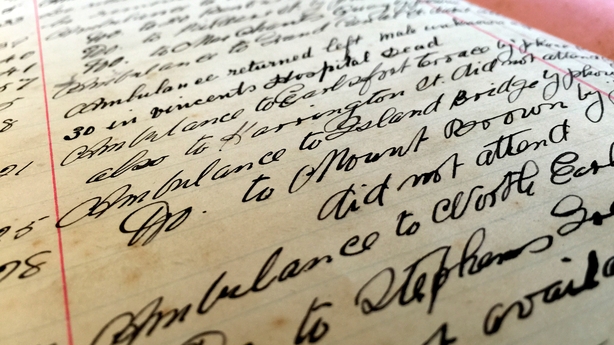 Lord Mayor Christy Burke said: "I am delighted that Dublin City Council has obtained this important contemporary record of the 1916 Rising.
"This volume details the impact of the Rising on Dublin and particularly the citizens who were caught up in these historic events.
"It also records the bravery of those who staffed the ambulance and fire brigade services, continuing to look after the public even under fire."
The volume will be available for viewing from Monday 24 November at Dublin City Library & Archive.
Plans are also under way to digitise the volume and to publish its contents on Dublin City Council's website.