Taoiseach Enda Kenny has said it was lucky that no-one was injured during scuffles that broke out as he arrived for a Fine Gael meeting in Sligo tonight.
Mr Kenny declined to do an interview with RTÉ and some other media outlets but told local newspapers and Ocean FM that commitments had been given by the protest organisers that the road into the hotel would not be blocked.
He said those commitments were reneged upon and they have questions to ask themselves about that.
Mr Kenny said that he had every regard for peaceful protests, which are part of our democracy.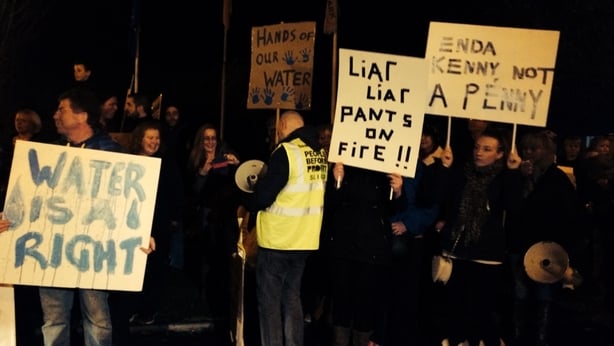 He said, however, that from what he could see and hear the protesters had no regard for women and children.
A crowd of up to 400 people were involved in the protests and it was peaceful up to the time Mr Kenny's car arrived at the Sligo Park Hotel around 7.30am.
At that point some protesters moved on to the road leading into the hotel and blocked Mr Kenny's car and the car in front of it.
They banged on the vehicle and shouted as gardaí tried to get them away and allow the cars to drive in.
The incident lasted several minutes and after the cars managed to get through the crowd, scuffles continued between gardaí and protesters.
A woman, who gardaí said fainted, was treated by paramedics after an ambulance was called to the scene.
Meanwhile, it has been reported that water charges may not come into effect until after Christmas under plans expected to be announced by the Government on Wednesday.
A report in the Irish Times says that charges are being suspended for three months and households will not be charged for water until after Christmas.
Originally, households were to be charged for the water they use from the start of October and the first bills were due to arrive in January.
Minister for Finance Michael Noonan said today that the Government's package of measure on the water charges will be based on the principles of affordability and providing certainty.
A simplified system is expected to be agreed by the Cabinet tomorrow ahead of the plan being outlined in the Dáil on Wednesday.
It is understood that households with one adult will pay €76 and that all other households will pay €178.
It is also speculated that one adult per household will be required to register with the Department of Social Protection to qualify for a universal water support payment of €100.
Credit-worthiness not affected by non-payment - ICB
Meanwhile, Ireland's largest holder of credit records has said non-payment of water bills will not affect a person's credit worthiness.
A spokesman for the Irish Credit Bureau said only the failure to repay a loan would impact on an individual's credit rating.
The bureau said it has seen misleading commentary in recent weeks about the effect that non-payment of water charges would have on a person's credit worthiness.
A spokesman also said the bureau, which provides details to lenders on an individual's credit worthiness, had received some queries seeking clarification on the issue.
The bureau said it only deals with financial institutions which are regulated by the Central Bank, and that no utilities are members of the ICB.
It said there are no plans for Irish Water to become a member, and a person's failure to pay their water bills would have no impact on their ability to get a loan in the future, based on their individual credit rating.
A spokesman for the Government would not be drawn on whether there were any plans for Irish Water to become a member of the ICB.
He said that all details of the charging regime, and measure to deal with people who refuse to pay would be revealed later this week.
Treatment of Joan Burton 'disgraceful' - Kenny
Earlier today, Mr Kenny described the treatment of Tánaiste Joan Burton in Tallaght on Saturday as "absolutely disgraceful".
He said what happened during the demonstration was far beyond a normal democratic protest.
Mr Kenny said it almost amounted to Ms Burton being kidnapped, when she was locked in a car for more than two hours.
The Taoiseach also questioned the motives of Anti-Austerity Alliance TD Paul Murphy.
He said Mr Murphy had been apparently urging on people in a "non-democratic fashion" and he described his behaviour as immature.
Mr Kenny said it seemed Mr Murphy had unleashed something he could not control himself.
The Taoiseach said if the situation was reversed and gardaí were to detain the newly-elected TD in his car for two hours, he would have a very different story to tell.
Mr Kenny was speaking on a visit to the Castlebar branch of the Acquired Brain Injury Ireland organisation this afternoon.
There were no protests during the hour-long visit.
The Taoiseach said the issue with Saturday's protest was far beyond whether people could afford to pay for water.
He said there was a more "sinister agenda" at play.
Anti-water charge protests in Sligo as Taoiseach Enda Kenny attends Fine Gael meeting https://t.co/GTyHu5u92b

— RTÉ News (@rtenews) November 17, 2014
Protesters stopped from entering Limerick hotel
Minister for Finance Michael Noonan earlier became the latest minister to be targeted by water protesters.
The protesters gathered outside a hotel in Limerick city this morning at an event being attended by the minister.
Gardaí lined up at the entrance to the hotel to prevent the demonstrators from entering.
Minister Kelly shocked by bomb threat
Minister for the Environment Alan Kelly has described a bomb threat made to his office as "shocking and disgraceful".
Mr Kelly told RTÉ News it was "a very traumatic and upsetting experience for my staff and the matter has been referred to the gardaí".
A spokesperson for Mr Kelly said the bomb threat was linked to opposition to the water charges.
It is understood a woman called his office in Nenagh this morning.
The woman was said to have used abusive language and made bomb threats several times during the conversation.
A statement has been made to gardaí regarding the phone call.
The incident was highlighted by Labour TD and Minister of State Aodhán Ó Ríordáin on RTÉ's Today with Sean O'Rourke.
Mr Ó Ríordáin said that level of fear and intimidation was not acceptable and he said this was not the way to construct a democratic society.
He said public representatives and people who work for them do not deserve to be treated in this way.
He also said his own office received an abusive phone call last week, saying "there would be a bullet through the door".
Mr Ó Ríordáin added that if protesters could not make their case through civilised discussion and debate, then they had lost the argument.
Mr Murphy has said he would still describe the protest in Jobstown on Saturday as peaceful.
Also speaking on RTÉ's Today with Sean O'Rourke, Mr Murphy said there was a conscious attempt by sections of the media, driven by Independent News and Media, to denigrate the protests and suggest that gardaí were injured or that bricks were thrown by protesters.
Mr Murphy said it was not true to say bricks were thrown during the protest, but said it was likely this may have happened after the protest and after the Tánaiste had left.
He said he was not the organiser of the protest, but gardaí had approached him and offered to remove the public order unit if the protesters agreed to march Ms Burton out and he had simply communicated this.
Mr Murphy said there had been no attempt to overturn the car the Tánaiste was in.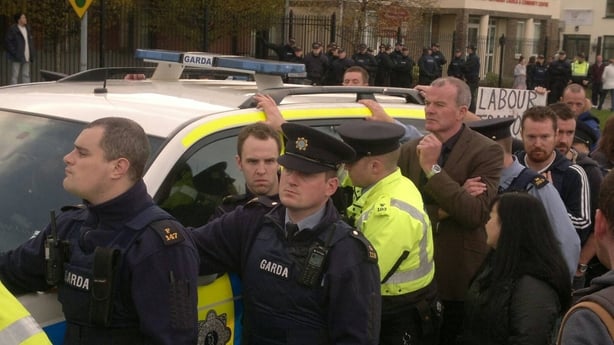 Coppinger defends Jobstown water charges protest
Earlier, Socialist TD and Anti-Austerity Alliance member Ruth Coppinger defended the weekend protest and rejected reports of intimidation.
She said most demonstrators had wanted a peaceful protest in Jobstown.
Speaking on RTÉ's Morning Ireland, Ms Coppinger said casting Ms Burton as a victim was misplaced.
She said: "Joan Burton is not a victim. She is a member of the elite and the establishment in this country.
"But there are also claims that are not true, that her car was rocked.
"There were some that banged on her car, but others said no and we want a peaceful protest and that was the general tenure of it.
"But what does Joan Burton as deputy leader of this country expect?
"This is a woman responsible for cutting child benefit, for cutting rent allowance, for making people homeless and for now enforcing a hated tax."
One of the leaders of the Right2Water campaign has said there are issues that need to be addressed in light of the protests on Saturday.
Brendan Ogle told RTÉ's Six-One News that most protests have been peaceful, but that some people need to "calm down" and there needs to be a focus on a "peaceful, unified campaign".
He described as "completely disgusting behaviour" the use of water balloons and brick-throwing, adding that such behaviour needs to be condemned.
Security for ministers under review
Meanwhile, Minister for Justice Frances Fitzgerald has said gardaí will keep security of ministers under review, in light of the weekend protests.
Ms Fitzgerald said they will take whatever precautions are necessary to get on with their jobs.
She said she understands people have points to make about water charges but it was not appropriate to keep the Tánaiste in the car.
Asked whether gardaí did their jobs satisfactorily at the protest, she said the best decisions were taken from an operational point of view, in terms of the safety of the Tánaiste and not escalating the situation.
This afternoon, gardaí issued a statement saying An Garda Síochána respects people's right to peaceful protest. 
It comes after footage emerged on social media of a woman being pushed aside by gardaí at a demonstration outside the Mansion House yesterday.
The Garda Press Office said: "Gardaí attend protests to facilitate free movement of traffic and to prevent any breaches of the peace.
"If any member of the public feels that they have a complaint to make in relation to garda action they should report the matter to the Garda Síochána Ombudsman Commission."
People Before Profit's Richard Boyd-Barrett has said that the organisers of future protests against water charges need to ensure the demonstrations are peaceful. 
Mr Boyd-Barrett, who was not involved in the Jobstown protest, said he wanted to assure people that the next national protest planned for 10 December will be an entirely peaceful and family- friendly event.