80 US troops sent to help fight the Ebola outbreak in Liberia have returned to the United States and now face a 21-day period of monitored isolation.
None of the troops have shown symptoms of the deadly disease, the US department of defence said in a statement today.
The men and women landed at Joint Base Langley-Eustis in Virginia and were taken to a specially prepared monitoring area, where they will be screened twice a day.
Access to the area is restricted to medical and support personnel, but the troops will be able to contact family and friends by telephone and through social media.
The United States has more than 2,000 troops in Liberia as part of the US Ebola response mission.
They were assigned to build up to 17 Ebola treatment units and provide mobile testing labs.
WHO reports spike in Ebola cases in Sierra Leone
The World Health Organisation has reported a dramatic increase in the number of Ebola cases in Sierra Leone, with 421 new infections being reported this week.
The virus has mainly been reported in the west and north of the country, but is also said to be spreading intensely in Freetown, the capital, as well as southwest of Guinea near the Liberian border.
This comes as one of Mali's leading clinics in capital Bamako was forced to go on lockdown, following the death of a nurse.
The 25-year-old had been treating a man from Guinea whose Ebola-symptoms were not initially recognised.
The Pasteur Clinic is being guarded by UN peacekeepers with armoured personnel carriers and by Malian security forces, witnesses said.
Mali's first case of Ebola was a 2-year-old girl who had been infected in Guinea and died last month.
Just as the people who had been in contact with the nurse finish their 21 days of quarantine, Mali must now trace those who had contact with her and the three others infected at the same time she was.
Last September, the International Monetary Fund provided $130 million to Guinea, Liberia and Sierra Leone to help them cope with the economic impact of Ebola.
Today it said it would discuss debt relief for the three countries with a group of 20 leaders meeting in Australia this week.
US President Barack Obama has tried to assure a sceptical Senate that its efforts to combat Ebola were bearing fruit and urged lawmakers to approve $6.2 billion in new emergency funds for that purpose.
Yesterday tens of thousands of nurses across the United States staged protest rallies and strikes over what they say is insufficient protection for health workers dealing with patients possibly stricken with Ebola.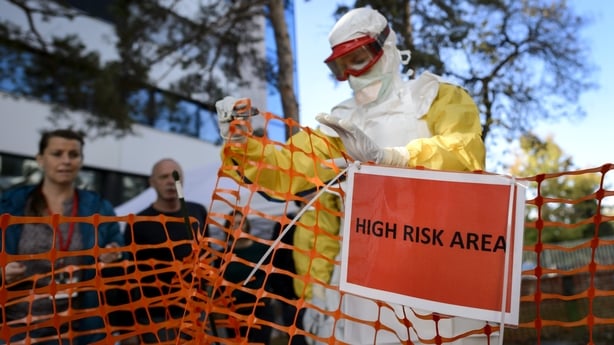 Medical trials for Ebola treatments to begin in December
Clinical trials of three potential Ebola treatments will begin in December in Guinea and Liberia at medical centres run by Médecins Sans Frontières.
The separate trials will involve up to several hundred patients and are designed to test two drugs: Brincidofovir, from US firm Chimerix, and Favipiravir, from Japan's Fujifilm.
The trials will also see how well blood plasma taken from Ebola survivors may work in curing those still infected.
Initial results could be available in February 2015, MSF said in a statement.
The studies will not use placebo groups and will involve only Ebola patients who give informed consent.
Researchers will monitor the patients and collect data on survival rates and other effects.
The trials can be stopped early if a treatment begins to show clear benefits or harm.
Researchers said it may also be possible in coming months to add new experimental drugs to the trials if they become ready for testing.
Annick Antierens, a doctor who coordinates MSF's investigational partnerships, said the cooperation involved in conducting the trials was unprecedented and "represents hope for patients to finally get a real treatment".
The Ebola epidemic in west Africa has infected more than 13,000 people, the vast majority in Guinea, Sierra Leone and Liberia, and killed about 5,000 of them, according to World Health Organization data.
The three trials will be led by different teams: Britain's University of Oxford will lead one in Liberia, and the Dutch Antwerp Institute of Tropical Medicine and the French National Institute of Health and Medical Research will lead two others in Guinea.
MSF said the trials are designed to minimise disruption to patients and respect internationally-accepted ethical standards with the aim that "sound scientific data will be produced and shared for public good".
The charity urged drugmakers to scale up production now, to try to ensure no gap between the end of the trials and any large-scale introduction of the medicines if they are found to be safe and effective.