President Michael D Higgins has arrived in Malawi as he continues with his visit to Africa.
The President, accompanied by his wife Sabina, was greeted at Lilongwe airport by Malawi's Vice-President, Saulos Claus Chilima, and the Irish Ambassador to Malawi, Áine Hearns.
Much of the President's schedule in Malawi will focus on Irish Aid's support of development projects.
During the four-day trip, President Higgins will visit a number of Irish NGO programmes managed by agencies such as Concern, Goal and Trócaire.
President Higgins will deliver a keynote address to students and will also meet lawyers representing the Irish Rule of Law Programme, which is assisting in the reform of Malawi's justice system.
He said: "I was anxious to come here to experience the work that Irish Aid is doing here. The Irish Aid programme here has expanded from about €6.7m in 2007 to €20m last year.
"We get very, very good value for anything we do here. Our interests for example in the fertilisers programme, the seeds programme and so on.
"The other thing we must remember is that it is time for us all to rethink our relationship and facilitate a new future for Africa."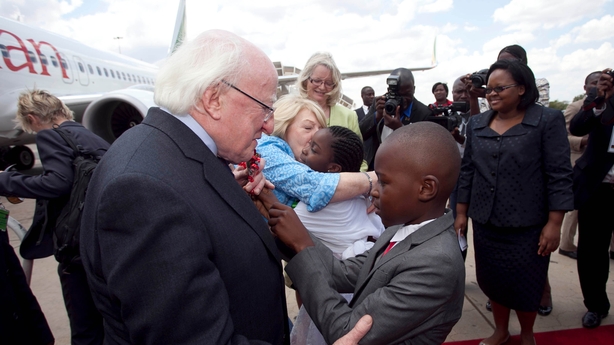 Tonight, President Higgins will attend an official dinner hosted by President Peter Mutharika in Lilongwe.
Mr Higgins spent seven days in Ethiopia last week, fulfilling a wide range of public and cultural engagements.
His visit also witnessed the signing of three development and trade-related bilateral agreements.
Mr Higgins is also due to visit South Africa, before returning home later this month.