A 48-hour protest by farmers outside meat factories is under way at 14 locations.
In a sign of some progress the Irish Farmers' Association has limited the protests to 14 of the 29 meat factories in the country.
The factories affected are those owned by Larry Goodman's ABP, Kepak, and Dawn Meats.
IFA President Eddie Downey said farm families have had their incomes slashed in the last 12 months and they want to see beef prices increased.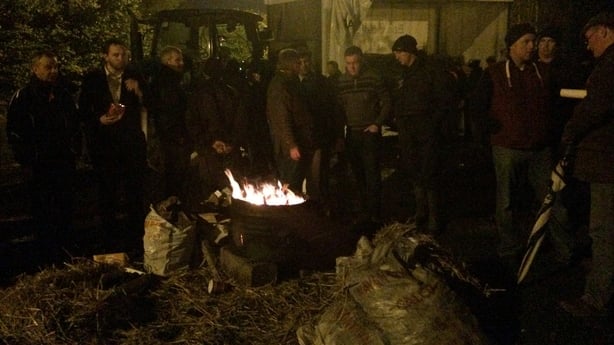 This is the second protest in less than two weeks to highlight farmer anger over low prices for cattle.
Meanwhile, gardaí were called to a meat factory just outside Waterford city this evening.
They were called to the ABP plant at Ferrybank after a truck arrived at the factory.
The protests come after nine hours of intensive negotiations between farmers and the meat processors ended in failure late on Friday night, with both sides still deeply divided over the large gap in cattle prices between Ireland and Britain.
As a result, a two-day protest by farmers outside every meat plant in the country began this afternoon.
Meat Industry Ireland said the protest is a blockade that is unacceptable, irresponsible and says it will damage Ireland's reputation.
It also said the protest will leave up to 10,000 people out of jobs tomorrow and Tuesday.
A similar one-day protest, mounted just 13 days ago, is estimated to have cost the industry more than €10m in lost output.
Irish Farmers' Association President Eddie Downey said the action of farmers was justified in light of the horrendous losses they have suffered all year while the factories have grown their businesses.
The amount of cattle processed by meat factories in Ireland is up 11% this year, and by 20% over the past two years.