President Michael D Higgins has paid tribute to aid agencies and NGO workers actively engaged in tackling the Ebola outbreak.
He described the virus as a "disease that thrives on poverty" and said it was the most immediate challenge to the stability of Africa.
President Higgins was delivering a keynote address at the United Nations Economic Commission for Africa in Addis Ababa.
He is the first Irish head of State to address the commission.
Touching on shared Irish experiences of a colonial past and the trauma of famine, President Higgins addressed a number of key pan-African themes, including food security, migration and climate change.
He commended Ethiopia on its policy of keeping its borders open to refugees.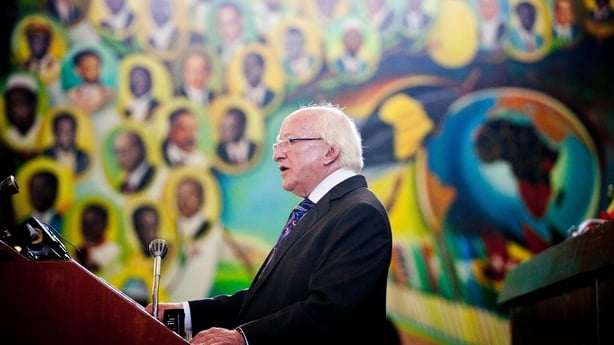 However, he criticised the management of migration flows in Europe, describing the plight of migrants attempting to cross the Mediterranean as "a moral scandal".
He also spoke on challenges facing agriculture in the face of climate change.
President Higgins urged Africans "to imagine and craft inclusive agricultural development policies that are grounded in a recognition of the need to feed an expanding regional population, while also taking care of a fragile and exhaustible natural environment".
He also emphasised the potential benefits of a strong union of African countries, but identified ongoing conflicts on the continent as a major barrier to progress.
"Conflicts of leadership between the OAU's [Organisation of African Unity] member states, armed conflicts between neighbouring countries, a disregard and a contempt for democracy and the rights of citizens in too many countries have shattered the promises of regional integration," he said.