Organisers of the anti-water charges protests have said the marches showed the strength of public opposition to the charges in communities up and down the country.
The Right2Water campaign said "the time has come for the Government to accept the will of the people, abolish domestic water charges and return to the drawing board."
Right2Water is an umbrella group that includes the Unite, Mandate, CPSU, CWU and OPATSI unions as well as a number of political parties, community groups and individuals.
Huge crowds turned out in Cork and Dublin as well as other large towns and cities.
Despite the rain, around 3,000 people demonstrated in Navan, 2,500 in Wicklow, 2,000 in Ashbourne, Co Meath, 2,000 in Newbridge and 500 in Maynooth in Co Kildare, 1,200 in Longford and 3,000 in Cavan town.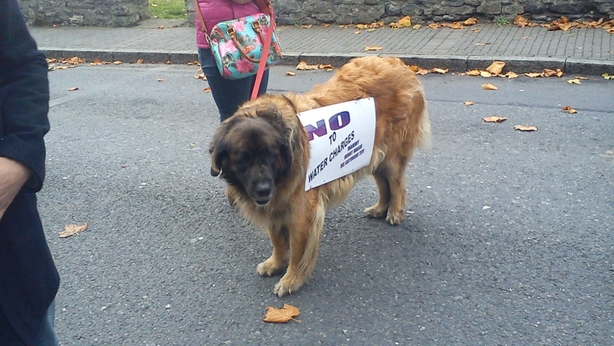 In Bandon in Co Cork over 400 people marched to the offices of local Fine Gael TD Jim Daly to hand in a petition while an estimated 2,000 people marched in Fermoy.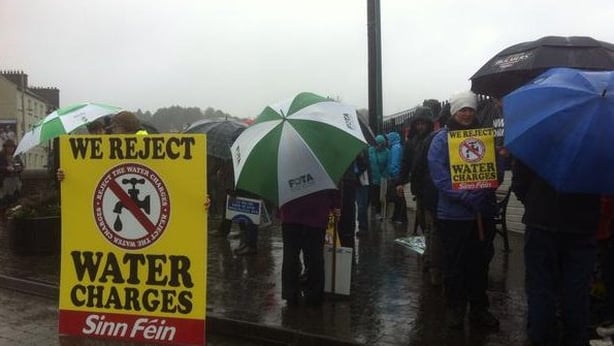 Gallery of protests across the country
Gardaí said about 500 attended similar marches in Mallow and Youghal while in Clonakilty 350 people attended an indoor rally.
In Listowel in Co Kerry, an estimated 500 people protested.
About 1,000 people took part in the protest march in Carrick-on-Shannon, Co Leitrim.
More than 1,000 people turned out in Ballina. Organisers said the large crowd sent a clear message to Taoiseach Enda Kenny about the opposition in his constituency to Irish Water and the imposition of charges. 
Gardaí said an earlier march in Castlebar attracted in the region of 300 people. 
More than 25 protests took place in Dublin where organisers said 4,000 people marched in both Dún Laoghaire and Swords, while up to 1,500 were in Tallaght.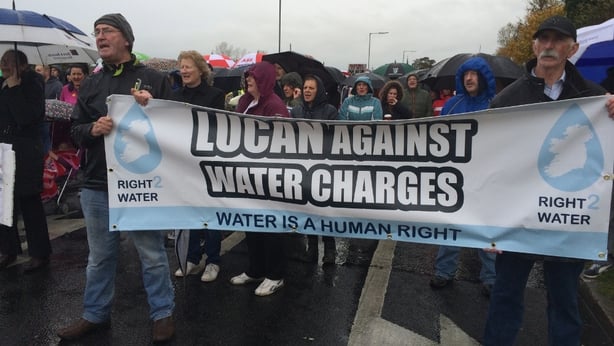 An estimated 2,000 people took part in the Lucan/Clondalkin demonstration, 400 protested in Donaghmede while 500 marched from Ringsend to Pearse Street.
Gardaí said around 2,000 marchers attended the protest in Tullamore, Co Offaly.
Marchers carried a coffin to symbolise the death of Irish Water. Two more protests were held in Edenderry and Birr.
New Independent TD Michael Fitzmaurice joined more than 2,000 protesters at the march in Roscommon town.
With more than 20,000 people on boil water notices throughout the county, locals marched through the streets chanting: "No way, we already pay".
In Longford town, organiser Tina Keown told marchers: "We have just had enough. We can't take any more. Enda Kenny is meeting up with Irish Water and having talks with them but we don't want it. It's as simple as that."
In Co Limerick, there were protests in Ballyanders and Abbeyfeale.
In Co Clare, demonstrations took place in Shannon and in Ennis, where a bluegrass band led the march around the town. A combined 2,500 took part.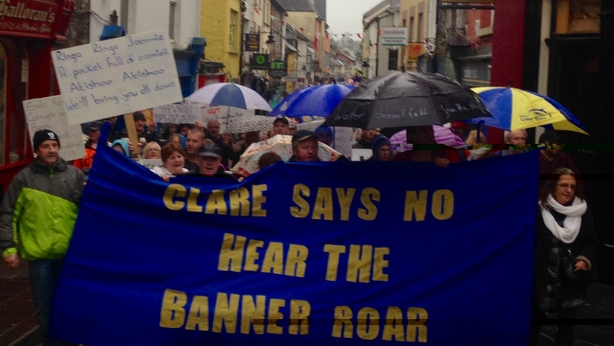 In Co Tipperary, 1,200 marched through the streets of Cashel while a similar number protested in Nenagh.
Protests were also held in Portlaw and Dungarvan, Co Waterford.
The Right2Water campaign say they intend to keep up the pressure on the Government to abolish domestic water charges and are planning a rally outside the Dáil on 10 December to coincide with International Human Rights Day.