The Right2Water campaign has said there will be protests against water charges in more than 80 locations across Ireland on Saturday.
More than 20 of the planned protests will be in Dublin and the rest will be in towns and cities across the country. 
A number of TDs joined union representatives outside Leinster House this morning to announce details of the protests.
#Right2water press launch with Clare Daly, Paul Murphy & Daithi Doolan. Maps show 70+ protest locations for Nov 1 pic.twitter.com/OPXZCBFZ4A

— Richard Boyd Barrett (@RBoydBarrett) October 30, 2014
People Before Profit TD Richard Boyd Barrett said that 70 protests were confirmed as of today, but more were expected.
Paul Murphy of the Anti-Austerity Alliance said the 750,000 homes that had sent back their Irish Water application packs probably did not realise the scale of the opposition and he called on them to join Saturday's protests.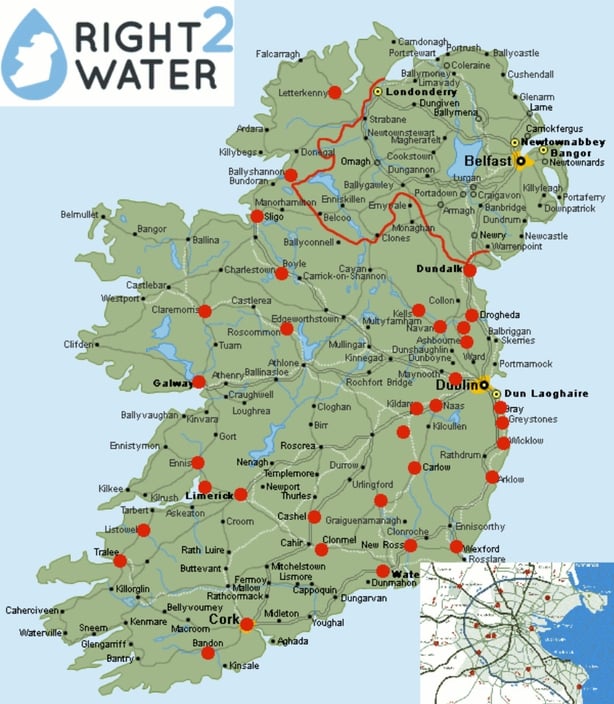 The Dublin South-West TD said there needs to be significant investment in water services, but that the money should come from central progressive taxation.
Mr Murphy told RTÉ's Six One programme that he expects huge volumes of people on the streets this weekend in protest at the charges.
Independent Socialist TD Clare Daly has said that the Right2Water website currently lists over 87 locations nationally, where water protests are to be held.
Ms Daly told RTÉ's Drivetime programme that nothing short of an abolition of the water charge will suffice.
Deputy Daly said Irish Water symbolises "excess, incompetence and overcharging".
She added the Government will have to back down on the introduction of water charges: "I would put any money on it now that they are guaranteed to back down on this.
"I think they are going to have to and the sooner the penny drops with them, the better.
"I mean, the reality is that people aren't handing back these forms. Many of the forms that have been sent back were sent back by people early on who have no intention of paying."
Unions and groups that are part of the campaign said the only good thing to come out of Irish Water was that it had united the country.
Sinn Féin Councillor Daithí Doolan said approximately 100,000 people are expected to take part in the protests.
He described the protests held on 11 October as a turning point for the campaign and said the Government was "on the ropes and are punch drunk on this issue".
Mr Doolan said Saturday will mark the next level of the campaign in which it aims to put maximum pressure on the Government.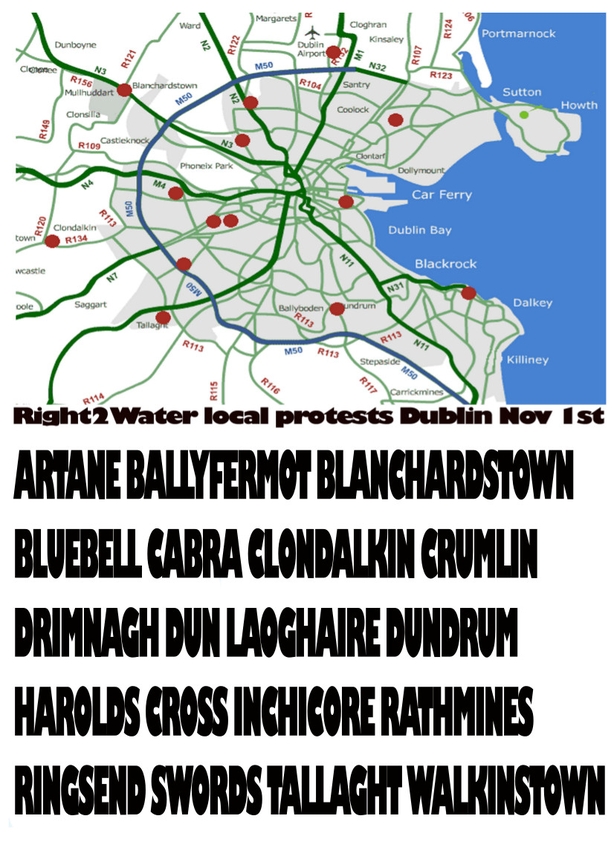 The Economic Management Council met for more than two hours today to discuss Irish Water and water charges.
It is understood progress was made on a number of issues but a final decision is not expected for a number of weeks.
Minister for the Environment Alan Kelly and Minister for Communications, Energy and Natural Resources Alex White were also present at the meeting.
The agenda included a range of issues including the new board, charges and bonuses.
It is believed that the new board is a key issue: the Government will be looking for experts in water, consumer affairs and legal and financial issues.
Earlier, Minister for Public Expenditure and Reform Brendan Howlin said there is a view that bonuses should not be paid at Irish Water as it is a new company.
However, he added that the issue is a matter for the board.
"I don't think there is any appetite for bonuses in any utility that's establishing for the first time.
"Let the utility be established and then look at what commercial supports can be provided for the people who work in that utility."
Mr Howlin also said that huge investment was needed for the "integrated entity" that can borrow money off the State's balance sheet.
He said the Government was making an unanswerable case for the existence of a utility that will provide quality, clean water to every household in the State.
The minister said it was an important national objective for Ireland's economic future and for the well-being of families, but acknowledged that the public had lost confidence in Irish Water and this needed to be addressed.
A spokesperson for Minister Kelly said the pay model in Irish Water would be reviewed, but the expectation in the department was that no bonuses would be paid for the foreseeable future.
Meanwhile, senior management at Irish Water are taking part in a series of regional briefings with city and county councillors around Ireland.
The company has so far hosted seven briefings covering councillors from 24 local authorities giving updates on events and plans within Irish Water.
Gardaí in Cork were called to a briefing for local councillors this morning, which was disrupted by protesters.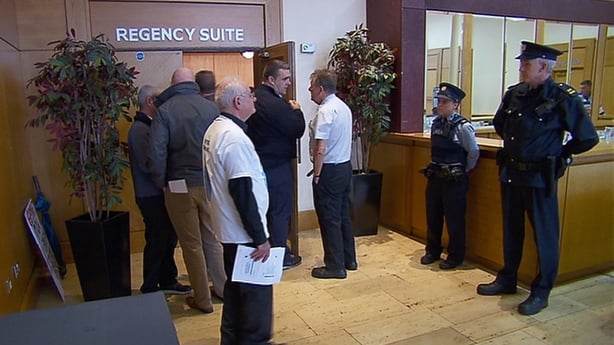 Councillors arriving at the meeting expressed their frustration with the newly-established water utility, calling it a fiasco.
Around 24 councillors from Cork city and county, from Kerry County Council and from Clare were at today's Irish Water briefing, which was later suspended because of the protests.