The third meeting of the Beef Forum set up by the Minister for Agriculture to address the issues at the heart of the ongoing beef crisis ended after three and a half hours of talks tonight.
The discussions, which were described by participants as "very frank", ended with agreement that the farm organisations and the meat factories will engage in a period of intensive negotiations over the next two weeks about the beef specifications, weight, and quality issues at the heart of some of the price reductions suffered by farmers over the past twelve months.
Those negotiations are to be chaired by the former Secretary General of the Department of Agriculture Michael Dowling.
Leaving the meeting tonight Irish Farmers' Association President Eddie Downey said no farmers would be happy leaving the meeting, but that he was prepared to participate in the negotiations with the meat industry in the interests of moving forward.
However, he warned that unless beef prices received by farmers increase soon the beef forum will have failed.
Minister for Agriculture Simon Coveney, who chaired the Forum at the Department of Agriculture Laboratory Complex in Co Kildare, said the engagement was very useful and constructive.
He secured a strong endorsement from all stakeholders for the establishment of farmer-owned Producer Organisations in the beef sector, to help to rebalance negotiating power for farmers in their dealings with the meat factories.
Meanwhile, ICSA President Patrick Kent said that the 30-month requirement and realistic weight limits for bulls must be on the table for the two weeks of intensive negotiations, which are to follow the Beef Forum.
For the first time the forum also included an exchange of views with the buyers of Tesco and McDonalds, who together are the biggest buyers of Irish beef - both by volume and value.
The forum will be reconvened in two weeks on 12 November when the outcome of the intensive negotiations between the meat factories and the farmers will be discussed.
Minister Coveney said those negotiations will not be specifically about beef prices. However, he said that on the basis of the contributions to the forum from market experts tonight he expected beef prices for farmers to trend upwards in the weeks ahead.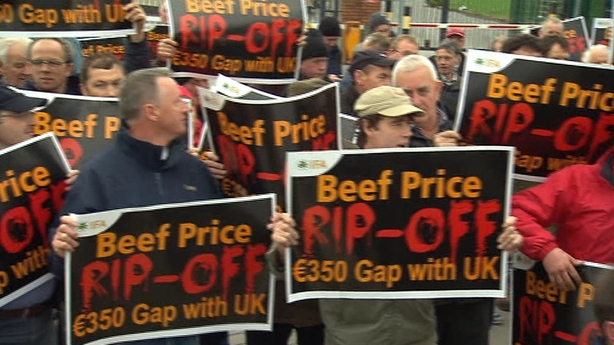 The third meeting of the Beef Forum came a day after the first nationwide farmer blockade of meat factories for almost 15 years.
The 24-hour demonstration organised by the Irish Farmers' Association marked a significant escalation of the beef crisis triggered by poor factory prices for beef since last winter.
The group representing processors, Meat Industry Ireland, described the protests as counter-productive and said they resulted in losses in the region of €10m to €15m.