The grave of William T Cosgrave, the first head of an independent Irish government, has been desecrated in a Dublin cemetery.
Mr Cosgrave, the father of former taoiseach Liam Cosgrave, is buried at Goldenbridge in Inchicore.
A statement from Glasnevin Trust, which is in charge of the Goldenbridge site, said the damage was discovered by a groundsman who came on the scene yesterday afternoon.
The damage to the grave has been described as "significant".
The grave is marked by a Celtic cross, the top of which has been broken off.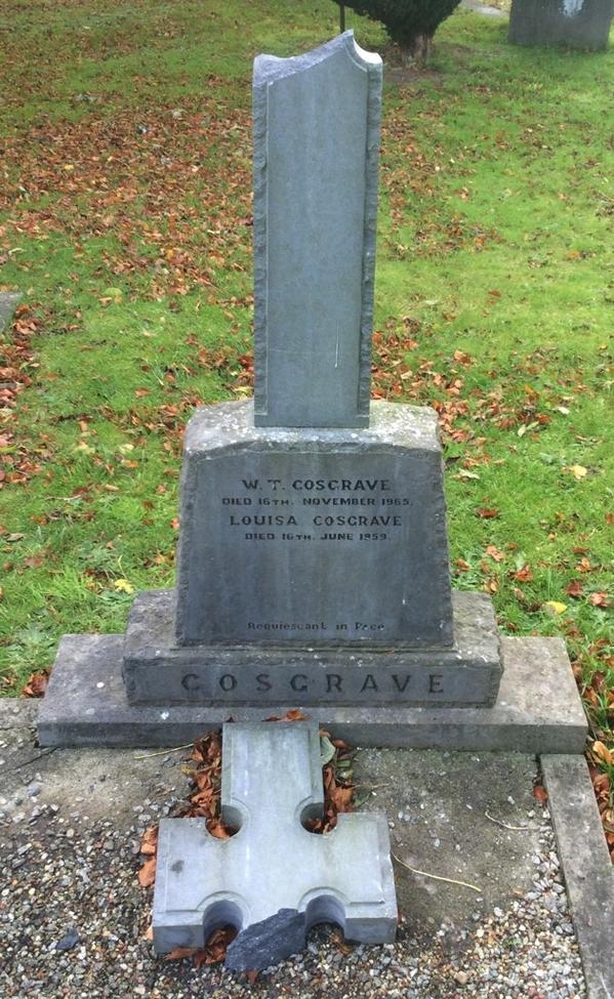 Other damage was caused to the area around the grave, and damage was also caused to other graves.
In total, eight graves at Goldenbridge were damaged.
Goldenbridge Cemetery is locked and visited by appointment only, but has been the target of vandalism over the past number of months.
The incident comes as a new book on Mr Cosgrave's life was launched by the Taoiseach this evening.
Mr Cosgrave was president of the Executive Council of the Irish Free State and was a supporter of the Anglo-Irish Treaty.
He succeeded Michael Collins as Chairman of the Provisional Government and as minister for finance in 1922.
His later tenure in government saw the establishment of the ESB and An Garda Síochána, but he was not a popular figure, as the divisive legacy of the treaty had taken hold in Irish politics.
He died in 1965 and was buried at Goldenbridge, one of the first Catholic cemeteries established after Catholic emancipation.