A Belfast woman who alleges she was raped by a member of the IRA in the 1990s has asked Northern Ireland's First Minister Peter Robinson to establish an emergency service to help people who have been sexually abused.
Maíria Cahill held an hour-long meeting with Mr Robinson during which she asked him to put in place an emergency response system to help people affected by sex abuse.
She also called for additional counselling services to be made available to victims.
Ms Cahill condemned what she said were attempts by Sinn Féin to vilify her and said the treatment of her by the party had been reprehensible.
She said she welcomed the admission by Gerry Adams that the IRA did carry out internal investigations into sexual abuse, but said it was disgusting that he was still denying what happened to her.
Ms Cahill also said current Sinn Féin members were involved as IRA members in its investigation into the rape.
She said when those IRA people were spoken to by the RUC, they did not cooperate with the police.
In a BBC Spotlight documentary, Ms Cahill alleged she was raped by a member of the IRA in 1997 when she was a teenager.
She said she was later interrogated by the IRA about her accusations.
Ms Cahill went to the police and a case was brought against the alleged rapist and those said to have been involved in the IRA inquiry.
All charges were subsequently dropped after Ms Cahill withdrew her evidence.
Ms Cahill today said Mr Adams stated that he told her cousin and IRA member Siobhan O'Hanlon to tell Ms Cahill to go to the RUC, but she said that idea was ridiculous given Ms O'Hanlon's opposition to the RUC.
She said Sinn Féin now needed to go further and admit she had told the truth about her abuse.
"To have my experiences denied, also denied other people and invalidated those people as victims, " she said
"I do welcome the fact that Sinn Féin have seemed to move now after pressure this week to finally admit that there is an issue, what they need to do now is go further and admit that I was telling the truth."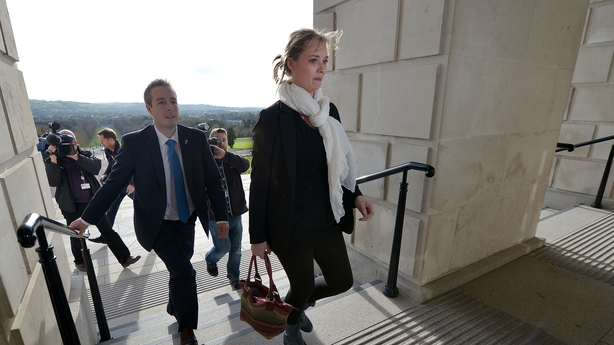 Ms Cahill said Sinn Féin had "bet the farm" on no other victims coming out, which she said was silly and very distressing for those victims.
She said when the next victim comes out and when the next member of Sinn Féin is proven to have been involved in a cover-up, the party's credibility would be shot to pieces.
Ms Cahill said Mr Adams' claim that he had asked her uncle, Joe Cahill, to urge her to go to the RUC, was not true.
She said she did have a conversation with her uncle in August 2000 following her own meeting with Mr Adams.
Ms Cahill noted that during that meeting Mr Adams did not tell her to go to the RUC.
She said, in fact, it was made clear during that conversation that if she did, the RUC would try to use her to gain information about IRA members.
Ms Cahill said her uncle told her that if he had known about the abuse before her alleged abuser had left the jurisdiction, he would have told her to go to the police.
She said not only had she been told not to go to the RUC, her family were all told not to go to the RUC.
She said: "I'm very emotional about it this morning but again I do accept that Sinn Féin have vindicated me in what I was saying ... but they now need to admit - I mean they say that they accept that I was abused - they also need to accept that I was further abused by the IRA and those Sinn Féin members that covered it up."
SF treatment of Cahill 'despicable' - Taoiseach
Taoiseach Enda Kenny has described Sinn Féin's treatment of Ms Cahill as "utterly despicable".
He said there was a clear effort by the party to discredit her story in recent days.
Speaking in Belmullet, Co Mayo this morning, Mr Kenny said he had seen Ms Cahill in television interviews and described her as an articulate and courageous person.
He said he looked forward to meeting her later this week and said that efforts to undermine her showed there was a "clear tension" in Sinn Féin.
Taoiseach describes Sinn Fein treatment of Mairia Cahill as "despicable" pic.twitter.com/m1tDkQGr6k

— Pat McGrath (@patmcgrath) October 20, 2014
Responding this evening, Gerry Adams said that the Taoiseach was "entirely wrong" and that his remarks were "mischievous and clearly politically motivated."
Earlier, Sinn Féin TD Dessie Ellis said if there was an allegation of child abuse made against the IRA it would have been investigated.
Speaking on RTÉ's Morning Ireland, he said he did not know of any specific case but said that depending on the seriousness of the case it would have been dealt with in a certain way.
He denied any allegations of a cover-up in relation to child abuse cases that may have been committed.
Last night, Mr Adams said the IRA acted as a police force in many nationalist areas during the Troubles.
He said it was ill-equipped to deal with allegations of sexual abuse.
In an article published on his blog, Mr Adams outlined how republicans dealt with allegations of child abuse, saying that the IRA on occasion shot alleged sex offenders or expelled them.
Adams needs to face responsibilities - Martin
Fianna Fáil Leader Micheál Martin has said Mr Adams needs to face up to "his responsibilities to Maíria Cahill" and other abuse victims.
Mr Martin said he welcomed the acknowledgment that the IRA investigated sex abuses cases, but he was critical of Sinn Féin's treatment of Ms Cahill.
He said: "It is of course welcome that Gerry Adams has belatedly acknowledged that his organisation did carry out internal investigations of sexual abuse allegations.
"However, it is deeply disappointing that even as he abandons a key claim he fails to do the right thing by Ms Cahill.
"He and his colleagues accept that Maíria was abused, but continue to refuse her testimony when it impacts on their organisation."
Former SDLP leader Mark Durkan said Mr Adams has felt pushed to admit more than he and others in Sinn Féin were saying in recent days.
Mr Durkan said, however, that Mr Adams' statement remains evasive in relation to the core points raised by Ms Cahill.
He said: "There is still a disingenuous dimension to what Gerry Adams is saying in his latest statement or blog but it does move away from some of the super pretence of the last few days but it is still not acknowledging what needs to be.
"There should be no pretence or evasion."
During the week, Mr Adams said the BBC documentary had broadcast a remark attributed to him, which he described as "reprehensible", and said the matter was now in the hands of his solicitor.