The spread of Ebola in West Africa is something unseen since the outbreak of AIDS, according to the Director of the US Centers for Disease Control and Prevention.
"I would say that in the 30 years I've been working in public health, the only thing like this has been AIDS," Thomas Frieden told a top-level Ebola forum in Washington.
"It is going to be a long fight," he told the heads of the United Nations, World Bank and International Monetary Fund.
"We have to work now so that it is not the world's next AIDS."
The Foreign Office in London is investigating reports that a British national has died in Macedonia of suspected Ebola.
It came as the British government announced enhanced screening for Ebola will be introduced at Heathrow and Gatwick airports and Eurostar terminals following advice from the Chief Medical Officer.
The screening will be introduced for passengers travelling from the affected regions - Liberia, Sierra Leone and Guinea.
The tests will involve assessing passengers' recent travel history, who they have been in contact with and their onward travel arrangements.
There is no screening at Irish airports and ports, however the HSE has said directions have been circulated to all acute hospitals should an Ebola case arise.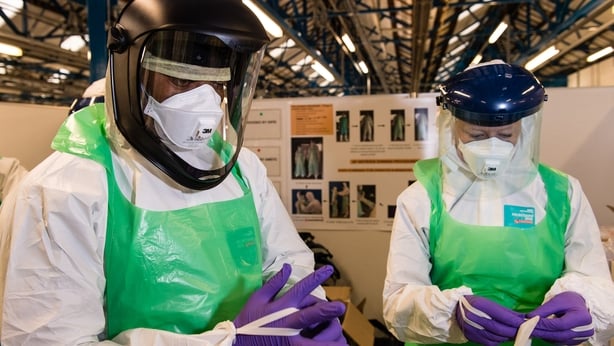 The current Ebola outbreak, the worst on record, began in March.
The World Health Organisation said Ebola had killed 3,879 people out of 8,033 cases by the end of 5 October.
Spain quarantines seven people more over Ebola
Seven more people have been admitted to a Spanish hospital for monitoring for Ebola, including two hairdressers who had contact with a nurse infected with the deadly disease, health officials said.
The nurse, Teresa Romero, helped treat two elderly Spanish missionaries who died after returning from West Africa with Ebola.
The 44-year-old tested positive for the disease on Monday, making her the first person known to have caught Ebola outside of Africa.
Ms Romero went on leave after the second of her Ebola patients died on 25 September at Madrid's La Paz-Carlos III Hospital, which Spain has designated to handle Ebola cases.
She started to feel ill on 29 September but was not admitted to hospital until seven days later, creating a large window of time in which other people may have been exposed.
In a newspaper interview published yesterday, Ms Romero said she believes she might have caught the virus after touching her face with an infected glove after cleaning the room of one of two missionaries who died from Ebola.
Five women and two men were admitted to the hospital this evening for monitoring as a precaution, the hospital said in a statement.
They included three nurses and two hairdressers who had contact with MS Romero while she was on leave from her job.
Meanwhile one person who had previously been under observation at the hospital has been discharged.
In total there are now 14 people isolated at the hospital including Ms Romero who is the only person confirmed to have the disease.
Meanwhile, an Australian woman is being assessed for the Ebola virus after she developed a fever following her return from a month working as a Red Cross nurse in Sierra Leone.
Queensland state chief health officer Jeanette Young said the 57-year-old developed a "low-grade fever" this morning and went to Cairns Hospital, where she was put into isolation.
Blood samples were taken and sent to Brisbane for testing.
Australia has seen a handful of people displaying symptoms of Ebola following trips to Africa, but none have so far proved positive.
The woman, named as Sue-Ellen Kovack by local media, returned to Australia at the weekend and had been in home isolation since.
This is in line with government policy that anyone who may have had contact with Ebola patients must abide by a 21-day incubation period at home alone.
"She's done everything appropriately. She's come back into the country, she was perfectly well at that time, she had no symptoms, no fever," said Ms Young.
Timeline of the Ebola outbreak
WHO said 41 people have been killed in an unrelated outbreak in Democratic Republic of the Congo.
Ebola can take as long as three weeks before its victims show symptoms, at which point the disease becomes contagious.
Ebola, which can cause fever, vomiting and diarrhoea, spreads through contact with bodily fluids, such as blood or saliva.
Yesterday, the United Nations said the outbreak can be contained if countries quickly build staff and treatment centres in the west African nations hardest hit by the virus.
UN medic arrives in Germany for treatment
A medical official with the UN Mission in Liberia, who tested positive for Ebola, has arrived in the German city of Leipzig to be treated at a local clinic with specialist facilities, authorities said.
The unidentified medic infected in Liberia is the second member of the UN mission, known as UNMIL, to contract the virus. The first died on 25 September.
He is the third Ebola patient to arrive in Germany for treatment.
"The man will be treated on an isolation ward ... with strict security measures," said Dr Iris Minde, head of Leipzig's St Georg clinic.
"There is no danger of infection for other patients, relatives, visitors or the public."
The hospital stressed its doctors and carers were fully prepared and have regular training on how to work in an isolation ward with highly infectious patients.