A Spanish nurse who treated a priest in Madrid who died of Ebola has tested positive for the disease, Spain's health minister has confirmed.
Health Minister Ana Mato said that an emergency protocol had been put in place and authorities were working to establish the source of the contagion, in the first case of Ebola being contracted outside of West Africa.
Hospital officials said people who had come into contact with the nurse were being monitored, though they had no knowledge of any further cases at present.
"She is a health professional who took care of the infected with the disease who were repatriated and cared for at Carlos III" hospital, the director of Spain's public health department, Mercedes Vinuesa, told a news conference.
The nurse began to feel sick on 30 September. She is said to be in a stable condition.
She had treated Fr Manuel Garcia Viejo, 75, at the Madrid hospital when he was repatriated from Sierra Leone with the disease.
Fr Garcia Viejo died days later, the second Spanish priest to die after being repatriated from Africa with the disease.
The source said the nurse had tested positive for Ebola in initial tests and officials were awaiting final results.
Two separate sources within the health authorities told Reuters the nurse was treated in the hospital of Alcorcon, on the outskirts of Madrid, where she went earlier today with symptoms of fever.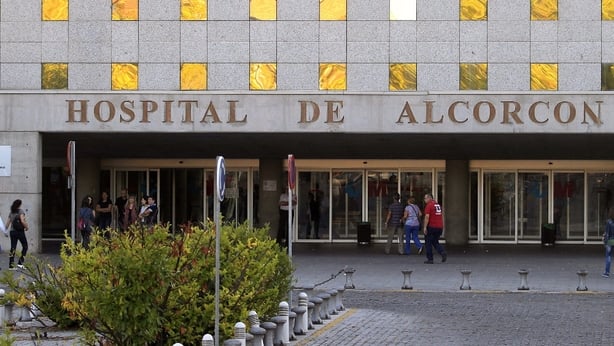 Doctors then isolated the emergency treatment room.
Fr Miguel Pajares, 69, also died at Carlos III Hospital in Madrid in August after becoming infected in Liberia.
The deadly epidemic has killed more than 3,400 people since it began in west Africa in March.
It has now started to spread faster, infecting almost 7,200 people so far.
Meanwhile, US President Barack Obama has said his administration was working on additional protocols for screening airplane passengers to identify people who might have Ebola.
He said efforts to make medical professionals aware of what to do if they encounter a case would be stepped up.
Mr Obama made the disclosure after meeting top administration officials involved in attempting to prevent an outbreak of Ebola in the United States.
The president told reporters the chance of an outbreak in the United States was "extremely low" but that there was not a large margin for error.
The White House is so far not considering a travel ban from west Africa, but Mr Obama made clear that some steps were being pondered to bolster US defenses against Ebola.
He said officials were working on additional protocols for screening air passengers to identify people who have the deadly virus.
              
Mr Obama told reporters he also planned to step up pressure on large countries, which he did not identify by name, to contribute aid to West African nations struggling to contain the worst outbreak of Ebola on record.
Elsewhere, scientists have used Ebola disease spread patterns and airline traffic data to predict a 75% chance the virus could be imported to France by 24 October, and a 50% chance it could hit the UK by that date.
Those numbers are based on air traffic remaining at full capacity.
Assuming an 80% reduction in travel to reflect that many airlines are halting flights to affected regions, France's risk is still 25%, and the UK's is 15%.
"It's really a lottery," said Dr Derek Gatherer of the UK's Lancaster University, an expert in viruses who has been tracking the epidemic - the worst Ebola outbreak in history.
Nigeria, Senegal and the United States - where the first case was diagnosed on Tuesday in a man who flew in from Liberia - have all seen people carrying the Ebola virus, apparently unwittingly, arrive on their shores.
The US patient is receiving the experimental treatment brincidofovir, development by Chimerix, and is in a critical but stable condition.
France is among countries most likely to be hit next because the worst affected countries - Guinea, Sierra Leone and Liberia - include French speakers and have busy travel routes back, while Britain's Heathrow airport is one of the world's biggest travel hubs.
France and the UK have each treated one national who was brought home with the disease. They have both been discharged from hospital.