The US believes it has identified the masked Islamic State militant who beheaded two kidnapped American journalists in separate videos, FBI Director James Comey has said.
IS triggered global outrage when it released two videos of a man with a British accent killing first James Foley then Steven Sotloff, freelance journalists who were kidnapped in Syria.
No further details of Mr Comey's claims were immediately available.
US authorities this evening said they had no knowledge of a plot by IS to attack subway systems in the United States and Paris, following reported comments by Iraq's leader about such a threat.
Iraqi Prime Minister Haidar al-Abadi was earlier quoted as saying at the United Nations that the alleged plot had been revealed following a series of arrests in Iraq.
Meanwhile, jets from Saudi Arabia and the United Arab Emirates played the leading role in the latest round of air strikes in Syria against IS, Pentagon spokesman Rear Admiral John Kirby has said.
Ten warplanes from the two Arab states flew with six US aircraft in yesterday's raids on oil refineries held by IS and 80% of the bomb tonnage was delivered by the Saudi and UAE planes, he said.
At least 14 IS militants and five civilians were reported to have been killed in air strikes by US-led forces in northeast Syria.
That is according to Rami Abdulrahman, who runs the UK-based Syrian Observatory for Human Rights.
Rear Admiral Kirby said it was too early to say that the US-led coalition was "winning" against IS.
He pointed to the group's continued access to financing, volunteers and weapons even after bombings in Syria and Iraq.
"How do you know you're winning? And what I'm telling you is, it's going to take us a while to be able to say that," he told reporters.
"Even after the hits they've taken and they have been hit, they still have financing at their fingertips. They still have plenty of volunteers. They still have plenty of weapons and vehicles and the ability to move around."
Kurdish forces in northern Syria pushed back an advance by IS fighters towards the town of Kobani in overnight clashes, two Kurdish officials said.
IS began a new offensive to try to capture Kobani more than a week ago.
More than 100,000 Kurds have fled the town, also known as Ayn al-Arab, and surrounding villages into Turkey.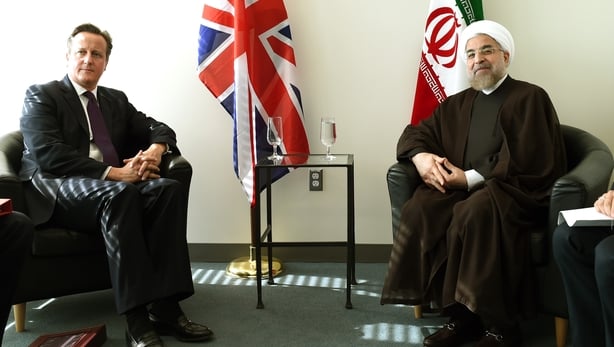 Elsewhere, British Prime Minister David Cameron said Iran could be "part of the solution" in defeating jihadists in Syria, after he held landmark talks with Iranian President Hassan Rouhani.
Addressing the UN General Assembly, Mr Cameron said the UK had "severe disagreements" with Iran but it "should also be given the chance to show it can be part of the solution, not part of the problem".
"Iran's leaders could help in defeating the threat from ISIL," Mr Cameron said, referring to the group also known as Islamic State.
"They could help secure a more stable, inclusive Iraq, and a more stable, inclusive Syria. And if they are prepared to do this, then we should welcome their engagement," Mr Cameron said.
Iran President Hassan Rouhani blamed the rise of IS and other militants on "certain intelligence agencies" but also said the solution to stopping them must come from the Middle East region itself.
"The extremists of the world have found each other and have put out the call, 'extremists of the world unite'. But are we united against the extremists?" Mr Rouhani asked in a speech to the General Assembly.
Iran, a Shia clerical regime, is a staunch foe of the jihadists and has supported Iraq's Shia leaders.
However, it has also backed Syrian President Bashar al-Assad, a secular leader from the Alawite sect, whereas Western powers have demanded that he step down.
Mr Cameron also made clear his criticisms of Iran, which has had tense relations with Britain and the United States since the 1979 revolution ousted the Western-oriented shah.
"We have severe disagreements - Iran's support for terrorist organisations, its nuclear programme, its treatment of its people. All these need to change," he said.
Mr Rouhani, a moderate in the regime, swept to power in elections last year on pledges to end Iran's international isolation.
Iran has been engaged in marathon talks with six world powers aimed at ending Western concerns over its nuclear activity.
Ireland may need new laws to implement UNSC resolution
Earlier, the UN Security Council unanimously approved a binding resolution on stemming the flow of foreign jihadists to Iraq and Syria.
The resolution requires all countries to adopt laws that would make it a serious crime for their nationals to join jihadist groups such as Islamic State and Al-Nusra Front.
Minister for Foreign Affairs and Trade Charlie Flanagan has said that new legislation may be required in Ireland to implement the UN resolution.
The resolution would compel countries to prosecute and penalise citizens who travelled abroad, or attempted to travel abroad, for training with terrorist organisations.
The resolution also calls on countries to deny entry at their borders to people they have "reasonable grounds" to believe may be supporting or participating in terrorist activities.
Mr Flanagan said that the issue of foreign fighters was one of "most serious concern".
He said Ireland, like other countries, was not immune to it.
The International Centre for the Study of Radicalisation has done research that concludes that about 30 Irish citizens are fighting within the ranks of the group calling itself the Islamic State.
Minister Flanagan said he was anxious that Ireland had the best international practice to ensure there was a code of law, because there was a practice that was "entirely unacceptable".
He said it was important to empower and encourage communities to dissuade young males, in particular, from becoming involved in activities of a terrorist nature, and also to have criminal sanctions for a "growing and serious problem".