The Health Service Executive has confirmed that disciplinary action has been taken against nine staff at University Hospital Galway following an investigation into the death of Savita Halappanavar at the hospital in October 2012.
Twenty-one other staff members who treated Ms Halappanavar at the hospital have been told that they have no case to answer.
The HSE said the disciplinary process against most of the nine staff involved is now complete.
It said warnings, including written warnings, were issued to some staff and pre-procedural informal counselling with training and mentoring was applied to others.
There have been no dismissals or suspensions.
Ms Halappanavar died on 28 October 2012, one week after she was admitted to University Hospital Galway when she was 17 weeks' pregnant and miscarrying.
Her death, five days after she was refused a termination, sparked widespread public debate that eventually forced a controversial change in abortion legislation
Last November, the West/North West Hospital Group ordered a review of the actions of all staff members who treated Ms Halappanavar during her time at UHG.
It followed three separate investigations into her death.
At the time, the board said sanctions up to and including dismissal could apply.
Over a number of months, the involvement of 30 staff was reviewed. The Hospital Group said the process was confidential and the names of those involved would not be released. 
Other investigations into the treatment provided to Ms Halappanavar are being conducted by medical regulatory bodies.
Legal action taken by her husband Praveen against the HSE is ongoing.
Last October, HIQA published a report into issues relating to the death of Ms Halappanavar.
The report said there was a failure to recognise she was developing an infection and to act on her deteriorating condition.
It found that University Hospital Galway did not have effective arrangements to regularly record and monitor her condition, and that the management of the delivery of maternity services was not consistent with best practices.
HIQA made 34 recommendations on improving the care of clinically deteriorating pregnant women.
It also called for a National Maternity Services Strategy to ensure women receive safe, high-quality and reliable care.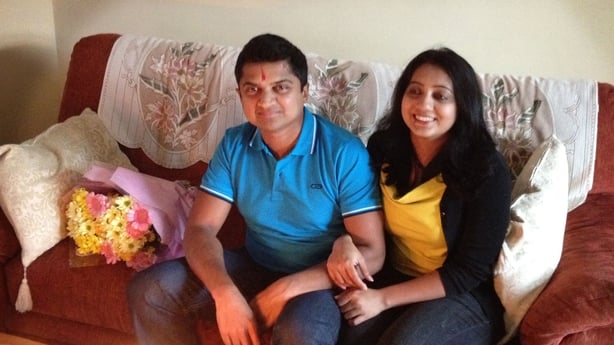 A solicitor representing Mr Halappanavar has said neither he nor his client were aware that disciplinary action was taking place against HSE staff members who cared for her.
Speaking on RTÉ's Morning Ireland, Gerard O'Donnell said he learned the news this morning after being contacted by the media.
He said: "The first I learnt of it was this morning, early this morning, when I received contact from RTÉ looking for a reaction from me.
"I would have appreciated, or I would have expected out of courtesy, that the HSE would have communicated this to us so that I could have communicated to my client and, thereafter, get instructions from him as to what his reaction was.
"I haven't had an opportunity of speaking to him yet. He's not in the country.
"It's clear from what's out in the media now that there have been findings of misconduct on behalf of certain members of staff and there have been sanctions, which of course are serious for any member of staff.
"Nothing will bring back Savita. I suppose we would all hope that we would have learnt lessons, and indeed University College Galway would have learnt and nothing like this could ever happen again."