The US plans to fight Islamic State until it is no longer a force in the Middle East and will seek justice for the killing of US journalist Steven Sotloff, President Barack Obama said.
Mr Obama added that destroying the militant group will take time.
He said this was because of the power vacuum in Syria, the abundance of battle-hardened fighters that grew out of al-Qaeda in the Iraqi war, and the need to build coalitions, including with local Sunni communities.
Islamic State released a video yesterday showing the beheading of the journalist, the second American hostage to be killed within weeks, in retaliation for US air strikes in Iraq.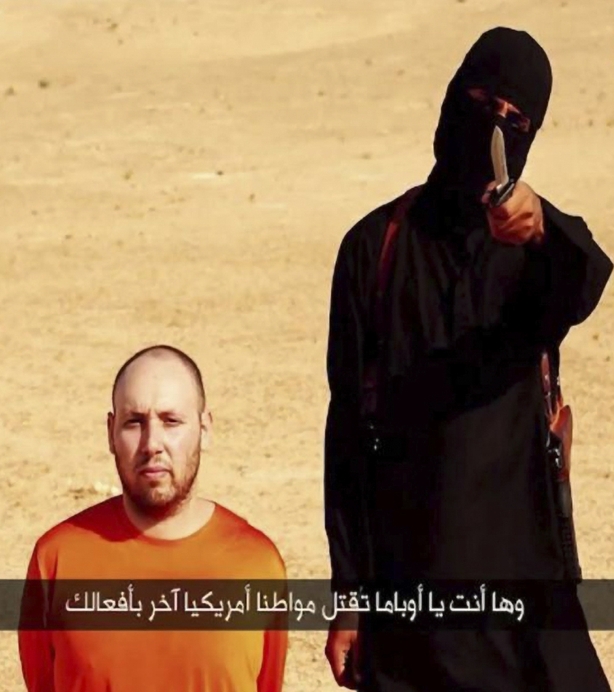 "The bottom line is this, our objective is clear and that is to degrade and destroy (Islamic State) so that it's no longer a threat not just to Iraq but also the region and to the United States," Mr Obama told a news conference.
"Whatever these murderers think they will achieve with killing innocent Americans like Steven, they have already failed," Mr Obama said. "They failed because, like people around the world, Americans are repulsed by their barbarism. We will not be intimidated."
US and British officials both examined the video, showing the same British-accented executioner who appeared in a 19 August video of the killing of US journalist James Foley, concluding it was authentic.
The United States resumed air strikes in Iraq in August for the first time since the pullout of US troops in 2011 and President Obama said the strikes are already proving effective.
"Those that make the mistake of harming Americans will learn that we will not forget and that our reach is long and that justice will be served," he said.
"This is not going to be a one-week or one-month or six-month proposition because of what's happened in the vacuum of Syria, as well as the battle-hardened elements of (Islamic State) that grew out of al-Qaeda in Iraq during the course of the Iraq war ... it's going to take time for us to be able to roll them back."
The White House said late yesterday that Mr Obama was sending three top officials - Secretary of State John Kerry, Defence Secretary Chuck Hagel and counter-terrorism adviser Lisa Monaco - to the Middle East "in the near-term to build a stronger regional partnership" against Islamic State militants.
World 'outraged' at beheading
Earlier, UN Secretary General Ban Ki-moon said the world was "outraged" at the beheading of Mr Sotloff.
The 31-year-old from Florida was abducted in Aleppo in Syria in August last year.
"We are all outraged at reports from Iraq about the brutal killing of civilians by ISIL (IS), including yesterday's reported brutal beheading of another journalist," he said.
"I strongly condemn all such despicable crimes and I refuse to accept that whole communities can be threatened by atrocity crimes because of who they are or what they believe," Mr Ban said.
The UN chief described the situation in Iraq, where IS extremists have seized territory in the north and west of the country, as "abhorrent" and called on religious leaders "to stand up for tolerance, mutual respect and non-violence".
The family of Mr Sotloff has said it "knows of this horrific tragedy and is grieving privately".
Mr Sotloff's mother, Shirley, appealed last week for her son's release in a videotaped message to Islamic State's self-proclaimed caliph, Abu Bakr al-Baghdadi.
British Foreign Secretary Philip Hammond said Islamic State's seizure of a British hostage did not make airstrikes on the militants more likely, but said he was not ruling that option out.
IS issued a threat against a British hostage, a man the group named as David Haines, warning governments to back off "this evil alliance of America against the Islamic State".
"It doesn't make any difference at all to our strategic planning," Mr Hammond told reporters.
"If we judge that airstrikes could be beneficial ... then we will certainly consider them. But we have made no decision to do so at the moment."
Mr Hammond was speaking after a meeting of the government's emergency response committee.
"You wouldn't expect me to discuss various options that we will be considering but I can assure you that we will look at every possible option to protect this person," he added, referring to the British hostage being held by the militants.