Former US president Jimmy Carter has called on Ireland to take a lead in introducing legislation to target the buyers of sex.
In letters to the Taoiseach, the Minister for Justice and all members of the Oireachtas, Mr Carter urged politicians to act with a "sense of urgency" to protect prostituted women and girls.
In the letters, Mr Carter acknowledges the progress being made in Ireland towards passing legislation that would target the buyers of sex.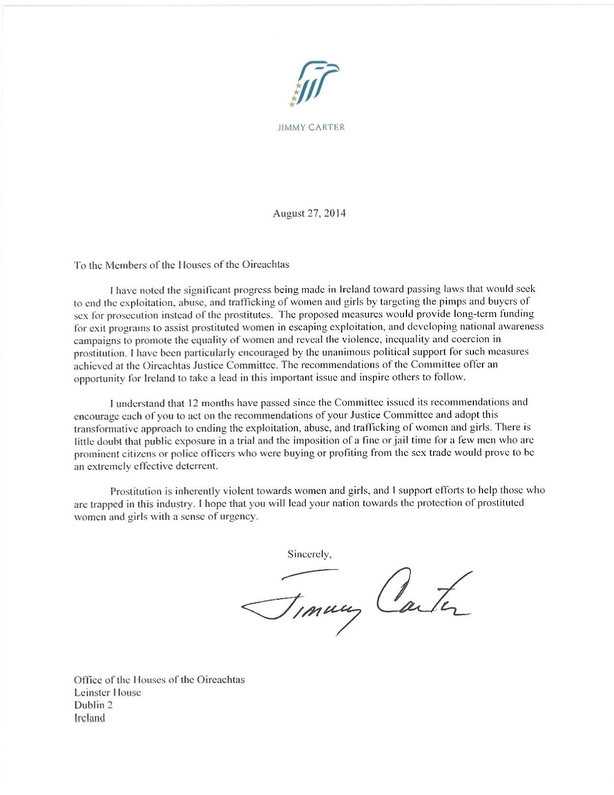 Mr Carter noted the recommendations made by the Oireachtas Justice Committee last year and said he was encouraged by the unanimous cross-party support to pass such legislation.
However, he said that over 12 months have passed since these recommendations were made and politicians need to act now to end the exploitation, abuse and trafficking of women and girls.
He said the reforms provide Ireland with an opportunity to take a lead on this important issue and inspire others to follow.
Prostitution, he said, is inherently violent towards women and girls and politicians in Ireland should act to reform legislation "with a sense of urgency".
The Immigrant Council of Ireland has welcomed the comments and called for political leadership to bring forward legislation in the current Dáil term.