Fears are growing over the future of another English language college in Dublin after it told students that it was closing immediately for an unscheduled holiday.
The college, on Merrion Square, is called English in Dublin.
It is understood to have at least 350 foreign students enrolled.
The owners of the school have told RTÉ News that it is definitely not close closing.
Yesterday students were informed via Facebook that the school was taking what it called a "special holiday", in preparation for a move to a new more modern building.
The holiday was to begin immediately.
The message said the college looked forward to welcoming students back on 22 September.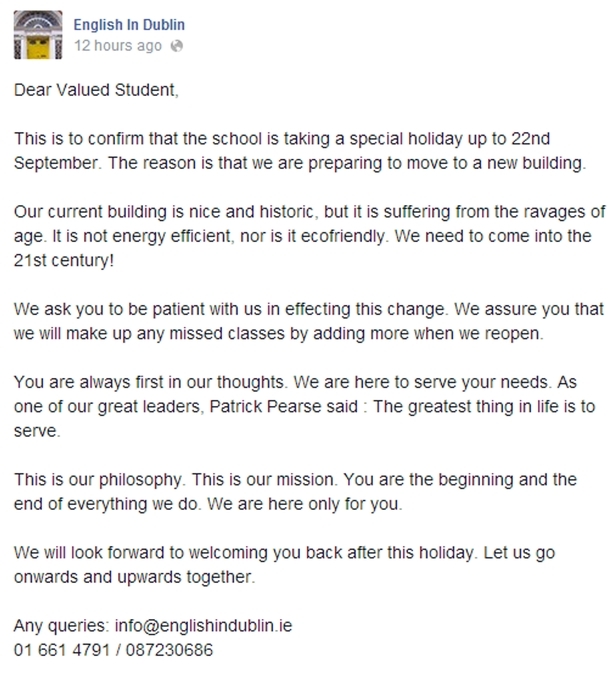 The college was informed two weeks ago that it had failed an inspection carried out by a State accreditation agency.
This failure was likely to lead to the removal of its ACELS approval.
ACELS is a stringent language school rating system that is operated by a Department of Education agency.
Student representatives have said they fear that the college is, in fact, closing down.
Last month another college, BCT on Dublin's Parnell Square, announced a sudden unscheduled holiday in a similar way.
BCT has now closed permanently.
State accreditation body Quality and Qualifications Ireland told RTÉ News the owner of English in Dublin told it yesterday evening that the college was definitely not closing.
The owner made the comment in response to queries from QQI, it said.