Dublin City Council is proposing a land swap with developers Chartered Land to take over the site of the planned 1916 Heritage Centre on Moore Street.
A condition of the deal would be that the developers complete the heritage centre on the national monument at 14 to 17 Moore Street six weeks before the centenary of the Easter Rising.
It would mean that the developers, funded by NAMA, would provide a total of €9m for restoration works and the city council would take ownership of the heritage centre.
The council would in turn hand over numbers 24 and 25 Moore Street where a cleansing depot is situated to the rear.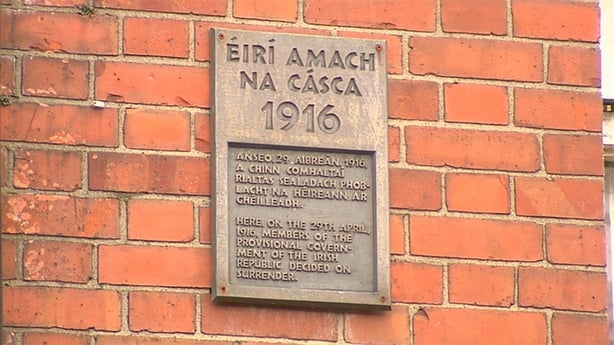 That land is needed as part of plans for a massive shopping centre development stretching from Moore Street to O'Connell Street and including the site of the old Carlton Cinema.
An original sale price of €12m was agreed with Chartered Land at the height of the boom.
City councillors had threatened to veto renegotiation of the price as a way of blocking any redevelopment of the Moore Street terrace used as an escape route by 1916 rebels.
But council management is now hoping to get their consent with the proposed swap of numbers 24 and 25 in return for ownership of a restored national monument and surrounding properties.
Revised restoration plans for numbers 14 to 17 have been agreed between the Department of Heritage and Chartered Land, which would extend the conservation area beyond the four buildings to include rear yards and buildings backing onto Moore Lane.
The developers also agreed not to build a carpark under the national monument.
Some city councillors and relatives of the 1916 leaders are insisting that the entire terrace on Moore Street from Henry Street to Parnell Street, as well as surrounding laneways, be preserved as a battlefield site.
The 1916 Relatives Association said it was "gravely concerned" upon hearing of the proposal.
But chairman of the Moore Street Advisory Committee Independent Councillor Nial Ring has welcomed the proposal as a way of ensuring that the national monument is restored in time for the centenary.
"This Heritage Centre will go some way in ensuring that the sacrifices of the the men, women and children of 1916 are acknowledged, remembered and cherished" he said.
The issue is due to be put to a vote of councillors at next month's meeting of the city council.