Police have said they arrested 47 people during a night of protests in Ferguson, the Missouri town rocked by violence over the police shooting of an unarmed black teenager.
Captain Ron Johnson of the Missouri Highway Patrol said protesters threw bottles of water and urine at police towards the end of last night's protest, prompting officers to intervene after an otherwise peaceful night.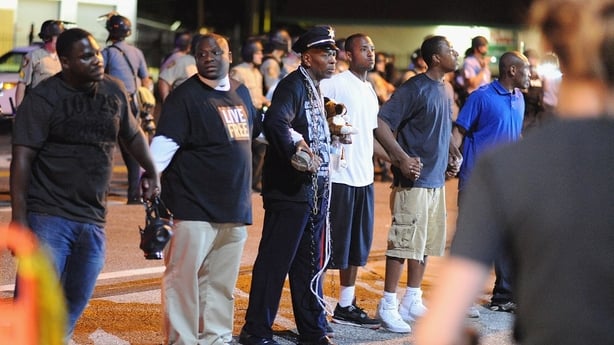 He told a press conference police had also seized three guns from demonstrators.
Captain Johnson stressed that unlike a protest on Monday night, protesters did not fire guns at police and police refrained from using tear gas to break up the rally.
It comes as the governor of Missouri and the US attorney general renewed appeals for calm in Ferguson 10 days after the fatal shooting of black teenager Michael Brown.
Street protests in the predominantly black community of 21,000 people have been punctuated by looting, vandalism and clashes between demonstrators and police every night since the unarmed 18-year-old was killed by a white police officer.
In the hours after darkness last night, protesters were notably fewer in number and more subdued than on previous nights, with more onlookers milling about the fringes as civic leaders, members of the clergy and even Missouri Attorney General Chris Koster mingled with demonstrators.
Two dozen police in military-style uniforms took positions across the street from a burned-out gas station where protesters on Monday threw at least one petrol bomb.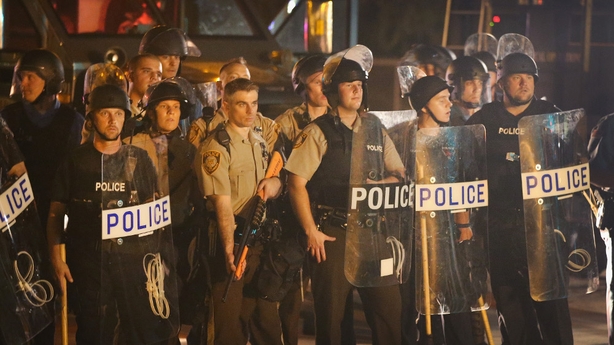 But confrontations between police and protesters seemed mostly isolated.
A group of people playing music and dancing on top of a white truck bearing the slogan "Don't loot don't shoot" were ordered by police to move on.
Earlier in the day, St Louis metropolitan police said they shot and killed a 23-year-old black man who brandished a knife at officers and yelled at them to "shoot me now, kill me."
Two officers opened fire after he refused repeated orders to drop his weapon, police said.
The incident occurred a few miles from the scene of the protests.
While apparently unrelated to the Brown killing or protests surrounding it, the shooting sparked concerns about an escalation of public anger over what many perceive as a pattern of excessive police force against minorities.
Tuesday's shooting drew scores of angry protesters who lingered well past dark outside the convenience store where the man with the knife had snatched some drinks and snacks before he was confronted by police.
Police remained in a show of force to keep a lid on any potential trouble there.