Israel has launched airstrikes across Gaza in response to Palestinian rockets after Egyptian-mediated talks failed to extend a 72-hour truce in a month-old war.
Egypt later called for a resumption of the ceasefire, saying only a few points remained to be agreed.
Palestinian factions said they would meet Egyptian mediators later in the day but there was no sign of any imminent deal.
An Israeli government official said Israel would not negotiate with Palestinians while militants continued to unleash missiles.
As warning sirens sounded in southern Israel, the military said "Gaza terrorists" had fired at least 57 rockets today and the "Iron Dome" interceptor system had been used against some of them.
Islamic Jihad and the Popular Resistance Committees claimed responsibility for the rockets from the Hamas-dominated enclave.
Accusing Hamas of breaking the ceasefire, Israel said several of the rockets had been launched about four hours before the truce was due to end at 8am (6am Irish time).
Heavier barrages followed shortly after the ceasefire period expired.
Gaza officials say the war has killed 1,880 Palestinians, most of them civilians. Hamas said yesterday it had executed an unspecified number of Palestinians as Israeli spies.
Israel says 64 of its soldiers and three civilians have died in the fighting that began on 8 July, after a surge in Palestinian rockets into Israel.
By resuming the attacks, Gaza militants appeared to be trying to put pressure on Israel, making clear they were ready to fight on to end a blockade of the coastal territory that both Israel and neighbouring Egypt have imposed.
In the first casualties since hostilities resumed, Palestinian medical officials said a 10-year-old boy was killed in an Israeli strike near a mosque in Gaza City.
An Islamic Jihad militant and three other Palestinians were killed in attacks from the air in the southern Gaza Strip.
In Israel, police said two people were injured by mortar fire from Gaza.
Israel's armed forces said they had responded to the cross-border attacks by targeting 51 "terror sites" across Gaza, including rocket launchers and military compounds and headquarters, and would continue to strike Hamas and its infrastructure and operatives.
Israeli Justice Minister Tzipi Livni, a member of Prime Minister Benjamin Netanyahu's security cabinet, said that Gaza militants "have to get hit in return, and not in the same proportion, but to a greater degree".
Heavy civilian casualties and destruction during Israel's campaign against militants in packed residential areas of the Gaza Strip have raised international alarm over the past month, but efforts to prolong a ceasefire at talks in Cairo failed.
UN Secretary-General Ban Ki-moon said in a statement he was deeply disappointed an extension of the ceasefire could not be agreed, and he condemned the renewed rocket fire on Israel.
"The Secretary-General firmly calls on the parties not to resort to further military action that can only exacerbate the already appalling humanitarian situation in Gaza," it said.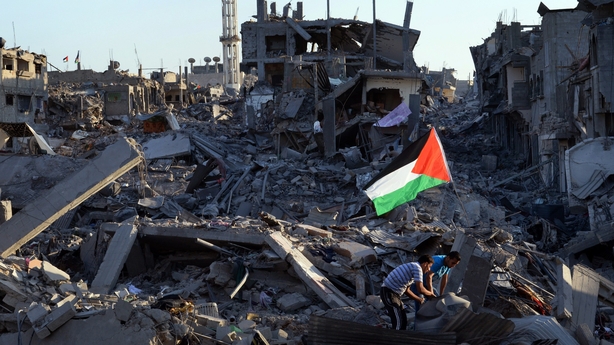 It expanded its air and naval bombardment of Gaza into a ground offensive on 17 July, and pulled its infantry and armour out of the enclave on Tuesday after saying it had destroyed more than 30 infiltration tunnels dug by militants.
Hamas's refusal to extend the ceasefire could further alienate Egypt, whose government has been hostile to the group and which ultimately controls Gaza's main gateway to the world, the Rafah border crossing.
A source at Cairo airport said the Israeli delegation left shortly before the truce expired.
In the West Bank a 20-year-old Palestinian was shot dead during an anti-Israeli protest outside the settlement of Psagot, the Palestinian ambulance service said.
A military spokeswoman said troops first used riot control methods but then opened fire, "confirming a hit", after stone-throwing protesters reached the settlement's fence.