Two former Khmer Rouge leaders have been jailed for life after being found guilty of crimes against humanity by Cambodia's UN-backed court.
They are the first sentences for leaders of the murderous regime.
"Brother Number Two" Nuon Chea, 88, and former head of state Khieu Samphan, 83, were "guilty of the crimes against humanity, of extermination ... political persecution, and other inhumane acts," said judge Nil Nonn.
Lawyers for the two men said they will appeal the verdicts and jail terms.
However, the judge said the gravity of the crimes meant they "shall remain in detention until this judgment becomes final".
Prosecutors had sought life terms for the defendants - the most senior surviving ex-Khmer Rouge officials - for their roles in a regime that left up to two million people dead during the "Killing Fields" era from 1975-1979.
The verdict, after a two-year trial, is likely to bring a measure of justice to those who survived the Khmer Rouge years, three decades after the regime's fall.
The era saw a quarter of Cambodia's population killed or die from starvation and overwork.
A few dozen survivors, many travelling from far-flung rural provinces, arrived early to join about 900 Cambodians at the Phnom Penh court to watch the verdicts.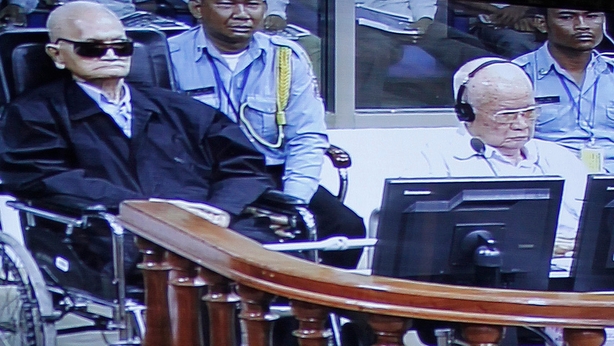 The defendants had throughout the trial denied knowledge of the regime's crimes during the era.
But both eventually expressed a level of remorse for the suffering inflicted on the Cambodian people by the Khmer Rouge.
The complex case against them was split into a series of smaller trials in 2011 for reasons including their advanced age and the large number of accusations.
Led by "Brother Number One" Pol Pot, who died in 1998, the Khmer Rouge dismantled modern society with regime atrocities affecting virtually every family in Cambodia.
#INFOGRAPHIC Two ex-leaders of Cambodia's Khmer Rouge guilty of crimes against humanity: court verdict pic.twitter.com/fWk49ogtD3

— Agence France-Presse (@AFP) August 7, 2014