Israeli and Palestinian delegations are in Egypt for talks aimed at securing a permanent ceasefire.
A three-day truce came into effect in Gaza this morning after officials from Israel and Hamas agreed to the ceasefire, which was negotiated by Egypt.
Israel has withdrawn all its forces from Gaza, wrapping up a ground operation that began on 17 July, a military spokesman confirmed.
"There were a number of forces inside ... but all of them have left" the Palestinian territory, General Moti Almoz told army radio.
Israel's two main radio stations reported that ground forces had completed their main mission of destroying cross-border tunnels dug by Hamas militants.
Israel Radio and Army Radio reported that at least 32 of the underground infiltration passages, and dozens of access shafts, were located and blown up ahead of the truce.
More than 1,800 Palestinians have been killed in the conflict, which has also seen the deaths of 64 Israeli soldiers and three civilians.
Minutes before the truce began, air raid sirens sounded in Jerusalem and Tel Aviv as militants fired a barrage of rockets at central Israel.
Timeline - Israel's Operation Protective Edge
Meanwhile, Palestinian Foreign Minister Riad al-Malki said there was "clear evidence" that Israel committed war crimes in Gaza.
"In [the] last 28 days, there is clear evidence of war crimes committed by Israel amounting to crimes against humanity," Mr Malki said after meeting prosecutors at the International Criminal Court.
Mr Malki said his administration was making efforts to have Palestine become a member of the court, a legal step that would grant the ICC jurisdiction over alleged crimes in the territory.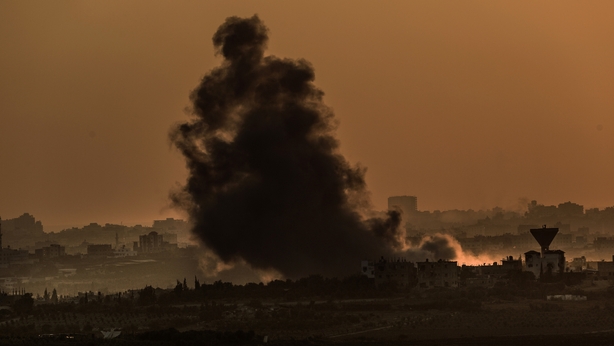 The ICC is a court of last resort, meaning that it can only intervene when a country is found to be unwilling or unable to carry out its own investigation.
The court was created more than a decade ago to prosecute individuals for war crimes.
Both sides have traded allegations of war crimes during the Gaza assault, while defending their own actions as consistent with international law.
United Nations Secretary-General Ban Ki-moon urged "utmost restraint" after both sides agreed to the 72-hour truce.
The ceasefire comes only days after a similar three-day agreement to let the guns fall silent collapsed in a deadly wave of violence within hours of starting on Friday.
Mr Ban urged both sides to "commence, as soon as possible, talks in Cairo on a durable ceasefire and the underlying issues," his office said hours after the announcement was made.
"In this regard, he welcomes the proactive engagement of the Palestinian delegation under the leadership of President Abbas."
Mr Ban has promised the UN's "full support" for the talks, which he said are "the only way to sustainably stop the violence, which has cost far too many lives".
In Gaza, some residents left UN shelters today to trek back to neighbourhoods where whole blocks have been destroyed by Israeli shelling and the smell of decomposing bodies fills the air.
About half a million people have been displaced by a month of bloodshed in Gaza.
Visiting International Red Cross President Peter Maurer, responding to local criticism that his organisation was late in helping some victims, said "we were insufficiently able to bridge the gap between our willingness to protect them and our ability to do so".
The head of Israel's southern command reassured residents who had fled southern Israeli towns when fighting erupted that it was safe to return home. However, some remained unconvinced the threat of attack tunnels and rockets from Gaza had been wiped out.
Several previous truce attempts by Egypt and other regional powers, overseen by the United States and United Nations, failed to calm the worst Israeli-Palestinian fighting in two years.
Efforts to turn the ceasefire into a lasting truce could prove difficult, with the sides far apart on their central demands, and each rejecting the other's legitimacy.
Hamas rejects Israel's existence and vows to destroy it, while Israel denounces Hamas as a terrorist group and eschews any ties.
Besides the truce, Palestinians demand an end to the Israeli-Egyptian blockade on impoverished Gaza and the release of prisoners, including those Israel arrested in a June crackdown in the occupied West Bank after three Jewish seminary students were kidnapped and killed.
Israel has resisted those demands in the past.
Elsewhere, British Foreign Office Minister Baroness Warsi has resigned, branding her government's policy on Gaza as "morally indefensible".
Lady Warsi, who was the first Muslim to sit in cabinet, informed British Prime Minister David Cameron that she could no longer support the government's stance on the issue.
She wrote in her resignation letter: "My view has been that our policy in relation to the Middle East peace process generally but more recently our approach and language during the current crisis in Gaza is morally indefensible, is not in Britain's national interest and will have a long-term detrimental impact on our reputation internationally and domestically."
With deep regret I have this morning written to the Prime Minister & tendered my resignation. I can no longer support Govt policy on #Gaza

— Sayeeda Warsi (@SayeedaWarsi) August 5, 2014
Palestinian arrested over three kidnappings and murders
Israeli police today announced the arrest of a Palestinian man suspected of leading the group that kidnapped and murdered three Israeli teenagers in June.
"Hossam Kawasmeh was arrested by Israeli security forces last month in Shuafat (a neighbourhood of Arab east Jerusalem," the police said in a statement.
The kidnappings on 12 June and subsequent murder of teenagers Naftali Frenkel, Gilad Shaer and Eyal Yifrach in the West Bank triggered a crackdown on Hamas in the West Bank and an uptick of rocket fire from Gaza.
Israel rounded up hundreds of Palestinians in a bid to find the three while they were missing.
According to Israeli media, Hossam Kawasmeh made it known during his interrogation that he received financial help from Hamas operatives in Gaza to recruit and arm the kidnappers.
Israeli authorities are still searching for two other Palestinians in connection with the murders, police said today.