More than 100 Palestinians were killed today after Israel intensified its bombardment of Gaza, bringing the number of Palestinians killed to over 1,200.
Israel stepped up its artillery fire overnight, especially in central Gaza's Bureij refugee camp, spreading in the afternoon to Jabaliya in the north and Rafah in the south.
On the Israeli side, 53 soldiers have been killed in the fighting, as well as two Israeli civilians and a Thai agricultural worker who was killed in southern Israel.
Meanwhile, Israeli Prime Minister Benjamin Netanyahu has asked for fresh US help in trying to broker a ceasefire in Gaza, US Secretary of State John Kerry said.
"Last night we talked, and the prime minister talked to me about an idea and a possibility of a ceasefire. He raised it with me, as he has consistently," Mr Kerry said.
He added that Mr Netanyahu had said he "would embrace a ceasefire that permits Israel to protect itself against the tunnels and obviously not be disadvantaged for the great sacrifice they have made thus far".
Mr Netanyahu said yesterday that his country needs to be prepared for a long conflict in the Palestinian enclave.
Hamas's armed wing, the Ezzedine al-Qassam Brigades, said any truce with Israel must include a stop to Israeli "aggression" and a lifting of its Gaza blockade.
"We don't accept any condition of ceasefire," Mohammed Deif said in an audio address carried by Hamas radio and television.
"There is no ceasefire without the stop of the aggression and the end of the siege."
In Gaza, the only power plant supplying electricity to the region was knocked out of commission as part of attacks carried out by the Israeli military overnight.
"Gaza's sole power plant has stopped working due to Israeli shelling last night, which damaged the steam generator and later hit the fuel tanks which set them on fire," said Fathi al-Sheikh Khalil, the deputy director of the energy authority in Gaza.
The Israeli army said it had "targeted over 110 terror sites" in Gaza since midnight.
Israel began its offensive on 8 July with the aim of halting rocket attacks by Hamas and its allies.
Timeline: Operation Protective Edge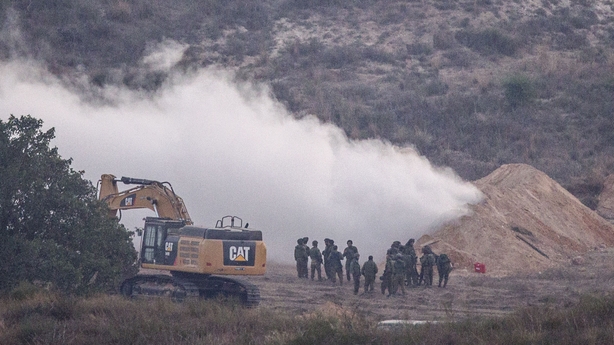 It later ordered a land invasion to find and destroy the warren of Hamas tunnels that criss-crosses the border area.
An opinion poll broadcast by Israel's Channel 10 television showed overwhelming public support for continuing the Gaza offensive until Hamas is "disarmed".
The military warned thousands of Palestinians to flee their homes around Gaza City, which is usually the prelude to major army strikes.        
"We need to be prepared for a protracted campaign. We will continue to act with force and discretion until our mission is accomplished," Mr Netanyahu said last night.
              
A number of rockets fired from Gaza were launched toward southern and central Israel, including the Tel Aviv area.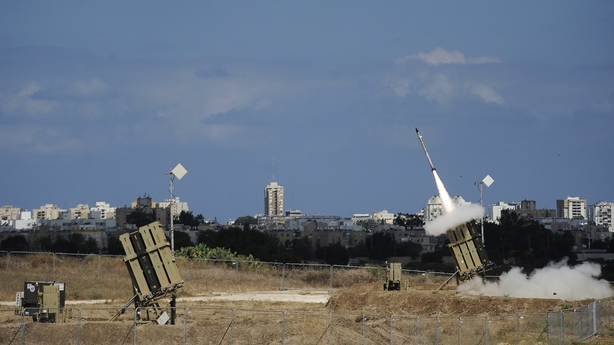 At least one rocket was intercepted by the Iron Dome system. No casualties or damage were reported.
Foreign pressure has been building on Mr Netanyahu to restrain his forces.
Both US President Barack Obama and the UN Security Council called for an immediate ceasefire to allow relief to reach Gaza's 1.8 million Palestinians, followed by negotiations on a more durable cessation of hostilities.
Israel wants guarantees Hamas will be stripped of its tunnels and rocket stocks.
It worries that Palestinian Islamists will engineer the truce talks mediated by their allies in Qatar and Turkey into an easing of an Israeli-Egypt blockade on Gaza.
In his television address, Mr Netanyahu said any solution to the crisis would need to see Hamas stripped of its weapons.
"The process of preventing the armament of the terror organisation and demilitarisation of the Gaza Strip must be part of any solution. And the international community must demand this forcefully," he said.
The main UN agency in Gaza, UNRWA, said more than 167,000 displaced Palestinians had taken shelter in its schools and buildings.
In New York, UN Secretary-General Ban Ki-moon deplored what he said was a lack of resolve among all parties.
"It's a matter of their political will. They have to show their humanity as leaders, both Israeli and Palestinian," he told reporters.