At least 15 people were killed when Israeli fire hit a UN-run school in Gaza, while three more people were shot dead by Israeli soldiers at a demonstration in the occupied West Bank.
Emergency services spokesman Ashraf al-Qudra said around 200 people were injured in the strike on the school run by the UN agency for Palestinian refugees (UNRWA) in the northern town of Beit Hanun.
An AFP journalist at a nearby morgue said the bodies arriving from the scene included a mother and her one-year-old baby.
UN Secretary General said Ban Ki-Moon said UN staff were among the dead and injured in the shelling of the school.
Mr Ban said he was "appalled" by the news and "strongly condemned" the attack on the school.
Israel Radio, without citing a source, reported that most of those killed at the United Nations school were children.
The Israeli army said it would investigate the circumstances surrounding the school attack.
Meanwhile, Israeli soldiers shot and killed three Palestinian protesters and wounded about 100 in confrontations with several thousand people demonstrating in the occupied West Bank against the Israeli offensive in Gaza.
The Israeli military confirmed troops had used "riot dispersal means" against protesters who threw rocks and firebombs at them and blocked a road with burning tyres.
The protest erupted after allies of Palestinian President Mahmoud Abbas's Fatah movement marched from the West Bank city of Ramallah to the edges of Jerusalem in protest against Israel's war against Hamas militants in Gaza.
A doctor at Ramallah hospital said three people died of bullet injuries, including a man in his 20s who was injured in the head, while at least 100 other people were treated for various injuries after the protest.
Israel Radio said the protest appeared to be the largest since a 2000-2005 Palestinian uprising.
More than 5,000 people have been injured since cross-border fighting began on 8 July.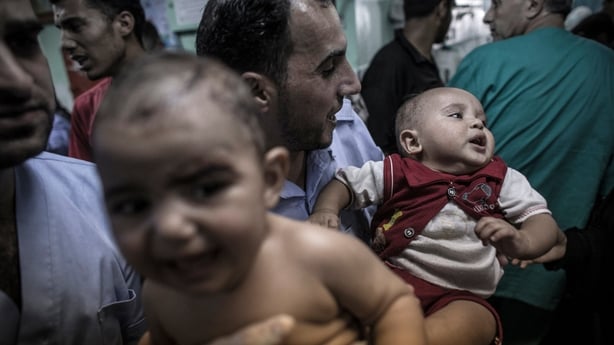 Those numbers do not include more than a dozen Palestinian militants killed after infiltrating southern Israel since the conflict.
Among those killed were seven who died in a series of air strikes and tank fire in and around Khuzaa near Khan Yunis in southern Gaza.
Israel says at least 32 of its soldiers have died along with three civilians killed in rocket attacks out of Gaza.
Chris Gunness, spokesman for the main UN agency in Gaza UNRWA, confirmed the strike on the school and criticised Israel.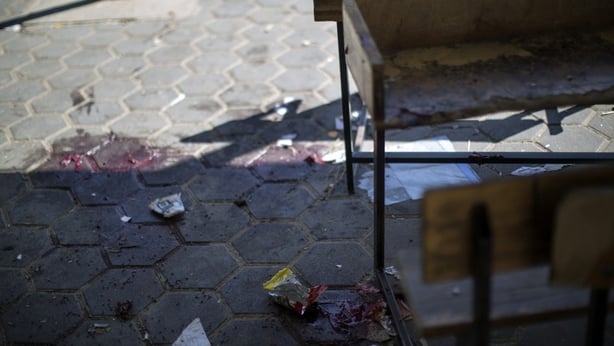 "Precise co-ordinates of the UNRWA shelter in Beit Hanoun had been formally given to the Israeli army ... Over the course of the day UNRWA tried to coordinate with the Israeli Army a window for civilians to leave and it was never granted," Mr Gunness said on his Twitter page.
Civilians yet again caught between two sides paying an unimaginable price RT

— Chris Gunness (@ChrisGunness) July 24, 2014
Earlier, Mr Gunness said Israeli forces had bombed UN shelters on three separate occasions since Monday, in incidents which did not cause injuries.
A spokeswoman for US Secretary of State John Kerry said he is urging "all parties to redouble their efforts to protect civilians".
He said the deadly attack on the UN-run school "underscores the need to end violence".
Mr Kerry met Mr Ban, Palestinian President Mahmoud Abbas and Israeli Prime Minister Benjamin Netanyahu yesterday.
"We have certainly made some steps forward. There is still work to be done," he said.
Mr Kerry, who plans to stay in Cairo until tomorrow, has been working through Mr Abbas, Egypt and other regional proxies because the US, like Israel, shuns Hamas as a terrorist group.
Minister defends Irish abstention on Gaza vote
UN humanitarian chief concerned at mounting casualties
Meanwhile, UN humanitarian chief Valerie Amos has expressed deep concern about the mounting civilian casualties in Gaza.
She warned that it was "almost impossible" for Palestinians to shelter from Israeli airstrikes.
"The reality in Gaza is, it doesn't matter how hard Israel tries to minimise harm, this is an extremely overcrowded stretch of land," Ms Amos told BBC radio.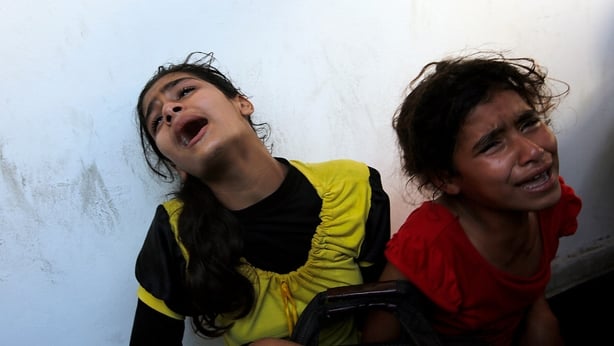 "Forty-four percent of that land has been declared a no-go zone by the Israeli army so there aren't that many places for people to go."
She described "people crowded into a sliver of land, almost impossible for them to move".
The UN's Under-Secretary-General for Humanitarian Affairs and Emergency Relief Coordinator added her call for a ceasefire to end this "devastating situation".
"No one is denying the right of Israel to defend itself but there are huge concerns about the impact this is having on ordinary people on the ground," Ms Amos said.
French President Francois Hollande has announced an €11m aid package to Gaza.
An advisor to Mr Hollande said the humanitarian aid, €8m of which will be given to the Palestinian Authority and the remainder to UN bodies and NGOs working in Gaza, was approved after a meeting with non-governmental organisations working in the strife-torn region.
Gaza truce unlikely 'in coming days'
A Gaza truce involving a withdrawal of Israeli ground forces from the Palestinian territory would be unlikely before next week, an Israeli cabinet minister has said.
"I do not see a ceasefire in the coming days where the IDF (Israel Defence Forces) leave," Science Minister Yaakov Peri, a former security chief, told the Walla news site.
He added that troops needed more time to complete their mission of destroying cross-border tunnels used by Hamas fighters.
"I can say authoritatively that two or three days will not be enough to finish tackling the tunnels."
It comes as US aviation authorities lift a ban on flights to Tel Aviv that had been in force for two days, prompted by rockets being launched from Gaza.
However, many global airlines are still avoiding flying into Israel.
Hamas leader Khaled Meshaal, speaking in Qatar, praised the group's fighters.
He said they had made gains against Israel and said he supported a humanitarian truce but a ceasefire would only be acceptable in exchange for easing the plight of Gazans.
"Let's agree first on the demands and on implementing them and then we can agree on the zero hour for a ceasefire.
"We will not accept any proposal that does not lift the blockade.
"We do not desire war and we do not want it to continue but we will not be broken by it," he said.
Adding to the pressure on Israel, UN High Commissioner for Human Rights Navi Pillay said there was "a strong possibility" that it was committing war crimes in Gaza.
Ms Pillay also condemned indiscriminate Islamist rocket fire out of Gaza and the United Nations Human Rights Council said it would launch an international inquiry into alleged violations.
Israel denied any wrongdoing. "Get lost," Justice Minister Tzipi Livni said on her Facebook page in response to the investigation.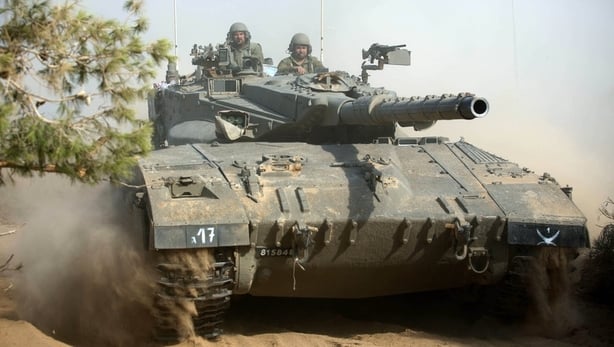 An Egyptian official said he expected a humanitarian truce to go into effect by the weekend, in time for the Eid al-Fitr festival, Islam's biggest annual celebration that follows the fasting month of Ramadan.
However, a senior US official played down the Egyptian official's confidence that there would be a truce during Eid, saying this was a US hope but it was by no means locked in.
Hamas brushed off the US diplomat's appeal, saying it would not hold fire without making gains.
"Our interest and that of our people is that no agreement should be made before the conditions of factions of resistance are met," Hamas spokesman Sami Abu Zuhri said.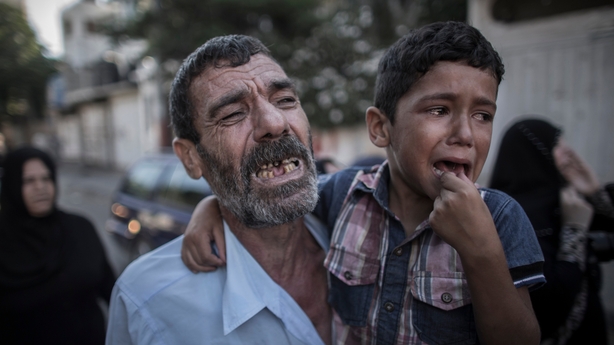 Israel launched its offensive on 8 July to halt rockets by Hamas and its allies, which have struggled under an Israeli-Egyptian economic blockade on Gaza and been angered by a crackdown on their supporters in the nearby West Bank.
After an aerial and naval bombardment failed to quell the out-gunned guerrillas, Israel sent ground forces into Gaza last Thursday, looking to knock out Hamas's rocket stores and destroy a vast, underground network of tunnels.
An astronaut on the International Space Station yesterday tweeted an image showing fighting in the region from space.
My saddest photo yet. From #ISS we can actually see explosions and rockets flying over #Gaza & #Israel pic.twitter.com/jNGWxHilSy

— Alexander Gerst (@Astro_Alex) July 23, 2014