The UN Human Rights Council has launched a commission of inquiry into Israel's Gaza offensive, backing efforts by the Palestinians to hold the Jewish state up to international scrutiny.
The 47-member council backed a Palestinian-drafted resolution by 29 votes, with Arab and fellow Muslim countries joined by China, Russia and Latin American and African nations.
The United States was the sole member to vote against, while Ireland and other European countries abstained.
Ireland was elected to the Human Rights Council for a three-year term last year.
UN Human Rights Council adopts resolution on #Palestine & #Gaza. 29 States voted for, 1 against, 17 abst. #HRC pic.twitter.com/gOWTGAxEHA

— UN Geneva (@UNGeneva) July 23, 2014
The Department of Foreign Affairs has emailed a statement of the explanation of vote delivered on behalf of the EU.
In the statement, the EU said the draft resolution failed to condemn explicitly the indiscriminate firing of rockets into Israeli civilian areas as well as to recognize Israel´s legitimate right to defend itself.
The EU said it worked intensively throughout the day with the authors of the resolution to find the text which we could support.
Hamas leader Khaled Meshaal has said he was ready to accept a humanitarian truce in Gaza, but would not agree to a full ceasefire until the terms had been negotiated.
              
"Everyone wanted us to accept a ceasefire and then negotiate for our rights, we reject this and we reject it again today," he said at a news conference in Qatar.
Lifting the eight-year blockade of Gaza is a main demand of Hamas, which also wants the opening of the Rafah border crossing with Egypt and Israel to free prisoners. 
However, he said Hamas "will not close the door" to a humanitarian truce if Israel ended its siege of Gaza.
Mr Meshaal insisted that Hamas "welcomes all efforts to end the aggression" and "does not object" to mediation by any party, including Egypt.
"We will not accept any initiative that does not lift the blockade on our people and that does not respect their sacrifices.
"Let us agree on achieving our demands and we will then agree on the zero-hour for a ceasefire," Mr eshaal said.
An Israeli air strike on northern Gaza has killed five people, bringing the total number of dead to 678, medics said, as Israel's army announced two more soldiers had died in fighting.
Earlier, Israeli tank fire killed five people, including two children, in southern Gaza, emergency services spokesman Ashraf al-Qudra said, as today's body count reached at least 47 Palestinians.
A series of other strikes and shellings throughout Gaza brought the total number killed from 16 days of conflict between Israel and Hamas to 687 Palestinians, according to figures from Qudra.
Another air strike killed a two-year-old girl, Qudra said.
Some 35 people in Israel, two civilians, a foreign worker and 32 soldiers, have been killed during the Jewish state's operation to stamp out rocket fire from Gaza militants and destroy Hamas tunnels.
Israel announced that three of its soldiers were killed by explosive devices. The military also says one of its soldiers is missing and believes he might be dead.
Hamas says it has captured him, but has not released a picture of him in their hands.
The foreign worker, originally from Thailand, died after being hit by a mortar round fired from Gaza, police said.
Rights groups have said that more than 80% of Palestinians killed have been civilians, with Gaza-based NGO the Palestinian Centre for Human Rights saying more than 90 were women and more than 160 children.
The United Nations human rights commissioner Navi Pillay has opened an emergency UN debate on Gaza saying there is a "strong possibility" that Israel is violating law in Gaza, which could amount to war crimes.
She said the killing of Gazan civilians, especially children, raises concerns on Israel's precautions and respect for proportionality.
Ms Pillay also condemned the indiscriminate firing of rockets and mortar by Hamas into Israel, endangering civilian lives there.
Meanwhile, Israel and the Palestinians accused each other of war crimes at the emergency debate.
Both said their actions during Israel's assault on Gaza were within the rules of international law.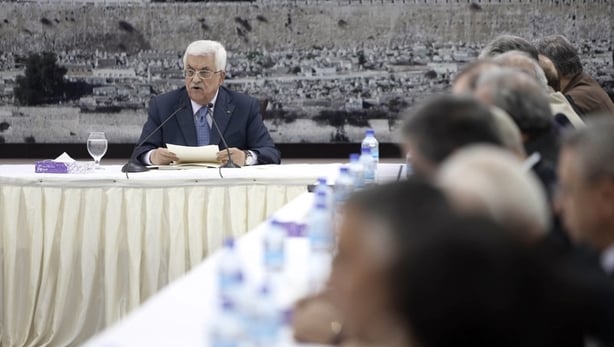 It comes after the Palestine Liberation Organisation led by President Mahmoud Abbas endorsed demands by Hamas for halting hostilities with Israel, a closing of ranks that may help Egyptian-mediated truce efforts.
With Israeli and US encouragement, Egypt has tried to get both sides to hold fire and then negotiate terms for protracted calm in Gaza.
Hamas and other armed factions had rejected Cairo's offer, saying they wanted assurances of relief from an Israeli-Egyptian blockade and other concessions.
The dispute was further complicated by distrust between Egypt under President Abdel Fattah al-Sisi and Hamas.
"The Gaza demands of stopping the aggression and lifting the blockade in all its forms are the demands of the entire Palestinian people and they represent the goal that the Palestinian leadership has dedicated all its power to achieve," senior PLO official Yasser Abed Rabbo said in Ramallah, where Mr Abbas is based.
"We are confident Gaza will not be broken as long as our people are standing beside it to support it through all possible means until the invaders understand that our great people inside the homeland and outside will not leave Gaza alone."
Signalling that Mr Abbas, too, sought a staggered cessation of hostilities, the Palestinian leader's Fatah faction yesterday proposed a truce followed by five days of negotiations on terms.
There was no immediate response to the PLO statement from Hamas or Israel, which pressed the Gaza offensive it began on 8 July after a surge of cross-border rockets.
Meanwhile, Palestinian youths have clashed with Palestinian security forces who were trying to prevent them from getting near Israeli soldiers in the West Bank town of Hebron.
It comes as further exchanges near Bethlehem resulted in the death of at least one man.
Palestinian youths in Hebron flocked to the streets to demonstrate in support of residents in Gaza, while in Bethlehem dozens threw stones and molotov cocktails at Israeli soldiers who responded with tear gas.
In a village near Bethlehem, a Palestinian man was killed by Israeli soldiers, who said they shot him with a rubber bullet.
He was taken to a hospital in Hebron after being injured, where he later died.
Israel pounded targets across Gaza late yesterday, saying no ceasefire was near, as top US and United Nations diplomats pursued talks on halting the fighting.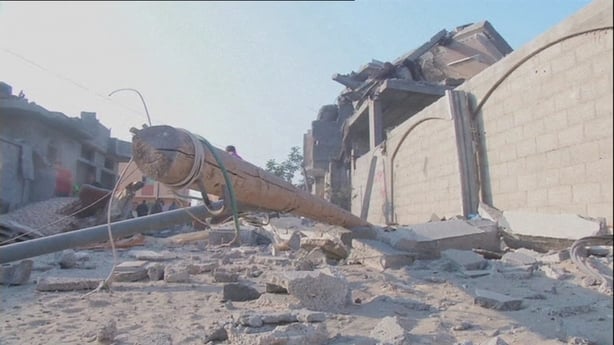 Air carriers in the US and Europe yesterday stopped flights to Tel Aviv after warnings from governmental agencies in an effort to ensure passenger safety as turmoil in Israel and the region intensified.
The US Federal Aviation Administration today renewed its ban on American flights to Tel Aviv for another 24 hours, citing the "potentially hazardous situation" in Israel and Gaza.
The FAA prohibited US airlines from going into or out of Ben Gurion International Airport, Israel's only international hub, after a Hamas rocket struck a neighbourhood to the north of the airport.
Polish state airline LOT suspended its flights to Israel from Warsaw until Monday because of concern for passengers' safety, the airline's spokeswoman said today.
"This is caused by the tense situation in the region," LOT added in a statement.
"The connection will be re-established as soon as possible and when we are sure that our operations are 100% safe." 
US Secretary of State John Kerry urged Hamas to pursue a negotiated end to its conflict with Israel after what he said were constructive talks with Egyptian officials about their ceasefire proposal.
However, there was no let-up in the fighting around Gaza, with plumes of black smoke spiralling into the sky, and Israeli shells raining down on the coastal enclave.
A demonstration in Dublin this evening saw a large crowd of Palestinian supporters lie down 'dead' outside the Department of Foreign Affairs while holding the names of the dead in Gaza.
The name & age of the dead in #GAZA are read out as the protesters lie on road outside the Dept of Foreign Affairs pic.twitter.com/Kmmyn1qs9L

— Colm Hand (@ColmHand) July 23, 2014