US President Barack Obama said that a missile fired from rebel-held territory in Ukraine downed a Malaysian passenger jet and confirmed that one American was among the dead.
"Their deaths are an outrage of unspeakable proportions," Mr Obama told reporters as he pressed for an international investigation.
He said pro-Russian separatists have received a steady flow of support from Russia including heavy weapons and anti-aircraft weapons.
World leaders have demanded an international investigation into the incident in which 298 people were killed.
There were no survivors from the crash, the deadliest such attack on a commercial airliner.
One of the passengers on board was an Irishwoman, who had been living in Perth in western Australia.
The woman, who was in her 50s, was originally from Lucan in Dublin and was returning to Australia from Ireland.
The crash left bodies and wreckage scattered across kilometres of rebel-held territory near the border with Russia.
US Ambassador to the UN Samantha Power has said the plane was "likely" shot down by a surface-to-air missile launched from a separatist-held area.
Ms Power told an emergency meeting of the Security Council that Flight MH17 was "likely downed by a surface-to-air missile, SA-11, operating from a separatist-held location in eastern Ukraine".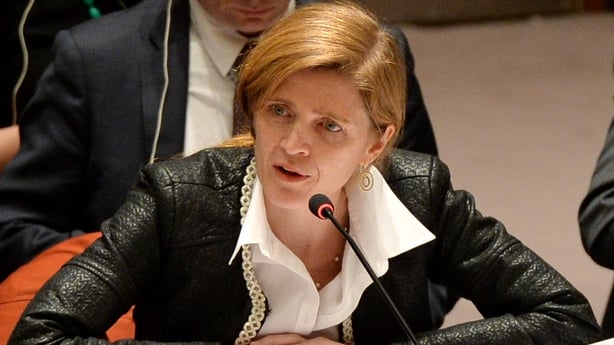 She added: "Because of the technical complexity of the SA-11 it is unlikely that the separatists could effectively operate the system without assistance from knowledgeable personnel, thus we cannot rule out technical assistance from Russian personnel in operating the system."
The Boeing 777 crashed about 40km from the border, near the regional capital of Donetsk, an area that is a stronghold of rebels who have been fighting Ukrainian government forces and have brought down military aircraft.
Leaders of the rebels' self-proclaimed Donetsk People's Republic denied any involvement and said a Ukrainian air force jet had brought down the intercontinental flight.
Russia's Defence Ministry later pointed the finger at Ukrainian ground forces, saying it had picked up radar activity from a Ukrainian missile system south of Donetsk when the airliner was brought down, Russian media reported.
The Ukrainian security council said no missiles had been fired from the armouries of its armed forces.
Officials also accused separatists of moving unused missiles into Russia after the incident. 
The Ukrainian government released recordings it said were of Russian intelligence officers discussing the shooting down of a civilian airliner by rebels who may have mistaken it for a Ukrainian military plane.
The United States and Germany called for a ceasefire to allow access to the crash site.
"There are many indications that the plane was shot down, so we have to take things very seriously," German Chancellor Angela Merkel said.
Britain and the United States said the tragedy should serve as a wake-up call for Russia to stop supporting and equipping rebels fighting in eastern Ukraine.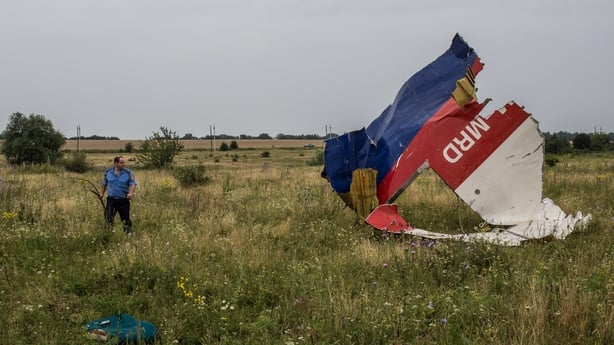 Latvia said Russia bore "full responsibility" for providing the separatists with missiles. Neighbouring Lithuania spoke of "a brutal act of terror".
OSCE did not receive proper access to site
The Organisation for Security and Co-operation in Europe has said its monitors did not have the freedom of movement they needed at the crash site.
This was despite promises from separatists in the area.
The OSCE said its monitors could not secure an access corridor to the site this afternoon.
The 17 monitors returned to Donetsk this evening but said they will try again tomorrow.
The plane's two black boxes - voice and data recorders - were recovered, but it was unlikely they could determine who fired the missile.
Further complicating any investigation, local people were seen removing pieces of wreckage as souvenirs.
The condition of the metal can indicate if it has been struck by a missile.
Ukraine said earlier that up to 181 bodies had been found.
The airline said it was carrying 283 passengers and 15 crew.
Ukraine has closed air space over the east of the country.
US Vice President Joe Biden said it appeared the downing of the jetliner was not an accident and that it apparently was "blown out of the sky".
More than half of the dead passengers, 189 people, were Dutch.
29 were Malaysian, 27 Australian, 12 Indonesian, ten British, four German, four Belgian, three Filipino, one Canadian, one New Zealander and four as yet unidentified.
All 15 crew were Malaysian.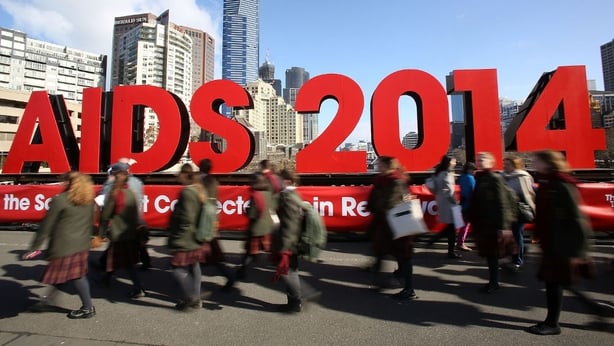 A number of those on board were travelling to an international AIDS conference in Melbourne, including Joep Lange, an influential Dutch expert.             
International air lanes had been open in the area, though only above 32,000 feet.
The Malaysia plane was flying 1,000 feet higher, at the instruction of Ukrainian air traffic control, although the airline had asked to fly at 35,000 feet.
The Netherlands has declared a day of national mourning.
Ukraine and Russia trade blame
Ukraine accused pro-Russia militants, aided by military intelligence officers, of firing a long-range, Soviet-era SA-11 ground-to-air missile.
Russian President Vladimir Putin, accused by the West of backing the rebels in Ukraine, blamed the Kiev government for renewing its offensive against rebels two weeks ago after a ceasefire failed to hold.
The Kremlin leader called it a "tragedy" but did not say who brought the Boeing 777 down.             
He also called for a "thorough and unbiased" investigation and for a ceasefire in eastern Ukraine to allow for negotiations.             
Ukrainian President Petro Poroshenko, who had stepped up an offensive in the east this month, spoke to US President Barack Obama and sought to rally world opinion behind his cause.    
"The external aggression against Ukraine is not just our problem but a threat to European and global security," he said.
China's state news agency has warned against rushing to implicate Russia.
However, it said those responsible must be brought to justice for the "intolerable terrorist attack".             
The official Xinhua news agency said in an English-language commentary that officials from the United States, Australia and other Western countries had jumped to conclusions in pointing fingers at the rebels in eastern Ukraine and for blaming Russia for the escalating violence.
"The accusation was apparently rash when the officials acknowledged they did not know for the time being who is responsible for the attack, while condemning Russia's military intervention," Xinhua said.
The news agency said the top priority at the moment was to co-operate to "find out the real culprits, if any".
"If the plane turned out to have been shot down by a missile, the perpetrators should be brought to justice despite their motives and excuses, as it was an intolerable terrorist attack," Xinhua said.
State media do not represent Chinese policy, but are indicative of government thinking.
Additional Coverage
Hundreds killed in attacks on planes since 1960s
Australian family hit by both Malaysia Airlines tragedies
Plane crash puts focus on flight paths
Calls for immediate truce in Ukraine