A Malaysia Airlines passenger plane with 280 passengers and 15 crew on board has crashed in Ukraine near the Russian border.
There are no known reports of survivors.
It is being reported by numerous sources that the aircraft was shot down by an anti-aircraft system.
US Vice President Joe Biden said this evening that the incident was "not an accident".
The plane was "blown out of the sky", he said.
Those confirmed as being on the plane include 154 Dutch nationals, 27 Australian, 23 Malaysian, 11 Indonesian, six UK national, four Germans,  four Belgians, three Philippine nationals and one Canadian.
Ukraine President Petro Poroshenko said there was no attempt by his country's forces to fire at any targets in the sky. Ukrainian separatists have also denied involvement.
Russian President Vladimir Putin said Ukraine bore responsibility for the downing of the plane, saying it would not have happened if Kiev had not resumed a military campaign against separatists.
              
"This tragedy would not have happened, if there had been peace on that land, or in any case if military operations in southeastern Ukraine had not been renewed," he said in televised comments.
Prime Minister Tony Abbott Friday said the loss of 27 Australians on the plane was a tragedy and "an unspeakable crime" if it was brought down by a missile.
Malaysian Prime Minister Najib Razak demanded swift justice for those responsible for shooting down the plane.
"If it transpires that the plane was indeed shot down, we insist that the perpetrators must swiftly be brought to justice."
The UN Security Council will hold an emergency meeting on the situation in Ukraine at 10am tomorrow.
The plane was travelling from Amsterdam on an overnight flight to Kuala Lumpur, and had been expected in the Malaysian capital at around 11pm tonight Irish time.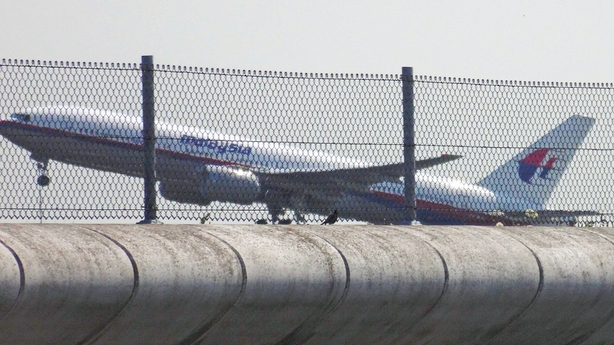 Malaysia Airlines tweeted that it had lost contact with MH17 and its last known position was over Ukraine.
Boeing, who manufactured the aircraft, said: "We are aware of reports on MH17. We're gathering more information.
"Our thoughts and prayers are with those on board MH17, as well as their families and loved ones. We stand ready to provide assistance."
A Ukrainian emergencies ministry official said at least 100 bodies have been seen at the scene of the crash.
Interfax said the plane came down 50km short of entering Russian airspace.
It "began to drop, afterwards it was found burning on the ground on Ukrainian territory," an unnamed source said.
A Reuters correspondent saw burning wreckage and bodies on the ground at the village of Grabovo, about 40km from the Russian border.
The plane appeared to have come down in a region of military action where Ukrainian government forces are battling pro-Russian separatists.
A spokesperson for the Department of Foreign Affairs said it is keeping in touch with its embassies in Prague and The Hague regarding any possible Irish passengers on plane.
There have been no reports so far of any Irish people being on board.
Dutch Prime Minister Mark Rutte is on his way back to the Netherlands from a summit in Brussels.
"I am deeply shocked by the dramatic reports on the crash of Malaysia Airlines MH17," he said, noting that he had been in touch with Ukraine's president.
Tour operators have told local media they had booked dozens of Dutch citizens onto the flight.
"Much is still unclear about the facts, circumstances and the passengers," Mr Rutte said of the flight, which is listed on flight-tracking websites as sharing planes on some routes with Dutch national airline KLM.
Dozens of relatives of passengers, many visibly distraught, have been escorted from Schipol Airport and are being taken by bus to another location.
Malaysia Airlines has lost contact of MH17 from Amsterdam. The last known position was over Ukrainian airspace. More details to follow.

— Malaysia Airlines (@MAS) July 17, 2014
LIVE UPDATES - MH17 crashes in Ukraine
Ukrainian President Petro Poroshenko said the jet may have been shot down.
"We do not exclude that the plane was shot down and confirm that the Ukraine Armed Forces did not fire at any targets in the sky," Mr Poroshenko said in a statement posted on the president's website.
The site of a Malaysia Airlines plane crash in the settlement of Grabovo in Donetsk region: http://t.co/yVWeqntSaK pic.twitter.com/guBJ5ppeRy

— Reuters Top News (@Reuters) July 17, 2014
Separatist leader Aleksander Borodai blamed the crash on the Ukrainian government's forces.
"Apparently, it's a passenger airliner indeed, truly shot down by the Ukrainian Air Force," Mr Borodai told Russia's state-run Rossiya 24 TV broadcaster.
Pro-Russian separatists have said they are willing to have an up to three day ceasefire in Ukraine to allow for recovery work at the crash site.
UNVERIFIED VIDEO
Malaysian Prime Minister Najib Razak said in a tweet: "I am shocked by reports that an MH plane crashed. We are launching an immediate investigation."
Signal from #MH17 was lost over Ukraine just before Russian border http://t.co/5L9EPHjC01 pic.twitter.com/2dIUTPFaje

— Flightradar24 (@flightradar24) July 17, 2014
A separate unnamed source in the Ukrainian security apparatus, quoted by Interfax, said the plane disappeared from radar at a height of 10,000 metres after which it came down near the town of Shakhtyorsk.
Several other passenger jets were flying through Ukrainian airspace on one of the main routes from Europe to Asia for air traffic at the same time as the plane went down.
Given recent events, questions are now likely to be asked about why airlines were still using the route.
European flight safety body Eurocontrol said that Ukrainian authorities have closed the airspace over the east of the country.
"Since the crash, the Ukrainian authorities have informed Eurocontrol of the closure of routes from the ground to unlimited (altitude) in Eastern Ukraine," a Eurocontrol statement said.
"All flight plans that are filed using these routes are now being rejected by Eurocontrol. The routes will remain closed until further notice," it added.
Many airlines have now announced that they will stop flying over conflict area in Ukraine. pic.twitter.com/NRcpbwmd4c

— Flightradar24 (@flightradar24) July 17, 2014
Malaysia Airlines flight #MH17 just before it disappeared over Ukraine. pic.twitter.com/xvDHsEQtkg

— Flightradar24 (@flightradar24) July 17, 2014
Anton Gerashenko, an aide to the Ukrainian Interior Minister, said on his Facebook page that the plane was flying over eastern Ukraine when it was hit by a missile fired from a Buk launcher.
RIA news agency said Russian President Vladimir Putin discussed the plane crash with US President Barack Obama.
The two leaders were on a pre-planned call on the situation in Ukraine when information on the crash became available.