An Israeli government spokesperson has confirmed to RTÉ News that a five-hour ceasefire will begin at 10am Israeli time (8am Irish time).
A senior Israeli official earlier told Reuters that Israel had agreed to a UN proposal for a cessation of hostilities in Gaza for humanitarian reasons.
A Hamas spokesman said it has agreed to the latest ceasefire proposal.
The appeal was made by a United Nations official shortly after Hamas rejected an Egyptian-proposed ceasefire to end the nine-day war in which 215 Palestinians and an Israeli have died.
Earlier, four children were killed in an Israeli raid on a beach in Gaza City.
All four boys were on the beach when the attack took place, in what initially appeared to be shelling from the sea, according to AFP correspondents who witnessed the attack from a nearby hotel.
Several children, some crying and others bleeding, ran into a nearby hotel, where staff and journalists rushed to help them.
Thirteen-year-old Hamed Bakr had shrapnel in his chest and was crying "it hurts, my chest hurts".
Emergency services spokesman Ashraf al-Qudra said the four dead children were all cousins aged between nine and 11.
It was unclear if the strikes were the result of naval shelling, which frequently hits part of the Gaza coastline, or came from Israeli war planes overhead.
The Israeli army said the killing of the four children appeared to be the "tragic outcome" of a strike targeting Hamas militants.
"Based on preliminary results the target of this strike was Hamas terrorist operatives," the military said in a statement.
"The reported civilian casualties from this strike are a tragic outcome."
4 children killed on a #Gaza beach by #Israel. Before and after. Do they look like a threat? Answer is clearly no pic.twitter.com/9ycFnIS1ku

— GizliTarih (@GizliGercekleer) July 16, 2014
Earlier, a 37-year-old man was killed in an air strike on the Zeitun neighbourhood, east of Gaza City.
It took place several hours after the army warned 100,000 residents to leave the area and the neighbouring district of Shejaiya.
Most of today's deaths came in the south, with six killed in several strikes on Khan Yunis and five killed in Rafah, which straddles the Egyptian border.
In Khan Yunis, four people from the Al-Daqqa family were killed in two separate strikes, one of which killed a 65-year-old woman and a ten-year-old boy.
One of the victims in Khan Yunis was killed by tank fire.
In Rafah, five men were killed in four separate strikes, one of which hit a house in the city, Mr Qudra said.
According to figures provided by the Gaza-based Palestinian Centre for Human Rights (PCHR), more than 80% of the victims were civilians.
So far, one person has been killed in Israel, a civilian who died yesterday evening in a rocket strike near the Erez crossing.
Four Israelis have been seriously wounded.
Since the latest violence began before dawn on 8 July, 1,021 rockets fired from Gaza have struck Israel, and another 256 have been shot down by the Iron Dome air defence system, army figures say.
It said 43 struck Israel today and 24 were intercepted.
During its operation, Israel has struck more than 1,750 "terror targets" across the coastal enclave, the army has said.
International efforts towards a ceasefire collapsed yesterday after Hamas rejected an Egypt-proposed truce.
Israel then resumed its bombing raids several hours later after continued rocket fire.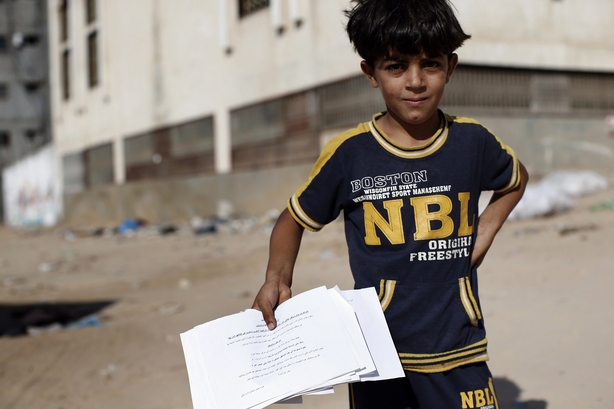 Meanwhile, the Israeli army has warned about 100,000 Palestinians in eastern Gaza to evacuate their homes.
Flyers were dropped over the Zeitun neighbourhood southeast of Gaza City. Residents there and elsewhere also reported receiving recorded phone and text messages urging them to evacuate.
Gaza is home to 1.8 million people, many of them refugees from the 1948 Palestine War in which the state of Israel was created, making it one of the most densely-populated places on the planet.
Today we dropped these leaflets urging civilians to move away from Hamas targets before IDF strikes in Gaza. pic.twitter.com/K6JIcCnRfX

— IDF (@IDFSpokesperson) July 16, 2014
Hamas leaders have said any deal to end the violence must include an end to Israel's blockade of Gaza and a recommitment to a truce reached in an eight-day war there in 2012.
Hamas also wants Egypt to ease restrictions at its Rafah crossing with Gaza, imposed after the military ousted President Mohammed Mursi a year ago.
Hamas has faced a cash crisis and Gaza's economic hardship has deepened as a result of Egypt's destruction of cross-border smuggling tunnels.
Egyptian authorities also accuse Hamas of assisting anti-government Islamist militants in Egypt's Sinai peninsula, an accusation that the Palestinian group denies.
Hamas has said it also wants the release of hundreds of its activists arrested in the West Bank while Israel searched for three missing teenagers.
Elsewhere, EU leaders have condemned the firing of rockets into Israel, while urging Israel to "act proportionately" and Hamas to agree to the ceasefire.
They said they had "great concern" over the continued violence in Israel and Gaza.
US President Barack Obama said this evening he supported Egypt's attempt to reach a ceasefire.
"The Israeli people and the Palestinian people don't want to live like this," he said. He said he would continue to encourage a diplomatic outcome.
INFOGRAPHIC: Map showing zones in Gaza where Israel wants civilians to evacuate and the latest strikes on both side pic.twitter.com/d9WgD1oW7I

— Agence France-Presse (@AFP) July 16, 2014