Israeli Prime Minister Benjamin Netanyahu has said Israel will intensify its offensive against Hamas in Gaza after a truce plan failed to end eight days of cross-border fire.
His comments came after the Islamist group continued firing rockets at Israel instead of accepting the Egyptian-proposed ceasefire.
"It would have been preferable to have solved this diplomatically, and this is what we tried to do when we accepted the Egyptian proposal for a ceasefire, but Hamas leaves us no choice but to expand and intensify the campaign against it," Mr Netanyahu said.
The death toll from Israel's campaign in Gaza has risen to 197, after three Palestinians were killed in the renewed strikes.
Israel's first fatality in the war was also reported, with a man killed by rocket fire from Gaza near the Erez border crossing.
The Israeli army said he was delivering food to soldiers serving in the area.
Gaza emergency services spokesman Ashraf al-Qudra said two Palestinians were killed in a car in southern Rafah and a third man was killed in central Johr al-Deek.
Earlier, a 24-year-old man was killed in Zeitun, east of Gaza City, and a 77-year-old man was killed in the southern city of Khan Yunis.
"If Hamas doesn't accept the ceasefire proposal, and that's how it seems at this point in time, Israel will have all the international legitimacy to broaden its military activity (in Gaza) in order to achieve the necessary quiet," Mr Netanyahu said earlier.
Speaking at a joint news conference in Tel Aviv with visiting German Foreign Minister Frank-Walter Steinmeier, Mr Netanyahu said Israel wanted to see "the demilitarisation" of Gaza.
"We responded positively to the Egyptian proposal to give a chance to deal with the demilitarisation of Gaza from missiles, rockets and tunnels," he said. 
Hamas's armed wing vowed its attacks would "increase in ferocity and intensity".
Israel said there had been two cross-border launches overnight that caused no damage, and that it had bombed 25 sites in Gaza.
At Israeli military headquarters in Tel Aviv, the security cabinet convened by Mr Netanyahu said it voted to approve the truce deal, minutes before it was to come into effect.
Amos Gilad, a senior Israeli defence official and envoy to Cairo, cast the deal positively, saying Hamas had been weakened by the air and sea bombardment of impoverished Gaza.
"Look at the balance, and you see that Hamas tried every possible means of striking at Israel while bringing great and terrible damage on its people, from their perspective," Mr Gilad told Israel's Army Radio.
"The Egyptian proposal includes a halt to all kind of (military) activity."
Sami Abu Zuhri, a Hamas spokesman in Gaza, said earlier that the Islamist group had not received an official ceasefire proposal.
He repeated its position that demands it has made must be met before it lays down its weapons.
The Ezzedine al-Qassam Brigades rejected the reported text of the truce deal saying: "Our battle with the enemy continues and will increase in ferocity and intensity."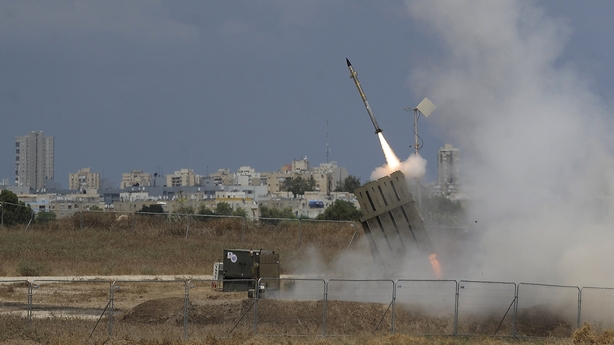 Under the proposal announced by Egypt's Foreign Ministry "de-escalation arrangements" would take effect from this morning, pending implementation of a full truce within 12 hours after.
High-level delegations from Israel and the Palestinian factions would hold separate talks in Cairo within 48 hours to consolidate the ceasefire with "confidence-building measures".
The Arab League said in a statement it welcomed the Egyptian initiative "to protect the lives of the innocent".
Hamas demands
The surge in hostilities over the past week was prompted by the murder last month of three Jewish seminary students in the West Bank and the revenge killing on 2 July of a Palestinian teenager in Jerusalem.
Israel said three Jews in police custody had confessed to killing the Palestinian.
              
Hamas leaders have said a ceasefire must include an end to Israel's blockade of Gaza and a recommitment to a truce reached in an eight-day war there in 2012.
Hamas also wants Egypt to ease restrictions at its Rafah crossing with Gaza, which was imposed after the military toppled Islamist president Mohammed Mursi last July.
              
But the Egyptian proposal made no mention of Rafah or when restrictions might be eased.
It said only that "crossings shall be opened and the movement of persons and goods through (them) shall be facilitated once the security situation becomes stable on the ground".
              
Hamas has faced a cash crisis and Gaza's economic hardship has deepened as a result of Egypt's destruction of cross-border smuggling tunnels.
Egypt accuses Hamas of aiding anti-government Islamist militants in its Sinai peninsula, an allegation the Palestinian group denies.
              
Hamas has said it wants the release of hundreds of its activists arrested in the West Bank while Israel searched for the three missing teens.
The detainees include more than 50 Hamas men freed from Israeli jails in a 2011 prisoner exchange.
              
The proposed truce made no mention of the detainees in stipulating that "other issues, including security issues, shall be discussed with the sides".
Israel warplanes hit Syria's Golan, killing four
Israeli air force jets struck three administrative and military targets in Syria's Golan, killing two security guards and two women, according to the Syrian Observatory for Human Rights.
"Israeli planes flying over the occupied Golan Heights launched rockets into southern Syria's Quneitra province at around 1:15am. Rockets hit Base 90, a Syrian military airbase, and regime bastion Baath City. Four people were killed," the watchdog said.
The UN has described the damage caused by Israel's air offensive on Gaza as "immense", with more than 500 homes razed.
UN spokesman Sami Mshasha said 17,000 people have found refuge in 20 schools run by the UN, the coordinates of which have been sent to Israeli authorities.