Taoiseach Enda Kenny has announced a Cabinet reshuffle, and promised an unrelenting focus on the domestic economy and on job creation. 
Today's announcement saw the promotion of Paschal Donohoe, Alan Kelly, Jan O'Sullivan, Alex White and Heather Humphreys to the Cabinet.
Phil Hogan will be appointed EU Commissioner.
Mr Donohoe has become Minister for Transport, with Simon Coveney taking on the Defence portfolio while remaining as Minister for Agriculture.
Jan O'Sullivan becomes Minister for Education, Alex White is new Minister for Communications, Energy and and Natural Resources, Charlie Flanagan takes over at the Department of Foreign Affairs.
Alan Kelly becomes Minister for the Environment.
James Reilly moves to Children and Youth Affairs, while Leo Varadkar replaces him as Minister for Health.
Heather Humphreys replaces Jimmy Deenihan at the Department of Arts, Heritage and the Gaeltacht.
It also understood that Kathleen Lynch will remain as a junior Minister in Health.
The appointments were formalised by President Michael D Higgins at Áras an Uachtaráin this afternoon.
Pat Rabbitte has been dropped from Cabinet.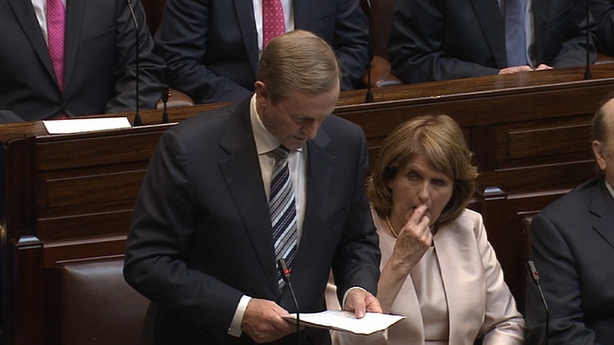 Speaking this evening at a joint media conference with the Tánaiste Joan Burton to outline the Coalition's priorities for the remainder of its term in office, Mr Kenny promised an unrelenting focus on the domestic economy and on job creation.
He said the Government would publish new planning legislation as well as a bill to establish a strategic banking corporation which by 2018 is expected to make up €4bn in low cost funding for small and medium sized businesses.
He said the creation of 25,000 extra jobs would also be targeted in the Agri-Food sector.
Mr Kenny said the Government wanted to make work pay for families by rolling out four elements of a programme on pay and childcare.
Government publishes priority document 
The Government is pledging to reduce the 52% tax rate for low and middle income earners as part of its new priority statement, saying that this will be accomplished over a number of budgets.
The Taoiseach and Tánaiste also said they would increase the household benefits package by €100 to compensate for the introduction of water charges.
The system of child and income supports is also to be revised to reduce disincentives when people return to work, with access to subsidised childcare to be extended.
The document also lists strengthening the domestic economy, prioritising job creation, delivering better living and working standards andimproving housing availability and affordability as priorities for the remainder of the Government's term.
Tánaiste Joan Burton said housing would be made a priority for the remainder of the life of the Government.
She said the coalition would set in train a construction programme to triple the number of houses built to 25,000 a year by 2020. 
Ms Burton said: "we will also explore creative ways of funding social housing provision, and task NAMA to maximise its potential to deliver homes for families."
Speaking on RTÉ's News at One, Mr Rabbitte said age and chemistry had played a part in his removal from the Cabinet and he wished the Government well.
He said he was disappointed but not surprised.
He added that the country would have been worse off if Labour had not entered politics during the economic crash.