A spokesman for Dublin City Council has said that the offer to allow Garth Brooks stage matinee shows at Croke Park on Saturday 26 and Sunday 27 July still stands.
Mr Brooks had been scheduled to play five concerts at Croke Park on consecutive nights at the end of July.
The first concert was due to take place on Friday 25 July.
However, licences were only granted for three of the shows, and Mr Brooks refused to go ahead on that basis.
Last night, the country singer rejected a proposal to hold two of the concerts as matinees.
The suggestion was put forward in an effort to secure all five sold-out shows.
A ticket refund process, if the concerts are cancelled, is scheduled to begin next Tuesday.
As it stands, all five gigs remain cancelled and it is not clear if efforts to find a resolution are set to continue.
The singer has said that a ship carrying staging equipment for the gig is on its way to Europe.
Meanwhile, the planned meeting of the Oireachtas Joint Committee on Transport and Communications scheduled for today to discuss the controversy over the concerts will not go ahead today.
Peter Aiken of Aiken Promotions and GAA Director General Paraic Duffy were expected to attend.
The meeting has been postponed until a later date as the committee wishes to "provide the space for negotiations to continue unimpeded".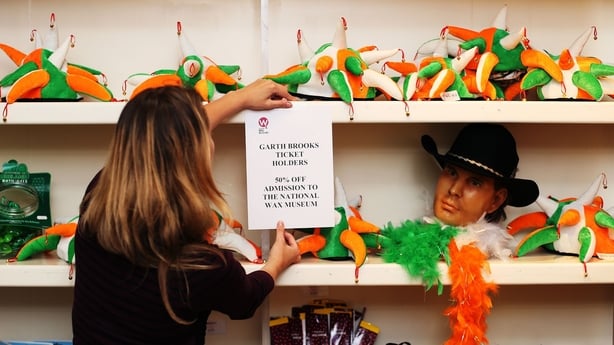 Lisa Jameson places a sign beside a wax model of Garth Brooks in the gift shop of the Wax museum in Dublin
Elsewhere, Dublin's Lord Mayor Christy Burke has said he believes Brooks' manager will email the Taoiseach to ask him to intervene again in the situation.
Speaking on RTÉ's Morning Ireland, Mr Burke said the ball was now in Brooks' management team's court.
Councillor Burke said he hoped Brooks would take up the offer that is currently on the table to facilitate five concerts by including two matinée shows.
He added that the planning process could not be interfered with.
Gareth Brooks' management team said it has had no contact from the Taoiseach's office yet in response to the singer's offer to travel to Ireland to meet Enda Kenny this weekend.
However, the team said it was hopeful that it may hear something later today.