Aiken Promotions has confirmed that the proposal for Garth Brooks to hold matinees on Saturday 26 and Sunday 27 July is not feasible.
Dublin City Council had proposed that Mr Brooks perform matinee shows from 2pm - 6pm on both the Saturday and Sunday with a second show taking place on each day from 8pm - 11pm.
Reacting to the proposed solution, Taoiseach Enda Kenny said people from his department were in contact with those involved and he hoped this would be a potential solution.
Asked if he would appeal to Mr Brooks to accept this compromise, he said that as the City Manager and concert promoter have come together and residents have withdrawn objections he hoped it might be an acceptable solution.
In a statement, Dublin City Council said the proposal for matinees was made by Aiken Promotions.
The council accepted the deal on the basis that it would still be within the legislative framework of the three day licence.
Mr Brooks did say in an earlier press conference that he would be more than happy to meet Mr Kenny about the ongoing concert controversy.
He said if the "Prime Minister himself wants to talk to me I will crawl, swim or fly over there this weekend, sit in front of him, drop on my knees and beg for those 400,000 people to just have fun."
With regard to only staging three of the five shows, he said that everyone must be treated equally.
Speaking at a press conference in Nashville this evening, he said that his team do not do "golden tickets" so people are treated fairly, "so why am I going to treat 160,000 people differently".
Mr Brooks said he did not have a clue how he ended up in this situation and that everything was "rocking" up to recently.
He said that laws and guidelines must be created but it is important that people who bought tickets get to go to the concert.
The singer said the extra concerts were suggested when promoter Peter Aiken said there was 100,000 people looking for tickets and the sale difficulties in Limerick and response from fans there showed the huge demand in Ireland for his shows.
But he said he was not aware that there were any difficulties in staging the five concerts until he was told "hey Garth we're ok with three but you're going to have figure out the other two".
He added that he was the "real loser" in the ongoing controversy over the cancellation of the concerts.
He also said he would do everything it takes not to cancel the concerts.
When permission was granted for only three of the five concerts, Mr Brooks made the decision to cancel all five.
He said Ireland must develop a system that works, adding that five shows should be allowed go ahead and the licence laws should be looked at afterwards.
"The system is flawed," the singer said.
"It's not my country to say that so let me take that back. It's my opinion that the Irish system got some weight on it and buckled."
He added that he was the real loser in the ongoing controversy.
Meanwhile, the residents' group most opposed to the holding of the concerts has said it will now agree to some going ahead.
Eamon O'Brien of the Croke Park Streets Committee had previously threatened legal action against any of the concerts.
Mr O'Brien said that "in the interest of all the Croke Park communities we are prepared to consider a new direction with a view to facilitating the holding of the Garth Brooks concerts".
Dublin City Council chief executive Owen Keegan is scheduled to answer questions on the Brooks concerts at an Oireachtas committee next Tuesday.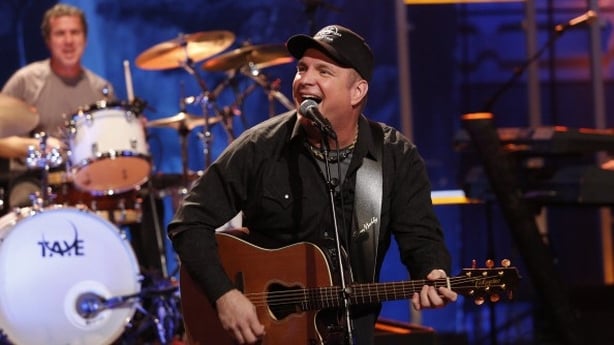 Meanwhile, an injunction application to prevent the three licenced Garth Brooks concerts from going ahead later this month, has been struck out at the High Court.
Local resident Brian Duff had brought an application against Aiken Promotions and Croke Park seeking an injunction to prevent the shows on 25, 26 and 27 July from taking place.
Mr Justice Paul Gilligan had granted lawyers for Mr Duff permission to bring the injunction application this morning.
Senior Counsel Frank Callinan told the court this morning his instructions were not to proceed with the application and told the judge the proceedings could be struck out.
The move follows the announcement by the promoters earlier this week that all concerts had been cancelled.