China has deployed its vast security apparatus to snuff out commemoration of the suppression of pro-democracy protests around Tiananmen Square 25 years ago.
The streets have been flooded with police as censors scrubbed the internet clean of any mention of the crackdown.
For the ruling Communist Party, the demonstrations in 1989 that clogged Tiananmen Square in Beijing for about six weeks as well as other cities have long been a taboo topic.
The anniversary of the date on which troops shot their way into central Beijing has never been publicly marked in mainland China.
Every year there are commemorations in Hong Kong, which returned to Chinese rule in 1997, as well as in self-ruled Taiwan, which China claims as its own.
The government has never released a death toll for the crackdown, but estimates from human rights groups and witnesses range from several hundred to several thousand.
Police, soldiers and plain-clothes security personnel have enveloped Tiananmen Square, checking identity cards and rummaging through bags looking for any hint that people might try to sneak onto the square to commemorate the day.
Police escorted a Reuters reporter off the square, which was thronged with tourists, saying it was closed to foreign media.
Police also detained another Reuters journalist for trying to report on the anniversary in one of Beijing's university districts, releasing him after a few hours.
Public discussion of the events of 4 June 1989, is off-limits in China. Many young people are unaware of what happened because of years of government efforts to banish memories of the People's Liberation Army shooting its own citizens.
"They have covered up history. They don't want people to know the truth of what they did," veteran activist Hu Jia told Reuters from his home in Beijing, where he said police were present to prevent him from leaving.
"Nobody would have confidence in them if they knew what they did... They should have fallen because of what they did," he added, speaking by mobile telephone.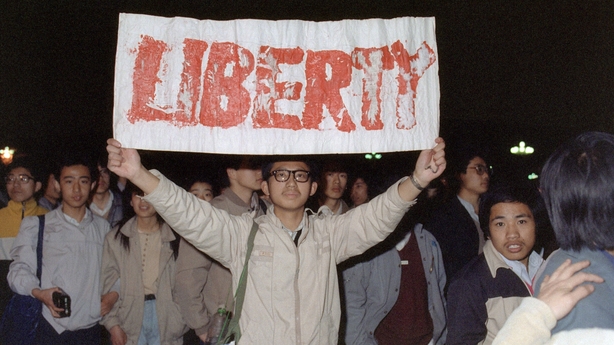 China's Foreign Ministry defended the crackdown, saying the government had chosen the correct path for the sake of the people.
Rights group Amnesty International has said at least 66 people have been detained in connection with the anniversary.
That includes prominent rights lawyer Pu Zhiqiang and four other activists who were detained last month after attending a private meeting at an apartment in Beijing to discuss the crackdown, prompting concern in the United States and Europe.
US Senator Ben Cardin, chairman of the Senate Foreign Relations Subcommittee on East Asian and Pacific Affairs, said it was disappointing that people associated with 4 June continued to face harassment and imprisonment.
"On this important anniversary, we must continue to voice our concerns on restrictions and abuses against freedom of speech, internet freedom, freedom of association, and persecution of religious and ethnic minorities in China," he said in a statement.
Ma Ying-jeou, president of democratic Taiwan, said China should ensure that a "tragedy" like 4 June never happened again.
"If Chinese authorities can tolerate differences, not only can that raise the height and the legitimacy of those in power, but also send a clear message to Taiwan that political reform in China is serious," Ma said in a statement.
United Nations human rights chief Navi Pillay on Tuesday called on China to reveal the truth about what had happened 25 years ago.
The run-up to the anniversary has also been marked by tighter controls on the Internet, including disruption of Google services, and tougher than normal censorship of the popular Twitter-like microblogging service Weibo.
"This is the 1,008th post that I've had scrubbed today," complained one Weibo user, attaching a screen shot of a message received from censors telling him that his post reading "It's been 25 years since that event" had been deleted.