Firefighters battling a major wildfire in southern California surrounded most of the blaze overnight, a fire official said, as evacuated residents began to return to a region where dozens of homes were destroyed by a series of fires.
In all, nearly a dozen fires scorched about 20,000 acres  of drought-parched brush across San Diego county over the past week.
As firefighters brought several of the blazes under control, a man was charged on Friday with one count of arson in connection with one of the smaller fires.
With cool, moist air coming in from the Pacific coast, firefighters gained the upper hand overnight against the so-called Cocos Fire, one of the region's fiercest, that threatened the suburban community of San Marcos north of San Diego.
The Cocos Fire destroyed a dozen houses and another 25 structures at a local spiritualism centre, county officials said.
Conditions were less windy than earlier in the week, when hot, dry Santa Ana winds drove the flames on their destructive path.
Some residents evacuated from the San Marcos area were allowed to return home and additional evacuation orders had been lifted by last night, San Diego county officials said.
All road closures and evacuation orders are anticipated to be lifted today.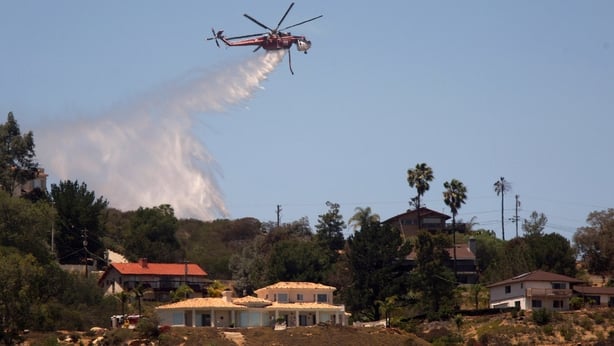 It was not immediately clear how many residents were still unable to return home, but earlier in the week officials said 125,000 people lived in the evacuation zones for all the San Diego county wildfires combined.
A charred body was found on Thursday at a homeless encampment overrun by flames in coastal Carlsbad, although officials said they had yet to confirm the exact cause of death.
The Carlsbad blaze, which scorched 600 acres, left property losses of up to $15 million, gutted eight houses and destroyed an apartment building, officials said.