New Minister for Justice and Equality Frances Fitzgerald has said she intends to usher in a new era and a new culture to restore public confidence in policing.
She said there were major challenges ahead in the wake of the crises involving gardaí.
Ms Fitzgerald said it was time to listen to whistleblowers and she paid tribute to the work of Sgt Maurice McCabe.
She was speaking after she received the ministerial seal of office to replace Alan Shatter as Minister for Justice.
Ms Fitzgerald was appointed Minister for Children and Youth Affairs in 2011. She was the first person to take up the post.
Fine Gael's Charlie Flanagan has succeeded Ms Fitzgerald in the position. The Dáil voted in favour of his appointment by 80 votes to 35.
The Department of Defence has been assigned to the Taoiseach's department on a temporary basis.
Ms Fitzgerald and Mr Flanagan received their ministerial seals of office at Áras an Uachtaráin this afternoon.
They were presented by the Presidential Commission as President Michael D Higgins is on an official visit to the US.
Speaking afterwards to reporters at Leinster House, Ms Fitzgerald said she intends to press ahead with reforms and structural changes, including the establishment of an independent policing authority by the end of this year.
She said she intends to provide leadership and deal with the challenges and issues, including setting up the Commission of Inquiry recommended by the Guerin Report.
The minister said she not yet had time to read the report, but she pledged to implement its recommendations.
Ms Fitzgerald said they had implications for a number of State agencies.
She is expected to have discussions shortly with acting Garda Commissioner Noirin O'Sullivan.
The minister said she intended to press ahead with the Legal Services Bill, the Family Relations Bill, the equality agenda and setting up the Court of Appeal.
Kenny says Shatter made decision to resign
Taoiseach Enda Kenny has said Mr Shatter made the decision to resign as a minister.
Mr Kenny said Mr Shatter had read the relevant sections of the Guerin Report.
He said Mr Shatter had decided that he should resign and he agreed it was the right decision to make.
Mr Kenny also said that Tánaiste and Labour leader Eamon Gilmore had been informed of the decision just before Leaders' Questions in the Dáil yesterday.
Speaking in the Dáil this morning, Mr Kenny said Ms Fitzgerald had transformed the constitutional, legislative and administrative systems in her previous area of children's affairs.
Elsewhere, Mr Gilmore said there is no doubt that Mr Shatter was right to resign.
Speaking in Galway, Mr Gilmore said people would see the serious issues that the Guerin Report raised when it is published tomorrow.
He also said he is happy with the decision that had been taken regarding the appointment of the new Minister for Justice.
Mr Gilmore denied that the Labour Party was out-of-the-loop in the hours before Mr Shatter's resignation was announced yesterday afternoon.
It is understood Mr Shatter resigned at 4.15pm yesterday afternoon and the Tánaiste was informed at around 4.20pm.
The Tánaiste also contrasted the Government's handling of the allegations regarding practices in An Garda Síochána with that of previous administrations.
GSOC comments on Guerin Report
In a statement this evening, the Garda Síochána Ombudsman Commission said: "We have not had sight of Sean Guerin's report. We have seen the Minister's letter of resignation.
"As the Minister stated, the Guerin report was finalised in the absence of the documentation from GSOC.
"The letter notes that the assurances being asked for were not unreasonable.
"GSOC had marshalled a good deal of documentation, and this was available prior to the Guerin report being finalised.
"GSOC did request certain safeguards, prior to releasing documentation, to assure the protection of the rights of people concerned by the cases in question."
Fitzgerald has difficult job - Varadkar
Minister for Transport Leo Varadkar has said Ms Fitzgerald has a difficult job ahead.
Mr Varadkar said the priority should be to establish an independent garda authority to make sure whistleblowers are properly protected and to reform the legal system.
Fianna Fáil leader Mícheál Martin said it was absurd that the Dáil was discussing the replacement of the justice minister without knowing anything about the specific information due to which he resigned.
Mr Martin said politicians had been denied the opportunity to see the Guerin Report before Mr Shatter's successor was appointed.
He said they had also been denied the most basic information about how the Taoiseach with Mr Shatter had effectively pushed a garda commissioner into resignation.
Read Alan Shatter's letter of resignation
Independent TD Mick Wallace said he took no pleasure in Mr Shatter's fall from grace and respected his ability and intelligence as well as his pro-choice stance and stance on same-sex marriage.
Mr Wallace welcomed Ms Fitzgerald's appointment but said she faced a very difficult job and there are incredible problems in the police force.
Independent TD Clare Daly told the Dáil that she did not believe Mr Shatter had just resigned over the Guerin Report, but believed his resignation related to a long litany of mishandling of serious issues.
She said a root and branch review of An Garda Síochána was needed for the first time in the history of the State to develop a modern police service.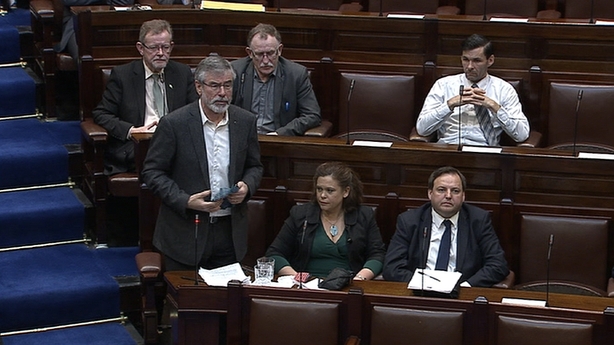 Sinn Féin leader Gerry Adams said citizens deserve a 21st Century policing service and gardaí should be accountable to an independent garda authority.
He said Mr Shatter resigned in the interest of Fine Gael and the Labour party, and "that is not good enough".
Mr Adams also said his party would not support the appointment of Mr Flanagan.
Elsewhere, the National Women's Council has welcomed the appointment of Ms Fitzgerald as the new justice minister, saying it put women right at the heart of the Cabinet.
Speaking on RTÉ's News at One, NWC director Orla O'Connor described the appointment as "significant".
She said Ms Fitzgerald, who spent four years as chairwoman of the NWC, had always pushed the equality agenda for women, and described her as a "fighter".
Ms O'Connor said that in her previous portfolio as Minister for Children, Ms Fitzgerald put children's rights to the forefront and spearheaded a referendum on the issue.
"I think that the human rights agenda is going to be very important in terms of her equality brief," she said.
Guerin Report critical of number of agencies
Mr Kenny and Mr Gilmore met last night to discuss the vacancy left by Mr Shatter's resignation and the statutory inquiry recommended by Senior Counsel Seán Guerin in his report into the handling of complaints by garda whistleblower Maurice McCabe.
The Guerin Report is critical of a number of agencies, including the Department of Justice.
Sources close to Sgt McCabe said last night that he had not seen the report and will study it thoroughly before making a detailed response.
Minister of State with Responsibility for Mental Health Kathleen Lynch said Mr Shatter "clearly handled some issues badly".
Speaking on RTÉ's Morning Ireland, she said she was surprised by this and it may have been because of how busy Mr Shatter was in office and also because he was "a stickler for detail".
Fianna Fáil justice spokesman Niall Collins said the Government now needed to move on and restore faith in policing.
Speaking on the same programme, he said: "We need to have a timescale in relation to an independent policing authority; a timescale for the ramping up of powers of GSOC, the oversight agency.
"We also need to have a timescale for the appointment of a new garda commissioner; we need the commission of investigation, which has been promised and adequate terms of reference in relation to that."