At least 34 people across six states have been killed by a storm system that unleashed dozens of tornadoes and is threatening to cause more damage in heavily populated regions of the US.
Arkansas and Mississippi have been hit the hardest over the past three days, with 27 people killed.
More than 200 people have been injured by tornadoes that have flattened neighbourhoods, reduced homes to splinters and snapped trees like twigs.
Deaths were also reported in Oklahoma and Iowa on Sunday, and Alabama and Tennessee yesterday.
Makeshift shelters have been set up for thousands of families forced out of their homes.
The National Guard, local police and residents who had lost all their possessions sift through the rubble looking for more victims.
A large cluster of thunderstorms pelted Alabama, Georgia and the Florida Panhandle today, with tornadoes likely touching down along the border between Alabama and Georgia, forecasters have said.
Some tornadoes registered an EF-3 on the Enhanced Fujita scale that measures strength, meaning they packed winds of about 240km/h, according to preliminary estimates from the National Weather Service in Alabama.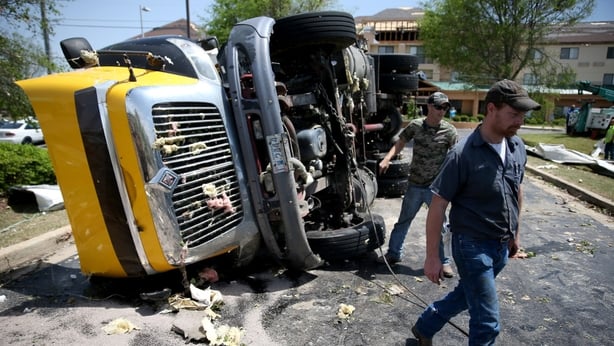 "The main severe threat today is down in the central and eastern Gulf Coast," National Weather Service meteorologist Brynn Kerr said.
She added there was potential for severe conditions in Tennessee and the Ohio Valley.
Tens of thousands of homes and businesses along the path of the storm were without power on Tuesday morning, with the worst outages in parts of Alabama and Georgia, utility companies reported.
In western North Carolina, fire department personnel used boats to rescue people from homes and vehicles deluged overnight by flash floods.
In Arkansas, residents of central Faulkner County, where most of the damage occurred, sorted through the rubble as they tried to piece their lives back together.
"There is joy because you find something that's not broken and then you find something that's shattered that meant a lot," said Terry Lee, whose home was damaged by a tornado.
Georgia Governor Nathan Deal, who declared a state of emergency late yesterday preparation for the looming storms, said in a statement, "we're prepared now, and we'll be ready for recovery should we, God forbid, experience tornado damage or flooding."
In Tupelo, Mississippi, which was hit by a tornado yesterday, police were going house to house searching for victims and trying to stem any gas leaks that could fuel fires.
Officials were also picking through the rubble in Lincoln County, Tennessee, near the Alabama state line, where a tornado touched down, killing two people.
One of the victims in Alabama was John Servati, 21, a member of the University of Alabama's swim team who died in a friend's basement when a retaining wall collapsed, a university spokeswoman said.