A tornado has cut through a town in Mississippi as part of a severe storm system that threatens millions of people across the US southeast.
The latest twister touched down in Tupelo shortly before 6pm Irish time and comes a day after tornadoes killed 16 people in Arkansas, Oklahoma and Iowa.
Hundreds of homes were damaged, trees were toppled and power lines were down in the northern part of the state, Mississippi governor Phil Bryant said.
There were no immediate reports of deaths or injuries after six instances of tornadoes touching down in the state.
Parts of Alabama and western Georgia were also at risk as the storm system that produced the series of tornadoes headed east toward the Mid-Atlantic states.
Rescue workers, volunteers and victims have been sifting through the rubble in the hardest-hit state of Arkansas.
They are looking for survivors in central Faulkner County where a tornado reduced homes to splinters, snapped power lines and mangled countless trees.
Arkansas Governor Mike Beebe said at least 14 people died in the state in the storm authorities said produced the first fatalities of this year's U.S. tornado season.
He previously told a news conference 16 had been killed but later said there was a mistake in calculation.
Nine of the victims came from the same street in the town of Vilonia, with a population of about 4,100, where a new intermediate school set to open in August was heavily damaged.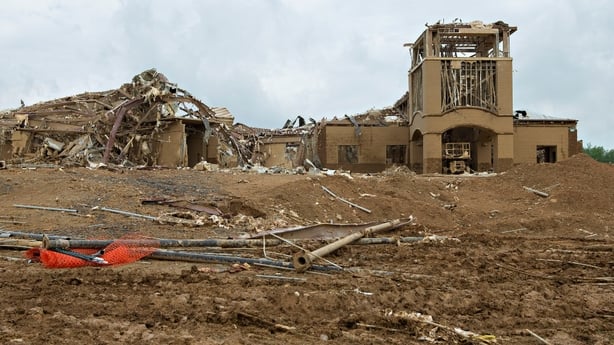 "Everything is just levelled to the ground," Vilonia resident Matt Rothacher said. "It cut a zig-zag right through town."
Mr Rothacher was at home with his wife and four children whe nthe tornado passed through. While his home survived, The Valley Church where he serves as pastor, was flattened.
Two young boys died in their home after having dinner at a friend's home, said Mr Rothacher, who was helping provide grief counselling to the family that had sent the two boys home after they finished their meal as the storm approached.
The home that the boys left survived the tornado. The home the boys returned to did not, he said.
"These homes, these lives, won't be put back together anytime soon. It will be a long road to healing for these families."
The White House said President Barack Obama, who has been on a trip abroad, called Mr Beebe to receive an update on the damage and to offer his condolences.
Medical officials reported at least 100 people in Arkansas were injured.
"It's so heartbreaking. I've never seen destruction like this before," US Representative Tim Griffin told reporters after touring Vilonia, which was previously hit by a tornado about three years ago.
"I saw a Dr. Seuss book in the rubble. I saw a Spider-Man shirt in the rubble. It just breaks your heart."
The roar of heavy equipment filled the air in Vilonia and nearby Mayflower as crews worked to clear debris off the streets or to load rubble onto trucks for removal.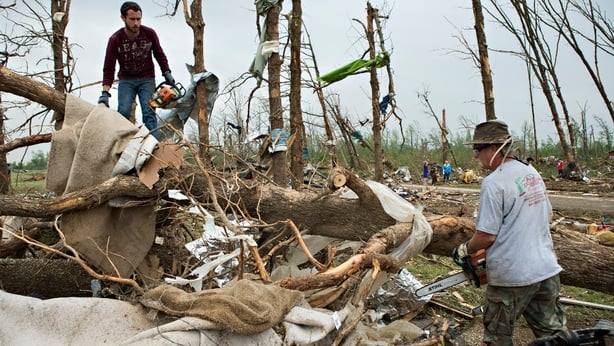 The US National Weather Service said the threat of tornadoes will last for several days as a strong weather system interacts with a large area of instability across the central and southern United States.
"This is a multi-day event and today is the second day of significant tornado risk and unfortunately, probably not the last," said Bill Bunting, operations chief at the National Weather Service's Storm Predictions Center in Norman, Oklahoma.
North Carolina Governor Pat McCrory declared a state of emergency for four counties where tornadoes hit on Friday and warned that more rough weather was on the way.
More than 10,000 people were without power in Arkansas today, officials said.
The Arkansas National Guard was deployed to sift through the wreckage. Mr Beebe declared a state of disaster for Faulkner and two other counties.
One person was killed in neighbouring Oklahoma and another in Iowa, state authorities said.
A tornado in Baxter Springs, Kansas that touched down yesterday evening destroyed as many as 70 homes and 25 businesses and injured 34 people, of whom nine were hospitalised, state and county officials said.
One person was killed in Kansas, likely due to the same storm system, officials said.