Rescue workers with sniffer dogs and searchlights have combed through the wreckage of a massive tornado to ensure no survivors remain buried in an Oklahoma City suburb.
The massive tornado on Monday afternoon flattened large parts of the town of Moore killing at least 24 people and injuring about 240.
But officials were increasingly confident that everyone caught in the disaster had been accounted for, despite initial fears that the twister had claimed the lives of more than 90 people.
Jerry Lojka, spokesman for Oklahoma Emergency Management, said search-and-rescue dog teams would search for anybody trapped under the rubble, but that attention would also be focused on a huge cleanup job.
More than 1,000 people had already registered for assistance from the Federal Emergency Management Agency, which sent hundreds of workers to Oklahoma to help with the recovery.
After a long day of searching through shattered homes that was slowed by rainy weather, Oklahoma County commissioner Brian Maughan said it seemed no one was missing.
"As far as I know, of the list of people that we have had that they are all accounted for in one way or another," he said.
As he spoke last night, dog teams and members of the National Guard were changing shifts to work through the night.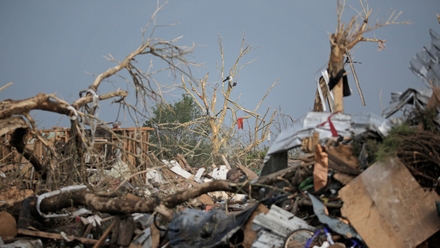 The death toll of 24 was lower than initially feared, but ten children were among the dead, including seven who died at Plaza Towers Elementary School, which took a direct hit by the deadliest tornado to strike the United States in two years.
The youngest victim was four months old, while the oldest was 63.
Emergency workers pulled more than 100 survivors from the debris of homes, schools and a hospital after the tornado ripped through the Oklahoma City region with winds exceeding 320kph, leaving a trail of destruction 23km long and 2km wide.
Plaza Towers Elementary was one of five schools in its path.
"They [rescuers] literally were lifting walls up and kids were coming out," Oklahoma State Police Sergeant Jeremy Lewis said.
"They pulled kids out from under cinder blocks without a scratch on them."
The National Weather Service upgraded its calculation of the storm's strength, saying it was a rare EF5, the most powerful ranking on the Enhanced Fujita Scale
The last time a giant twister tore through the area, on 3 May 1999, it killed more than 40 people and destroyed thousands of homes. That tornado also ranked as an EF5.
A flyover of the affected area showed 2,400 homes damaged or obliterated, with an estimated 10,000 people affected.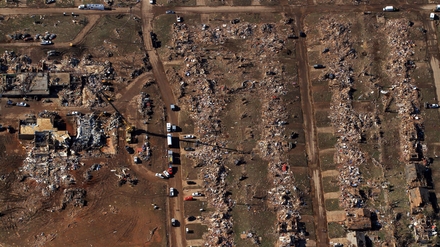 Some ascribe the relatively low number of dead residents discovered in Moore, home to 55,000 people, to the fact many locals have small "storm safe" shelters, basically a concrete hole in the garage floor with a sliding roof that locks.
Officials said another factor behind the low death toll was the early warning, with meteorologists saying days in advance that a storm system was forming.
Once a tornado was forming, people had 15 to 20 minutes of warning, which meant they could take shelter or flee the projected path.
The weather service also has new, sterner warnings about deadly tornadoes to get people's attention.
President Barack Obama has been briefed by Homeland Security Secretary Janet Napolitano and other senior advisers on the emergency response in Moore.
He said: "As a nation, our full focus right now is on the urgent work of rescue and the hard work of recovery and rebuilding that lies ahead.
"Yesterday I spoke with Governor [Mary] Fallin to make it clear to Oklahomans that they would have all the resources that they need at their disposal.
"The people of Moore should know that their country will remain on the ground, there for them, beside them, as long as it takes."