Emergency workers are searching for survivors in an Oklahoma City suburb devastated by a massive tornado, with 24 deaths confirmed and over 230 people reported injured.
Over 100 people have been pulled from the rubble of homes destroyed in the town of Moore.
The 3km-wide tornado tore through the town, trapping victims beneath the rubble as one school took a direct hit and another was destroyed.
Television pictures showed firefighters from over 12 fire departments working under spotlights to find survivors at Plaza Towers Elementary School, which sustained a direct hit.
President Barack Obama has declared a major disaster area in Oklahoma.
He also ordered federal aid to supplement state and local efforts after the deadliest US tornado since one killed 161 people in Joplin, Missouri, two years ago.
In a statement, Mr Obama said: "The people of Moore should know that their country will remain on the ground, beside them, for as long as it takes."
The Oklahoma medical examiner said 24 bodies have been recovered - including nine children - a sharp decline from the 51 deaths previously reported.
However, a spokeswoman said additional bodies could yet be recovered from the rubble.
Chief administrative officer Amy Elliott said the earlier number likely reflected some double-counted deaths.
At least 60 of the 240 people injured were children, hospital officials said.
Briarwood Elementary School, which also stood in the storm's path, was all but destroyed.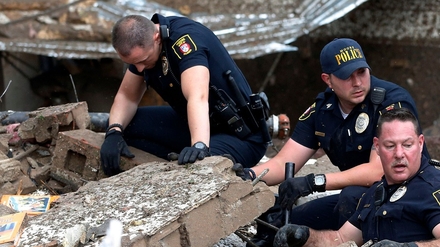 On the first floor, sections of walls had been peeled away, giving clear views into the building; while in other areas, cars hurled by the storm winds were lodged in the walls.
Seven of the nine children who were killed died at Plaza Towers Elementary School, but many more survived unhurt.
"They literally were lifting walls up and kids were coming out," Oklahoma State Police Sergeant Jeremy Lewis said. "They pulled kids out from under cinder blocks without a scratch on them."
Miguel Macias and his wife, Veronica, had two children at the Plaza Towers school and found eight-year-old Ruby first after rescue workers carried the girl from the destruction.
But their son, six-year-old Angel, was initially nowhere to be found.
Friends and relatives spent hours helping the family search for Angel and calling area hospitals. The boy was finally located at a medical centre in Oklahoma City about five hours after the tornado hit.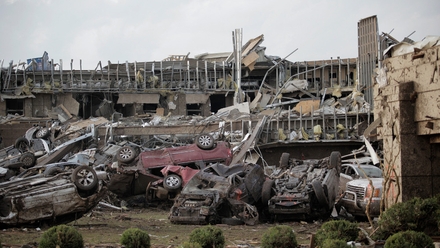 The National Weather Service assigned the twister a preliminary ranking of EF4 on the Enhanced Fujita Scale, meaning the second most powerful category of tornado with winds up to 200mph.
The National Storm Prediction Center provided a warning 16 minutes before the tornado touched down at 3.01pm yesterday local time, which is greater than the average eight to ten minutes of warning, said Keli Pirtle, a spokeswoman for the center in Norman, Oklahoma.
The notice was upgraded to emergency warning with "heightened language" at 2.56pm, or five minutes before the tornado touched down, Ms Pirtle said.
The US Federal Aviation Administration imposed a temporary flight restriction that allowed only relief aircraft in the area, saying it was at the request of police who needed quiet to search for buried survivors.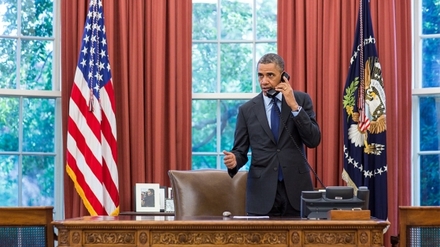 President Obama spoke to Oklahoma Governor Mary Fallin on the phone and said a federal emergency rescue team was working with authorities in the area.

Ms Fallin told a news conference that "hearts are broken" for the parents looking for their children.

"This is a very sad day for the state of Oklahoma - a very hard day and very tragic day," she said.

"Our prayers and our thoughts are with all the Oklahoma families that have been hit hard by this terrible storm We are doing every single thing that we can to assist those that are in need right now", she said.

She said communication was hard with power lines and mobile phone towers hit by the storm.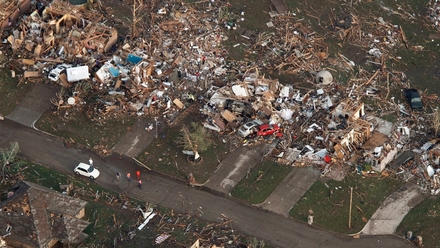 The governor said she had deployed 80 Oklahoma National Guard members to assist search and rescue teams who were "looking under every single piece of debris" to find anyone that might be injured or lost.
Pope Francis has said he is praying for those bereaved by last night's tornado.
He tweeted that he is close to the families of all who died in the disaster, and especially to those who lost young children.